Back to Blog List
An Insider's Guide to Mid-Hudson Valley Farmers' Markets
By
inside + out
| September 12, 2022
The Hudson Valley is home to many farms and orchards, which means year-round tasty and fresh fruits and vegetables are easy to find at nearby farm stands and farmers' markets. During the Spring, Summer and Fall many of the valley's towns and cities offer farmers' markets with a variety of produce, organic products, and local brews, as well as homemade and handmade items. A few offer indoor farmer's markets during the winter. We've pulled together a list of you can visit and enjoy.
The Beacon Farmers' Market proudly feeds and engages the Beacon Community and supports local farms and businesses. The market, which offers fresh farm fresh vegetables, baked goods, cheese, crafts and more runs from 10 am to 3 pm Sundays May through November.
The market's mission is to provide village, town, and county residents and visitors with fresh, high-quality products and thoughtfully crafted artisanal goods that are grown, raised, produced and made by local farmers and artisans. This market offers a positive gathering space for the community where local growers and makers can connect directly with consumers in an effort to build a resilient, sustainable, and equitable local food system and economy. The market is open from Sundays, 10 am to 1 pm, from May 29 to Oct. 9.
Davenport Farms is a family-owned farm market, greenhouse, and wholesale vegetable farm that has existed since the 1840s. The farm stand has been in operation since the early 1960s. In season, the stand opens at 6 am and closes at 7 pm, offering a selection of seasonal produce, but also baked goods, homemade soups, Catskill Mountain Coffee Roasters coffee, home-made lunch items, locally grown beef, organic baking supplies, organic bread, gourmet foods, and a variety of cheeses.
The market strives to provide the mountaintop community with fresh, local produce to promote healthy, happy living year-round. It's open every Saturday from 9 am to 2 pm from June through October and every Wednesday from 2 pm to 6 pm. As well as produce, there's honey, cheese, eggs, and kitchen items.
Fresh seasonal produce from asparagus to pumpkins. Visitors can grab a hearty farm lunch, apple cider donuts, and provisions sourced from the best of the Hudson Valley, feed the goats or walk the farm trails.
The market is open from 9 am to 1 pm. Saturdays from April 23 to November 19. The market features vendors, community events and live music. This year marks the 25th anniversary of the market.
Kingston Farmers Market | 285 Wall Street, County Courthouse Parking Lot, Kingston, NY
The Kingston Farmers Market was founded in 2000 by the Kingston Uptown Business Association. The original goal was to draw people to Uptown Kingston on Saturdays and so far it has been a success. Vendors supply a variety of seasonal produce, plus the market sells flowers, jams, jellies, pickles, apple cider donuts and pies. Hours are 9 am to 2 pm Saturdays from May through October.
Long Season Farm is a small, diversified, certified organic vegetable farm focusing on four-season production of high-quality vegetables for farmers markets, wholesale, and winter CSA in Ulster County NY. The farm uses the main growing season to have a bounty of warm loving crops from late spring through fall. In the "off-season," the farm's high tunnels house cold hardy greens and roots, while a cooler stores roots, crops and cabbages.
Besides seasonal produce, the store sells jams, jellies, honey, maple syrup, local cheeses, goat soap, apple cider, local meats, baked goods, breakfast sandwiches and lunch specials. Store hours are Thursday through Monday, 9 am to 6 pm.
Every Saturday from May 28 through Oct. 29 the market offers farm fresh produce, artisanal foods and handcrafted items. The market is open from 9 am to 1 pm.
The Millerton Farmers Market, managed by the North East Community Center, offers a variety of seasonal produce, pasture-raised meats, fruit, cheeses, baked goods and prepared foods. All of our vendors are local and use sustainable and ethical growing practices. The market takes place every Saturday through Dec. 31, from 10 am to 2 pm.
Believing in quality over quantity, Montgomery Place Orchards is a relatively small operation and does not offer pick-your-own or wholesale. The orchards sell only from their farm market and occasionally to several local restaurants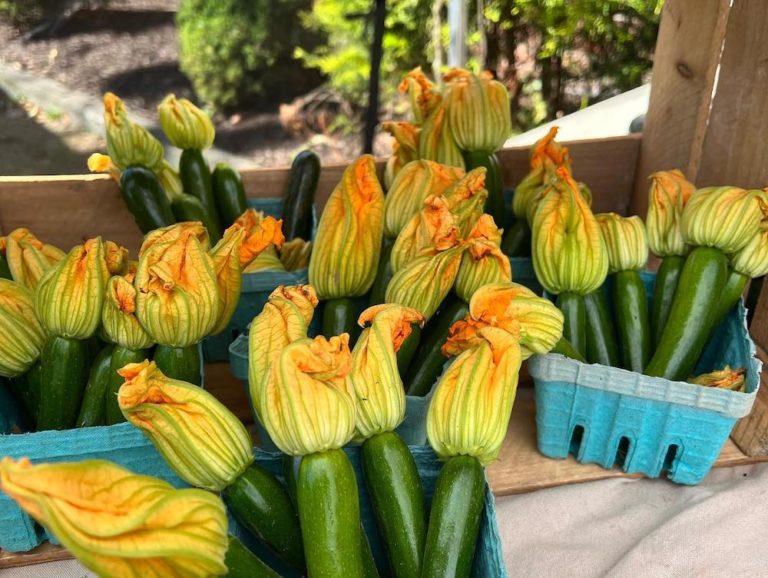 The market features locally grown produce, handmade goods, art, natural body products, baked goods, honey, cheeses, meats, and eggs, all produced within a 40-mile radius from New Paltz It also provides a chance to connect with local community organizations and nonprofits. The market is open Sundays through Nov. 19. Hours are 10 am to 3 pm.
The market is open from 10 am to 2 pm Sundays, from May 1 to Dec. 19, in the Rhinebeck Municipal Parking Lot. On Dec. 4 there will be no market. Vendors' wares include jams and chutneys made in the Hudson Valley from locally grown fruits, apples, pears and stone fruit. Freshly baked pies, tarts, cider and donuts, grass-fed beef, eggs and freshly made pasta, Tuscan-style cheeses and a smorgasbord of foodie delights.
Summer Market will be held every Sunday of the month (June through October) from 10 am to 2 pm in Willow Kiln Park, right behind the Rosendale Theater on Main Street. The market's mission is to make the Rosendale community healthier by providing affordable access to local fresh produce and farm products directly from local farms through a weekly farmers market. The market features affordable regionally grown produce, arts, crafts and local Cereghino Smith wines.
The market features locally harvested food grown, raised, prepared and brought to market by local farmers, as well as seasonal vegetables; luscious orchard fruits; dried herbs; fresh-laid eggs; tasty goat and cow cheeses; pasture-raised meats and free-range poultry; delicious maple syrup, honey, jams and sauces, pickles; artisanal bread and baked goods. The market is open Saturdays from 10 am to 2 pm, from May 28 to Oct. 29. There will be no market on Oct. 2, Garlic Festival Day.
The market features fresh produce grown in Saunderskill Farm fields as well as items from other local vendors and farmers. When in season, you can shop for delicious homegrown strawberries, tomatoes, apples, asparagus, and sweet corn or grab coffee and breakfast, soups, sandwiches and other lunch items, as well as pre-made meals. The shelves are stocked with local honey, maple syrup and they have yummy soft-serve ice cream.
The market sells fresh local fruits and vegetables, homemade baked goods, old-fashioned jar goods, and quality flowers, as well as pumpkins and Christmas trees.
The third-generation family-owned and operated farm offers the freshest vegetables direct from the farm. It's a farm market for all seasons. In spring there are annuals, perennials and garden care items. In summer visitors are likely to find tomatoes, peppers, string beans, and strawberries. In fall there's a pick-your-own-pumpkin patch and a corn maze. On October weekends there are hayrides and activities for children. The farm stays open through December, offering Christmas Trees, poinsettias, wreaths, and holiday decorations.
Woodstock Farm Festival | Parking Lot, Rock City Road (across from Colony), Woodstock, NY
The farm festival takes place from 3 pm to 7 pm Wednesdays, from mid-May to mid-October. It features local fruits, veggies and flowers, plus specialty mushrooms, as well as cheese, organic meat, smoked fish, coffee, maple syrup and baked goods. There's also coffee, specialty mushrooms and freshly made kimchi. It's located in the parking lot across from the Colony on Rock City Road.
The first photo at the top is from the KINGSTON FARMERS MARKET | The mushroom below is from the WOODSTOCK FARMERS MARKET
+ + +
Be sure to search our online directory for all your food needs: Farmers' Markets, Specialty Markets, Grocery Stores, CSAs and so much more!