Back to Blog List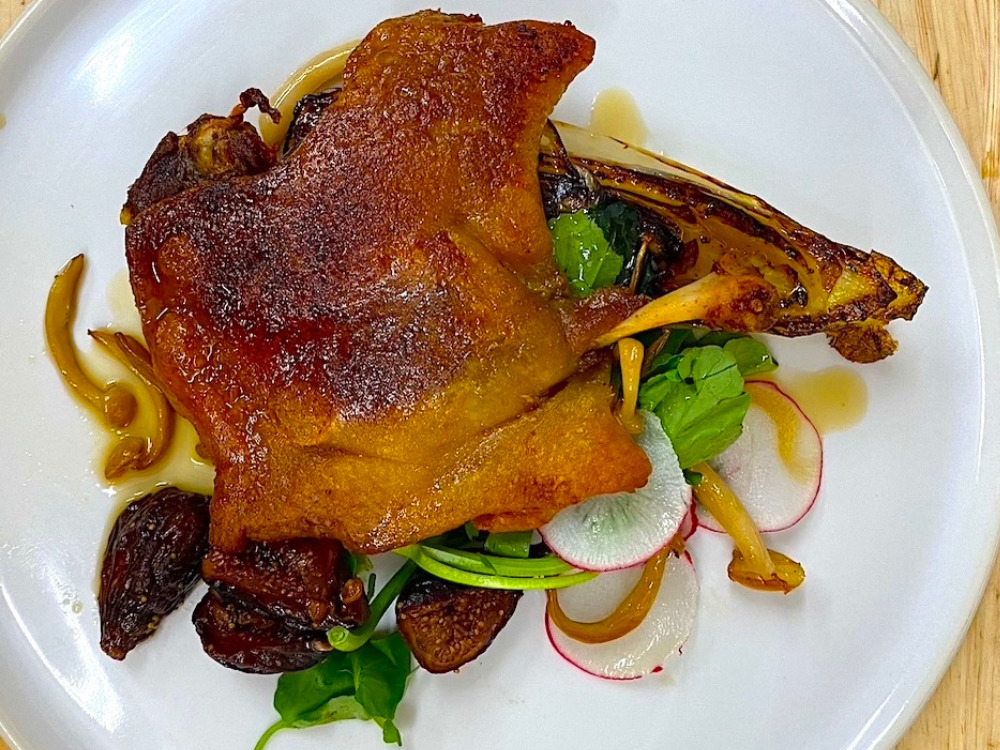 Jamie Parry's Romantic Dinner for Two: Duck Confit, Seared Endive, Shiitake, and Pickled Figs
Are you making plans for a special home-cooked meal for Valentine's Day? Well then, this recipe is for you! Chef de Cuisine, Jamie Parry, of Swoon Kitchenbar in Hudson NY, shares his favorite Valentine's Day recipe that you can whip up for that special someone in your life. Parry, known for his Buddha soul, is a Montrachet alum and culinary intellect, his thoughtful and vibrant food exudes his culinary knowledge, curiosity and formidable skill. Check out Inside + Out's exclusive interview with Chef Parry HERE.
+ + + If you make this recipe please share the results in the comments below. + + +
DUCK CONFIT
ingredients:
4 duck legs
Duck fat or canola oil
Kosher salt
Thyme
Garlic
Directions:
Salt legs liberally, flesh side up.
Season with garlic, thyme and black pepper
Refrigerate overnight
Preheat oven to 325 degrees
Wipe off legs and place duck legs flesh side down in a deep baking dish.
Cover legs with duck fat, cover dish with foil. Cook for approximately 3 hours or until duck legs are tender. Remove from fat, saving fat for another use. Let cool.
ENDIVE
Ingredients:
3-4 head of endive
Olive oil
White wine
Salt & pepper
Directions:
Split endive length-wise, season with salt and pepper.
Sear in a pan with a bit of olive oil over medium heat until the endive is nicely browned. Add white wine and cover. Cook until tender about 5 minutes.
PICKLED FIGS
Ingredients:
1 cup of dried figs cut in half
One cup of strong black tea
1/4 cup sherry vinegar
1/2 teaspoon of salt
2 teaspoons of sugar
Directions:
Combine. Let sit overnight, longer if possible.
To Serve:
Sear duck confit skin side down.
Put in a hot oven for 10 minutes
Warm endive and sautéed shiitake mushroom in a pan
Serve with pickled figs
+ + +
Swoon Kitchenbar
340 Warren St, Hudson, NY
518-822-8938
Website