Back to Blog List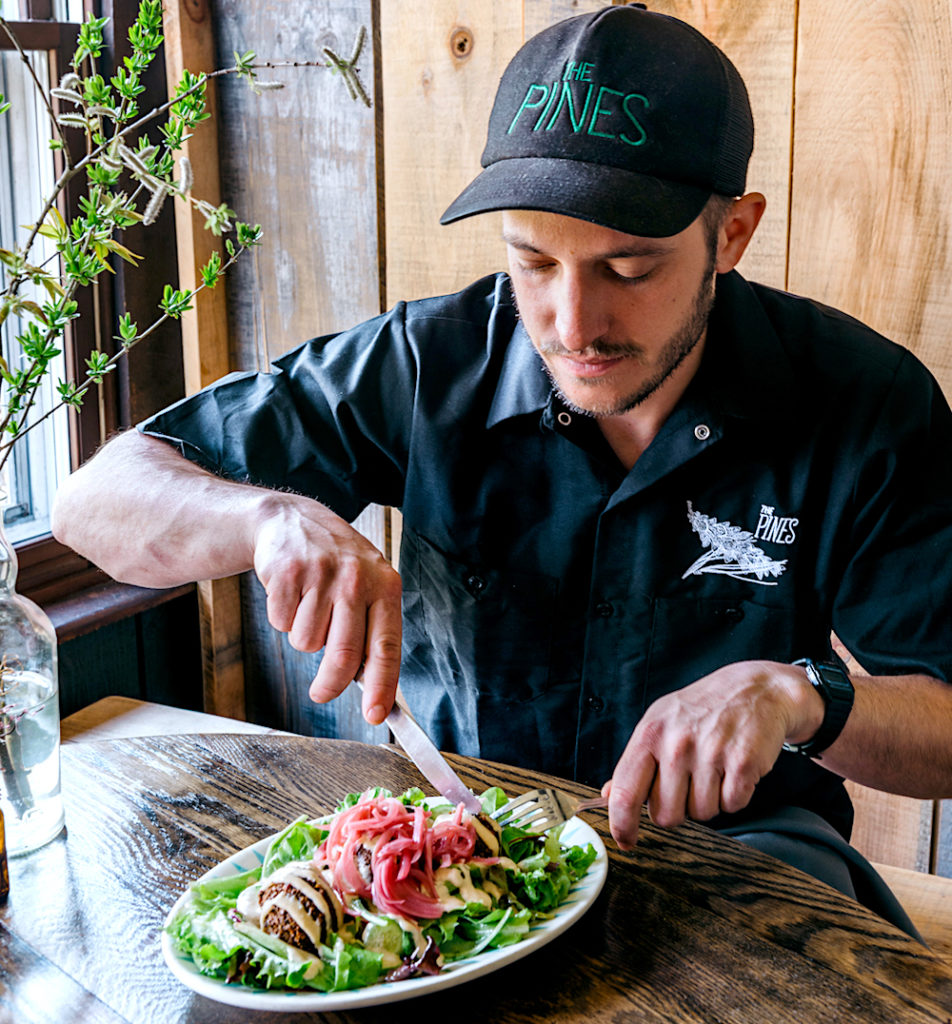 Meet the Chef: The Catskill Pine's Chef Wyatt Jaster
By
inside + out
| July 3, 2022
Next up in our Meet The Chef Series is Chef Wyatt Jaster of The Pines – a.k.a. the Catskill Pines – a popular restaurant and bar with indoor/outdoor seating and occasional live music. Serving locally sourced, rustic comfort food, The Pines is located on Route 212 in Mount Tremper on the way to Phoenicia. It's well worth the trip to experience their delicious food, excellent service, and a laid-back vibe loved by locals and those passing through the area.  Read on to learn more about Chef Jaster's journey as we discuss whole animal butchery, fermented foods and what inspires the menu at the Catskill Pines.
Be sure to also read our exclusive interview with The Pines founder, Jeremy Bernstein.
Inside+Out: Where are you originally from and how did you wind up in the Hudson Valley?
Chef Wyatt Jaster: I was born in Rockville, Maryland and moved to Baltimore when I was 18, where I started cooking professionally when I was 21. I worked in Baltimore for 7 years before moving to the Hudson Valley in early 2019 to homestead and help my brother with his small pig farm –Atticus Farm, now run by Ethan Knechel.

What inspired you to become a chef? What was your journey?
I started cooking professionally when I realized that a conventional education structure was not for me. I wanted to learn a practical craft that allowed me relative financial stability while doing so. I had been working as a food runner and bar back in a restaurant, and the chef offered me a couple of daytime shifts making pierogies for 8 hours. After a few of those shifts, I became eager to learn and participate more in the kitchen, and ultimately made a full transition to the back of the house. I worked in that kitchen for 5 years, 3 as a sous chef. After a bit of exposure to whole animal butchery and traditional meat curing methods in the restaurant, I took a job at a butcher shop, where I truly learned those crafts. In addition to honing my skills in whole animal butchery, meat curing, and large-scale sausage production, much of my time at the butcher shop was spent operating a massive wood-fired smoker. After the butcher shop closed in 2018, I spent some time at a fermented foods company, producing large-scale sauerkraut, kimchi, and kombucha for wholesale and retail. At the Pines, I try to use all of these crafts when developing our menu.



What is the draw of your place; what do you do to keep things "fresh?"
Anyone who's been to the Pines will tell you that our biggest draw is having the most incredible and friendly staff on the planet. We have a super small staff and coming to the Pines, even if it's your first time here, is like having drinks and a meal with old friends.
Who or what inspires your menu and how often do you change it?
Our menu is inspired by seasonal traditions and the availability of provisions. We source locally as much as possible, particularly in the summer months. Our menu changes with some frequency, but we rarely do a full overhaul. If we can't source something for a particular dish, it will get replaced. When one of us is excited about trying a new dish, we try it! If it works, it stays. When it stops working, it goes. Our biggest transitions are from winter to spring and summer to fall. In the summer, we like to serve simple and delicious picnic and barbecue-inspired food. Then once it starts to get cold, we lean on cozy comfort food.
The restaurant industry has seen much change and disruption with Covid. How are you adapting; is there a silver lining here?
For us, the silver lining was the push toward outdoor dining. We have a beautiful outdoor space that has really started to come to its full potential. We have live music on weekends, and hanging out by the smoker in the big field, playing ping pong, or eating at one of the picnic tables is just so nice. We've got a lot more space outdoors than indoors, and working outside is fun for our staff and allows us to serve our food and beverage to more people.
How do you inspire your staff and what is your company's culture?
The staff at The Pines inspires me more than I could ever hope to inspire anyone. I am incredibly lucky to work with such a warm, friendly, and professional crew. Everyone here has each other's backs, and these people are my dear friends in and out of work.


What local businesses do you rely on to be successful?
I never start a day without Heavyfeather coffee. And I definitely end a lot of days with Westkill Beer. Those are two relationships that are incredibly important to the restaurant. Also Migliorellis Farm, Sunfrost Farm, White Feather Farm, Veritas Farms, Atticus Farm, and the Hudson Valley Cattle Company. These local purveyors keep us running and our walk-in stocked.




Name three things you always have in your fridge/pantry.
Heavyfeather Roasting Co. Coffee, Martin's Potato rolls, Golden Mountain seasoning sauce.
Could you share one of my favorite dishes I had at the Pines this year… your Trout Chowder?
Sure.
Great!! Recipe to Follow soon. Stay tuned!
What's missing in the area (or town) that you wish we had?
A proper Disc Golf course!
Photos: The Pines | Harrison Lubin for Inside+Out Upstate NY
+ + +
THE PINES
5327 Route 212, Mount Tremper, NY
Thursday-Sunday: 5-9 PM
Indoor/Outdoor Seating and Take-Out
845-688-7311
Follow: Facebook | Instagram
catskillpines.com
+ + +
Read all of Inside+Out's MEET THE CHEF SERIES
Chef Jesse Frederick | Butterfield Restaurant at Hasbrouck House| Stone Ridge NY
Chef Corwin Kave | Deer Mountain Inn | Tannerville NY
Chef Kevin Katz | Red Onion Bar & Restaurant | Saugerties NY
Chef Alex Napolitano | Prospect at Scribners | Hunter NY
Chef Clare Hussain| Runa | New Paltz NY
Chef Jamie Parry | Swoon | Hudson NY
Chef Christoper Weathered | Mill & Main | Kerhonkson NY
Chef Elizabeth Steckel and Dirk Schalle | The Gunk Haus | Highland NY
Chef Richard Erickson | Blue Mountain Bistro & Bistro To Go | Kingston NY
Chef Cheryl Paff and Chef Juan Tzitzimititila | Black-Eyed Suzie's | Kingston NY
Chef Francesco Buitoni | GioBatta Alimentari | Tivoli NY
Chef Tony Moustakes | City Winery Hudson Valley | Montgomery NY
Chef Doris Choi | Silvia | Woodstock NY
Chef Wyatt Jaster | The Pines | Mount Tremper NY
+ + +
Search the Inside+Out Directory for Restaurants, Cafes, Coffee Shops, Bars + More!