Back to Blog List
Nine Catskills Bakers Featuring Handcrafted Cakes Guaranteed to Sweeten Your Wedding Day
November 5, 2022
The wedding cake tradition is alive and well, but it's been years since couples were restricted to the white-frosted sheet cakes of yore. The artisans we've selected are world-class at concocting a dazzling confection of sweetness, elegance, artistry, and yumminess. You may have difficulty making your final wedding cake decision, but, between your vision and their cake craftsmanship, you really can't go wrong. Happy sampling!
NINE CAKES | HUDSON | 518-660-1106 | WEBSITE
Nine Cakes is a boutique cake studio that specializes in creating decadently delicious cakes with elegant, handcrafted designs. Their upstate location in Hudson, New York, offers a full counter of delicious treats, slices of cake — and also beautiful wedding cakes. With creative, handmade designs and seasonal flavor pairings, Nine Cakes creates something a bit out of the ordinary, a fresh twist on tradition, and a cake to passionately devour. All their cakes are made to order. Whether a towering, beautiful wedding cake with hand-crafted sugar flowers or a custom first birthday cake, Nine Cakes creates bespoke creations for each of your milestone events. For your wedding day, you deserve the best – and at Nine Cakes, you'll get it! By appointment only.
THE UPSTATE TABLE | KINGSTON | 917-502-0808 | WEBSITE
The Upstate Table reflects the owners' philosophy of fresh, seasonal fare, focusing on delicious flavors and textures, using the finest quality ingredients (local whenever possible), and seasonal fruits and floral embellishments. Customer delight in their high-demand, beautifully designed specialty cakes. The Upstate Table will work with you to create the cake you want, the design you wish, whether it's stacked or tiered, fully frosted or naked. All cakes are handcrafted to order, and they request one-week advance notice.  All bookings are subject to availability. This cakery can also design dessert tables and host smaller events, either at their site or in your home.
MAXINE'S CATERING BITTERSWEET | ACCORD |  845-626-2762  | WEBSITE
With over 25 years of experience. Maxine's Catering & Bittersweet Bakers, located in the Hudson Valley, specializes in custom wedding cakes, specialty cakes, cupcakes for your special event. At Maxine's Catering & Bittersweet Bakers, all wedding and specialty cakes are prepared using only the finest ingredients- imported butter, the freshest cream, imported chocolates, fresh local fruits in season, and high-quality jams and preserves. Some of their cake masterpieces include Yellow Cake, Chocolate, Lemon Poppy Seed, Honey Rosemary, Banana Walnut, and Carrot. For fillings, indulge yourself with Ganache, Butter Cream, Bavarian Cream, Fruit Preserves & Jams, or Hazelnut Ganache.
LA PATISSERIE NORMANDE | WINDHAM | 607-282-2809 | FACEBOOK
Love is in the air! Enjoy a special occasion with one of our authentically French wedding cakes and pastries that will make your wedding or event extra special. Make your Catskill mountain dreams come true with our traditional tiered designs, frosted with natural elements, and all the sweet treats you need for a rustic or refined celebration. Say "Oui, Oui" to your dream wedding cake! We specialize in classic, one-of-a-kind wedding and specialty cakes, assorted French and International pastries, croissants, rolls, brioches and more!
SWEET MARISA'S | KINGSTON | 845-663-2000 | WEBSITE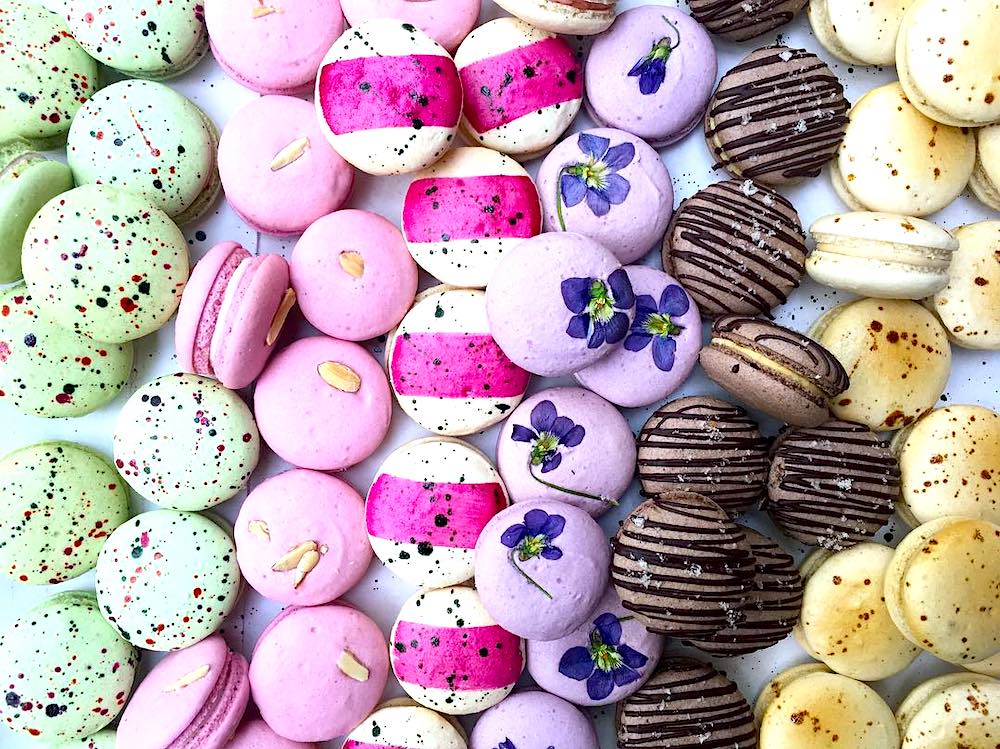 Founded in 2011 in the Hudson Valley, Sweet Maresa's is a bakeshop focused on crafting the highest-quality, ethically-sourced handmade desserts with integrity-driven, vegan and fair-trade ingredients. Specializing in vegan macarons and celebration cakes, we are happy to work with you for birthdays, weddings, events and gatherings. Their items are always from scratch, down to our butter and the numerous jams found in our baked goods. Pricing for wedding cakes and desserts is based on event details, guests and your vision for your day. Please call for more information and to set up a consultation.
BANANA MOON BAKING CO | CATSKILL | 518-291-9299 | WEBSITE
Wedding packages are available, ranging from a simple cake for a private event to all-inclusive dessert spreads for hundreds of people. Offering cookies, cakes, pies, cupcakes, brownies, bars and much more! Gluten-free options. No artificial colors or flavors. "Yum. Yum. And more yum," said one reviewer. "Not only will you love every bite, but customer service is personal and professional. Highly recommended!"
SWEET FENTON'S | SAUGERTIES | 845-706-4928 | FACEBOOK

Cakes, cookies and many other yummy treats. Bringing a little sweetness into everyone's life! Named after her son, self-made local baker and owner, Lori McEvoy, has an ingenious touch to turning flour, sugar, chocolate and butter into a Louis Vuitton bag, Jaws, a classic beautiful floral wedding cake to a superhero cannoli cake – YOU think of it, and Sweet Fenton's will create it!  Whether it's dark chocolate cake with vanilla whipped cream and strawberries, covered with vanilla bean Swiss meringue buttercream, dressed up to look like a bag of Cheez-its pouring out onto a cheesy cake; or, a chocolate cake with chocolate mousse and chocolate ganache designed for a Rock n' Roll Wedding, scribed with "Till Death Do Us Part" – Sweet Fenton's made to order cakes are always made with a creative touch and delectable taste.
OVERLOOK BAKERY | WOODSTOCK | 845-684-5898 | WEBSITE
In the shadow of Overlook Mountain, this cake palace creates scrumptious we serve up cakes, cookies, coffee and an assortment of treats for locals and visitors all year round. Specializing in party cakes and desserts for all occasions. Specialties include Carrot Cake, Chocolate Cosmic Cake, Coconut Cake, Strawberry Shortcake, Lemon Cake, Peanut Butter Cake, Almond Raspberry Cake, and Build a Layer Cake ( a perennial wedding favorite).
PATISSERIE LENOX | HUDSON | 518-400-2530 | WEBSITE
Patisserie Lenox has been compared to "stepping into a pastry shop in Paris" and praised as "a feast for the eyes and palette." Take a step into one of their lovely patisseries (the shop also has locations in Lenox, Great Barrington, and Northampton) and be dazzled by an overwhelming array of French special occasion cakes and the wide assortment of handmade classic French macarons. Patisserie Lenox makes cakes to order, and the walls display photographs of some magnificent wedding cake creations, including a striking "croque en bouche" tower. Owner Jean-Yves Bougouin is the real deal. Hailing from Brittany, France, he apprenticed as a pastry chef in Paris, scoring the top grade on the graduating culinary exam. He moved to Montreal and honed his skills in top North American restaurants including La Grenouille in New York City.
If you are lucky, you'll be able to try each and everyone before deciding! #sweet
+ + +
Search INSIDE+OUT UPSTATE NY's Directory for more Wedding Vendors, Wedding Photographers, Wedding Venues, Bridal Shops, Hair & Makeup, and more!