Back to Blog List
Flowers to Make the Heart Grow Fonder
February 8, 2022
The gift of flowers prompts thoughts of love in any season, but during winter's darkest days flowers also seduce the senses with their showy blooms, striking colors, aromatic allure, and in some cases, exotic looks. The most popular flowers to give on Valentine's Day are red roses, which symbolize love and romance, yet artistic arrangements of orchids, lilies, daisies, carnations, proteas, and freesias, even dried flower arrangements, can win hearts. Not sure which flowers to give? No worries. Talk to any of the Hudson Valley floral artisans listed below for an arrangement sure to dazzle and delight!
And, what goes better with flowers than chocolate? Click here for a list of the Best Chocolate Artisans in the Hudson Valley!
Hops Petunia Floral | 1 West Strand, Kingston | WEBSITE
A deep love of nature—and all its colors and textures—inspires the unique gifts and floral arrangements created by Hops Petunia Floral. Buying and sourcing from mostly local farms, the one-of-a-kind floral designs created by Hops Petunia Floral have been featured in Vogue and Harper's Bazaar. Flower bouquets and arrangements may be ordered for events or delivered to Kingston and the surrounding area. The store also sells bath salts, scents and products
Flowerkraut | 722 Warren Street, Hudson | WEBSITE


Flowerkraut offers fresh, unique, and sustainable floral arrangements and bouquets in an appealing palette of complementary colors. Beside the selection of fresh flowers, the store also offers a line of gifts selected largely from local and regional creatives, as well as plants, planters and an apothecary.
Heartbreaker CSA Flower Share @ Greig Farm | 227 Pitcher Lane, Red Hook | WEBSITE
For a floral gift that offers consecutive reminders of how much you care, consider a CSA flower share from Heartbreaker Flower Farm. A share includes artfully arranged bouquets for weekly pick-up at Greig Farm Market in Red Hook. For eight weeks in the Spring, their heartbreakingly beautiful bouquets feature tulips, narcissus, snapdragons and ranunculus. For ten weeks in the summer, the sumptuous and elegant bouquets are rich in sunflowers, dahlias, celosia, cosmos and zinnias. Heartbreaker Flower Farm is a small-scale grower, practicing low/no-till regenerative farming, so flowers are grown naturally and free of any chemicals. The farm is committed to building a sustainable and vibrant community of local flower lovers.
Rosery Flower Shop | 128 Green Street, Hudson | WEBSITE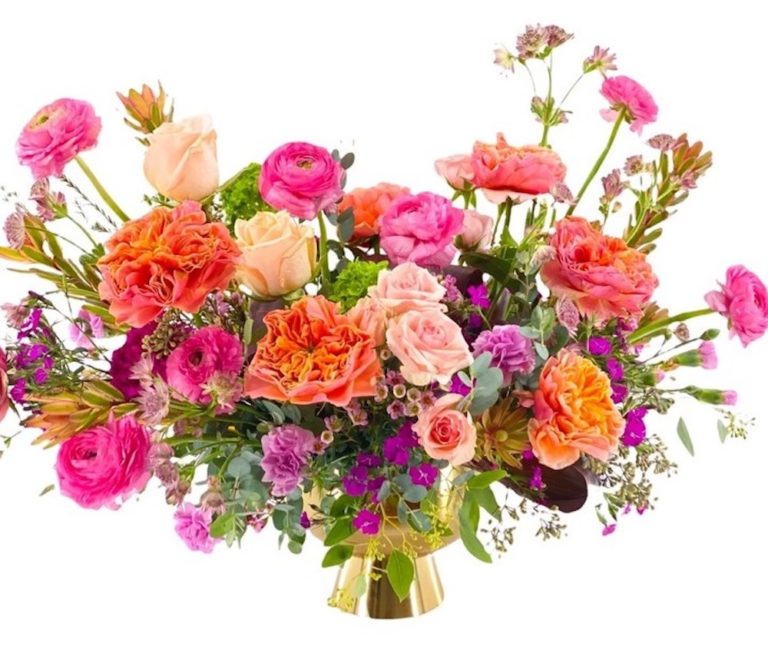 The family-owned full-service florist has been delighting its customers in Hudson for over 115 years. They offer a Classic Collection of tried-and-true favorites, a Luxe collection of premium favorites and a Rose collection with multiple options. Each arrangement is created with pride and passion.
The Quiet Botanist | 445-447 Warren Street, Hudson | WEBSITE


Inspired by apothecaries and overgrown gardens of a bygone era, The Quiet Botanist offers wild-crafted and dried flowers in everlasting arrangements. Arrangements such as The Brilliant Botanist, The Elegant Botanist and the Natural Botanist are composed of vivid dried flowers in ethereal designs. The store also offers an apothecary of botanical beauty products, gardening supplies and a facial spa. Check out the jar of floral petals – perfect for Valentine's Day where you can drop a path of flowers leading to a surprise gift (or to the bedroom) – just saying.
Jarita's Florist | 17 Tinker Street, Woodstock | WEBSITE


Overseen by noted floral designer Rita Sands and her partner Jay Sadowitz, Jarita's Florist has supplied the mid-Hudson Valley with beautiful floral arrangements since 1977. Consider a winter floral bouquet that celebrates delicate seasonal hues. Winter bouquets combine white roses with lilacs or pale pink roses with white lilies; or even white roses, verbena and carnations. Jarita's offers a rotating collection of flowers, distinctive plants, vases and carefully curated gifts.

Petalos Floral Design | 290 Fair Street, Kingston | WEBSITE


In his nearly 30 years as a floral designer, owner Brian Bender-Tymon has created arrangements for such glamorous locations as the Four Seasons hotels, The Beverly Hills and Beverly Wilshire hotels, the Palace of Fine Arts and Legion of Honor in San Francisco. Petalos offers a variety of beautiful floral Originals, such as a Wooden Wildflower Box, a Monet Arrangement with lavender, pink and white flowers; and an Orchid and Roses arrangement. Same day deliveries are offered in Kingston.
Dancing Tulip Floral Boutique | 114 Partition Street, Saugerties | WEBSITE
The Dancing Tulip Floral Boutique strikes a happy balance between being a contemporary, high-end floral boutique and a neighborhood florist, offering a fresh selection of high quality flowers, unusual and seasonal blooms as well as curated gifts and home decor. Special floral arrangements include such inventive mixes as orange ranunculus and purple anemones; sunflowers, roses and lavender irises; pink floyd roses and poppies; dogwood with purple and green roses; and a luxurious and vibrant garden mix.
Eirene Woodstock | Lake Hill  | WEBSITE


Established in 2020, Eirene Woodstock creates beautiful rustic bouquets and centerpieces as well as bespoke special arrangements. In addition to special bouquets and seasonal subscriptions, Eirene Woodstock will also supply flowers for events of all sizes, from a small family gathering to a massive wedding. They offer local delivery in Woodstock and surrounding areas.
Green Cottage | 1204 NY-13, High Falls | WEBSITE
Green Cottage has won several multiple awards for its visually stunning floral arrangements in a variety of sizes. Green Cottage offers dozens of fanciful arrangements that can be wrapped as a bouquet or presented in a clear vase. The selection of fresh cut flowers changes daily. With a focus on local artists, the shop also features cards,  jewelry, accessories,  luxury bath products, home goods and fanciful children's products.
Lavender and Leaf | Wappingers Falls | WEBSITE


The floral designers at Lavender & Leaf describe their designs as a perfect balance of wild and refined, incorporating lush blooms, textured greenery and foraged elements from cutting gardens, as well as from the wild. While they mainly do floral arrangements for weddings, they offer some beautifully curated botanical gifts. The Botanical Gift contains a dried bloom and grass bouquet, a small ceramic vase, a botanical/festive scented soap and a tea mug, while the  Flower Lover/Gardener Gift features a dried bloom and grass arrangement inside a ceramic vase, a glass/metal plant spritzer, a botanical scented bee soap, nasturtium seeds and a pressed botanical clay ornament.
Sea Change Farm & Flower | 221 Marcott Road, Kingston | WEBSITE
This woman-run flower farm and floral design shop grows chemical-free, pollinator-friendly blooms. Fresh flowers change with the seasons, from tulips, poppies, and anemones in spring to zinnias, cosmos, and lisianthus in summer; plus dahlias and heirloom chrysanthemums come fall. If the person you plan to gift is a gardener, consider a fun gift that keeps on giving. Sign them up for a Flower Arranging Workshop at Sea Change Farm or get a gift card that can be redeemed toward dahlia tubers, seedlings, farm-fresh loose flowers, flower arrangements or farmer's market items.
Petals and Moss Floral Design | 6 East Market Street, Red Hook | WEBSITE


Petals and Moss Floral Design brings nature indoors with organic florals and botanicals. Nancy J. Lee, the event and commercial floral designer behind Petals and Moss Floral Design, has been a horticulturist for over 25 years. Inspired by the aesthetic of wild natural arrangements, she uses seasonal blooms and foliage from local growers to create personalized floral selections. ​
Homegrown Floriculture | 3835 US-209, Stone Ridge | WEBSITE


Homegrown Floriculture offers hand-tied bouquets that sum up the bounty of a summer garden. Among the hand-tied bouquets are a Honey Bunch bouquet, a Quarter Acre bouquet and a Half Acre which mingles masses of farm fresh florals. Arranged bouquets include The Farmer's Daughter, which features hydrangeas and zinnias,The Big Barn Dance with peonies and ranunculus, plus Lovers In A Garden, a bouquet featuring blushing roses and hydrangea.
Search our Directory to find more fabulous florists in the Hudson Valley
HAPPY VALENTINE'S DAY!