Stone Ridge is a quaint and quiet upstate hamlet rich in historic properties and endless New York State landmarks.  Nestled between our two favorite places on earth; the Catskills and the Shawangunks, it's a well-appointed escape that is as close to rural as Ulster County gets. Locals know Stone Ridge is a place with an understated, yet sophisticated, high-end vibe. Whether you're popping into a coffee shop for a cappuccino or sneaking away for a weekend at a historic inn, you'll find yourself amidst landscapes that feel like they've popped off the pages of an Edith Wharton novel.
Our Stone Ridge directory includes the nearby hamlets of Accord, High Falls, Kerhonkson and Rosendale ­– all worth exploring with distinct personalities and must-see local attractions. This area is set within a landscape of rolling hills, mountain vistas, lush trees, and hundreds of miles of trails, offering more than one way to spend a day or a lifetime.
George Washington spent a lot of time on Wynkoop + slept in a house that is still standing to this day.
Author Robert Kahn lived here + in 2004, he was named as the fourth James H. Ottaway Sr. Visiting Professor of Journalism at SUNY New Paltz. He also lectured at Yale University, Princeton, + Columbia. Khan is an iconic New Yorker, best known for his 1972 baseball book The Boys of Summer.
The recently renovated MaMA (Marbletown Multi-Arts) center, housed in a building originally built by innovators in 1840, now hosts yoga classes and a wellness center.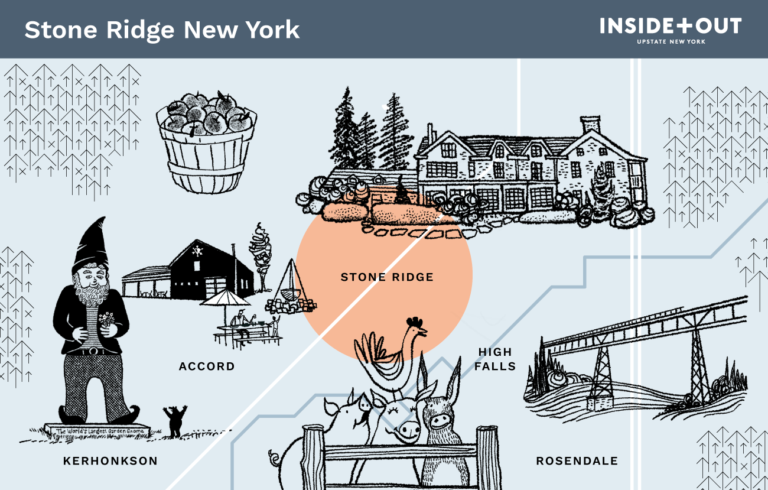 Your Stone Ridge Area Connection!
Catskill NY

Whether you prefer it cold with mayo (Maine style) or

Stone Ridge Area

Braxton Alexander got his professional start at an architectural woodturning

Catskill NY

Calling all bibliophiles! The long, hot days of summer provide