Back to Blog List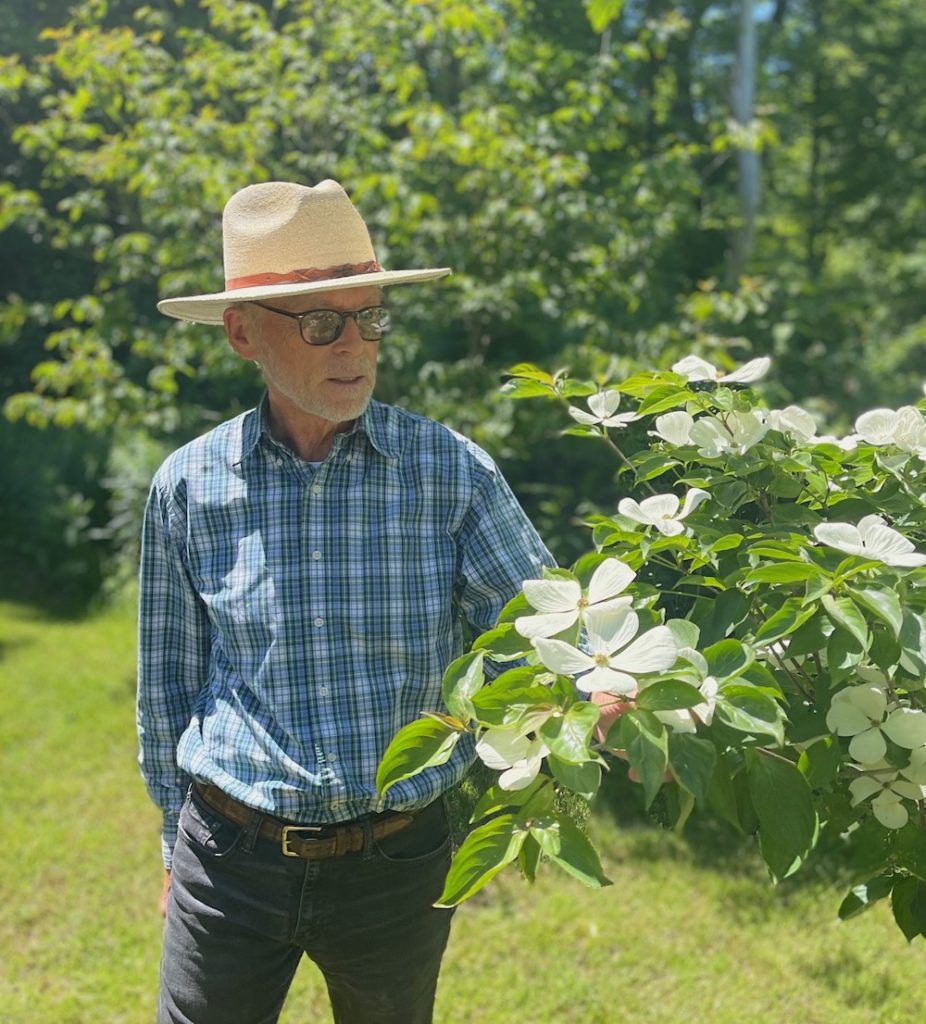 Step Inside the Magical World of Landscape Designer Jim Dinsmore
By
inside + out
| September 4, 2022
How does one decide upon hiring a landscape designer? Word of mouth, a website visit, a portfolio review of past projects, or a recommendation from a happy client. In our case, we had the best option of all–a visit to the property of Upstate New York landscape designer Jim Dinsmore for a personal tour of his thirty-year design project. Walking through his gardens, we witnessed Jim's passion for nature, design, and beauty as we meandered through his multiple garden "rooms," one leading to the next. With each turn taken or a walk through an open archway, he delightfully surprises guests with a statue, sculpture or whimsical detail that keeps you excited to keep exploring.
Inside+Out is Upstate NY with Jim Dinsmore, founder and designer of Dinsmore Landscaping. Let's explore his magical gardens and aesthetic approach to landscape design.


INSIDE+OUT: Where are you originally from, and how did you wind up in the Hudson Valley?
James Dinsmore:  I was born in San Francisco, one of the few natives, and grew up in the Bay Area. When I was in my early 20s, I headed east, looking to broaden my horizons and drawn to the allure of Manhattan, where I lived for 27 years. I bought my property in Upstate New York as a weekend home where I could have a garden, never imagining I would ever leave the city and move here full-time. But that is what I did in 2001, and I have not regretted that decision for a moment.
When did you know you wanted to be a landscape designer, and what was your journey?
I developed two great passions when I was still a child: gardening and collecting antiques. For years I had an antique shop in Greenwich Village. At a certain point, I decided to transition to doing landscaping professionally. I feel very fortunate to have made a living doing two things I love.
We loved visiting your property, walking through each beautifully curated space, one expertly leading to the next. Having experienced firsthand your astounding creativity, can you tell us about your personal project on your property– from planning to your creative process.
When searching for a property to buy, I was specifically looking for two things: an undeveloped lot, so I could design and build my own house, and a cleared lot, which would be my blank canvas on which to create my own version of Eden. Once I built the house, I came up with the overall layout of the garden pretty quickly.
Since the property was originally a farm field covered in tall grass, I started by mowing where the paths would go and then clearing the remaining areas for the planting beds.
Two famous gardens were of particular inspiration and influence for me in the design of my own garden. One was Vaux-le-Vicomte, a baroque French garden developed during the reign of Louis 14, which essentially was the prototype of the formal French style of design.
The other is Hidcote, an English garden that started after World War I that features the concept of garden rooms and different enclosed spaces that would lead one to the other. My garden has the formal geometric layout of a French-style garden, but with the loose, exuberant planting of an English-style garden, overflowing with flowers to soften the geometric structure of the design.
There are also numerous "rooms," each with its own layout and color scheme. The garden has evolved over the years. I'm continually adding to it, including an Asian-style "Buddha" garden and a wind garden. I have a feverish imagination and am always thinking of new things to do.



Do you consider yourself a landscape architect or a landscape designer and what is the difference?
To call yourself a landscape architect you have to actually have a degree in landscape architecture. I am a landscape designer.
How did you learn the ins and outs of sustainability, environmental and landscape design when starting out?
Having started gardening in California, the plants you can grow there would only survive in a greenhouse here in the Hudson Valley. So when I came east, I felt like I had to learn a whole new horticultural language. Since gardening is a passion of mine, I visit great gardens whenever I travel. I'm constantly reading about new plants and growing techniques, and I've been growing plants for over 50 years.
What is your creative process when working with clients? Do you scale up and down with staff as needed?
Each project is unique, with a different client and a different property. I start by asking a client what they want in a garden. Do they want a flower garden, a vegetable garden, a play area for children, or landscaping around a pool? The next thing to consider is the property itself. What are its natural features, and how can they be emphasized to help create a beautiful landscape? Before I do any design work, I spend some time on the property and see what it says to me. You want to work with the land, not against it. Depending on the size of the job, I bring in a small or large crew to produce the project.


How do you balance aesthetics with functional design?
When you design a garden, your goal is to create something beautiful that gives one pleasure to spend time in, so aesthetics are paramount. However, a garden must be maintained, and if plants don't do well, are not hardy, or get attacked by deer or other pests and diseases, you are fighting a losing battle. You also have to consider how much maintenance the client is willing to pay for, so the functional aspects of a good design are essential.
Do you collaborate with other professionals, such as architects, developers, builders, and environmentalists to create beautiful and functional outdoor spaces?
Any time you design a garden, it is essentially a collaboration. You have clients with particular wants. You have a property that partly dictates what you can and cannot do, and you have plants that are living, growing, and changing. You have Mother Nature, who sometimes works with you and sometimes (seemingly) against you. When you work with good stone masons, they are also artists with opinions about what looks best. If you are smart, you will listen to what is being suggested. It will make for a better result.

What is your favorite client project to date?
My favorite project is usually the latest I'm working on. I particularly enjoyed designing a very formal garden for a client, with boxwood parterres and clipped hedges–something I'm rarely asked to do since most people want a more informal country look. I also like designing public gardens since they will be enjoyed by so many people.
What is one question you're constantly asked or what's the biggest misconception about your business or what you do?
Clients often ask if I can design a no-maintenance garden as if a garden was a painting that, once finished, never changes. Every garden requires maintenance, some more, some less, depending on the design. I try to create low-maintenance gardens by using hardy plants that do not need extra protection to make it through the winter or by planting dense borders that are heavily mulched to discourage weeds. I use deer-resistant plants that otherwise would require spraying and limit the use of plants that need lots of watering. No diva plants that demand constant coddling!
Where do you find design inspiration? Are there leaders in gardening and landscape design that inspire you?
I find inspiration everywhere, from visiting the grand gardens of great estates to seeing an unusual color combination in a pocket-sized garden in front of a city house. What's interesting is how you can rescale those designs to fit your own size garden. I, of course, have my own pantheon of design masters: Le Notre, Gertrude Jekyll, Lawrence Johnston, Russell Page and Beatrix Farrand. I find visiting local gardens helpful since you know whatever you see can be grown in your own garden. It can be very frustrating to try to create a Mediterranean-style garden in zone 5.


What are some of your favorite trees, plants and tricks in the garden?
I love weeping trees and have two favorites. Cercidiphyllum has a broad branching habit and beautiful roundish blue-green leaves. In the spring, the leaf buds flush red, so the branches look like they are strung with garnets. The other is a purple weeping beech whose leaves open orange, then mature to a deep purple, and in the fall turn bright red. 
A favorite perennial is a much-underused persicaria. It has hundreds of wands of rosy flowers that start blooming in July and continue until frost–an unusually long flowering period for a perennial. There is another very large persicaria, polymorpha, which also has a long bloom period and looks like an astilbe on steroids with giant fluffy white flowers. Also, the deer don't like it, which is always a plus.
If I have a trick I use in my designs, it is to select plants as much for their foliage as for their flowers. The flowers you will see for a couple of weeks, but the foliage you'll see all season long. Even with perennials, I try to include ones that look attractive even when not in bloom.
Where do you source your materials?
I go to all the local nurseries and some further afield. Each carries a slightly different variety of plants, so depending on what I'm looking for determines where I go. But even Lowes and Home Depot sometimes surprise you with something unusual.
How do you grow your business and how do your clients find you?
Almost all work comes from referrals, which is great because the new client has most likely already seen my work and likes it. I have a website but have never done any advertising.

What are you working on now that you're excited about?
I'm currently working on a project undergoing a lot of renovation work to the house, including some excavation work outside. This means I can work with a blank canvas and don't have to work around existing plantings. It's all new and all by me.
What about the Hudson Valley makes it unique to live and work here?
I love the Hudson Valley. It is spectacularly beautiful, is historic, was the setting for an artistic movement, has some great communities, and has wonderful cultural offerings. Interestingly, I actually go to more theater and concerts here than I did when I lived in the city. I have dogs, and there are endless trails where we go hiking. Who would want to live anywhere else?
Tell us about some of your local projects – are they primarily private homes, or have you also designed public spaces?
Most of my jobs are private homes with large properties owned by weekenders. I like to do public projects because they can be visited and enjoyed by many people. I designed gardens for a church with an area for outdoor services, another for horticultural therapy, and one for a hospital at their cancer center. I also designed a 54-foot diameter labyrinth which is handicapped accessible.

What advice do you give homeowners with animals that love to nibble on our cherished gardens?
Nothing is more discouraging than to have a plant do well only to discover one day that it has been eaten to a nub by a deer, rabbit, or groundhog. The dewy brown eyes of a deer can start to look very sinister once you've lost an expensive shrub to its voracious appetite. Fences are helpful, and there are animal repellants. But for most cases, it's best to work with plants that the deer and other critters don't like. Nothing is 100% safe, but over the years, I've put together a list of reliable plants that are beautiful and usually left alone.
What local businesses do you rely on to be successful?
All the local nurseries, of course. As I mentioned, each carries slightly different stock, so it's good to check them all. I rely on the building supply stores for wood, latticework, and hardware. Stone yards supply me with materials for patios and walls. And it is good to know where ever you are working, which is the best place for takeout lunch.
What is missing in the area that you wish we had?
I live in Olivebridge, and there is no place nearby where I can buy a quart of milk and the New York Times. Olivebridge, like many other communities, was displaced by the construction of the reservoir. In its new location, it never developed a village center with shops.
What gardens have you visited around the world that people should see?
Gosh, there are so many. In Italy, just outside of Rome, is Tivoli Gardens, created in the 16th Century with literally over a hundred fountains still functioning more than 400 years later. 
Outside of Paris is the painter Claude Monet's garden at Giverny with its dazzling display of flowers and its famous waterlily pond, which featured so prominently in his paintings. Monet claimed that were it not for his garden, he would not have been a painter.
In Kent, south of London, is Sissinghurst, the renowned garden of the author Vita Sackville-West and her husband, Harold Nicholson. Created in the 1930s around the ruins of a castle, it is famous for its all-white garden and its series of garden "rooms." 
And right here in the Hudson Valley are two outstanding gardens I'd recommend visiting. The first is Innisfree Garden in Duchess County, an Asian-inspired garden that wraps around a lake filled with lotus plants. The other garden is nearby Wethersfield Estate & Garden, which is the exact opposite of Innisfree, its design being very formal and European in style, with clipped hedges and classical statues.

Who or what inspires you personally?
Keeping this in the horticultural vein, a person who has inspired me is the French garden designer Le Notre. He was responsible for creating the gardens at Versailles. Still, before that, he designed the gardens at a chateau outside Paris called Vaux Le Vicomte, which was seen by Louis XIV. He was so impressed that he hired Le Notre to landscape his royal residences. It has been meticulously restored and is open to the public. The first time I saw it, I felt I was looking at the horticultural equivalent of a Caravaggio painting, a true masterpiece.
What would be your dream project?
To me, a garden has the power to heal, both psychically and physically. So, I'd love to design a garden for a nursing home or hospital or even a park where visitors could feel invigorated and refreshed in both body and spirit.
Tell us something about yourself that people might be surprised to know.
I sang in the chorus of Rigoletto – never in my wildest dreams would I ever imagine performing on an operatic stage.


What would be your dream staycation?
A hike with the dogs, a couple of hours of work in the garden, dinner at a good restaurant, and a concert at Bard College.
What is your current state of mind?
As I get older, I increasingly appreciate the importance of family, friends, and community. If you are blessed with those, you can get through most anything.
Photos by Terry Dagrosa and Courtesy of Jim Dinsmore
+ + +
Contact Jim Dinsmore to discuss your next project.