Back to Blog List
Get Ready For a Multi-Sensory Experience with The Cocktail Architect
By
inside + out
| March 2, 2022
Next in our exclusive interview series– We Are Upstate New York, we are pleased to introduce you to the dynamic duo behind The Cocktail Architect. A decade ago, Yusef and Nandini Austin started their business from their apartment in Brooklyn, New York while they still had day jobs in the boutique hospitality industry. Their vision was to create killer cocktails for multi-sensory events. With perseverance and tenacity, not to mention a few connections with big names brands and world-renown celebrities, they grew steadily from word-of-mouth and referrals to a successful hospitality consulting business. Today, The Cocktail Architect offer online classes, bespoke simple syrup products, and cocktail-making kits. Let's raise a toast to their success and welcome them to the Hudson Valley.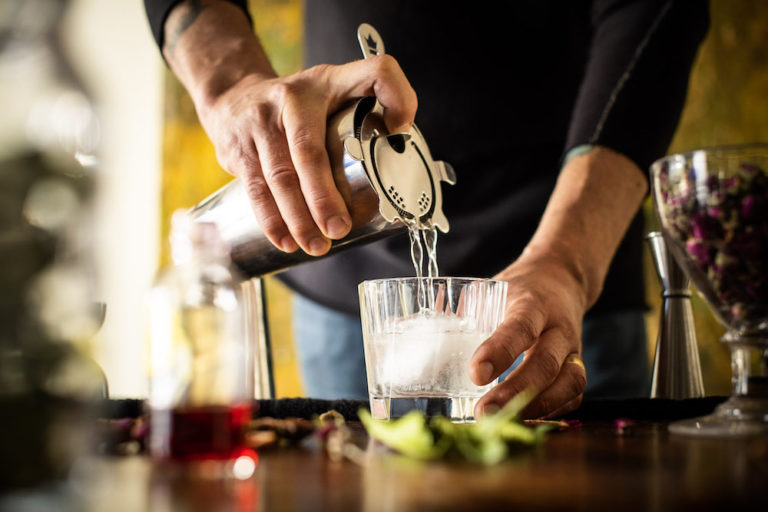 Tell us about yourself: Where were you born and how did you wind up in the Hudson Valley?
Yusef was born in Reading, Pennsylvania and I was born in London, England. We met in New York and started our business 'The Cocktail Architect' in Brooklyn whilst we still had day jobs, both in hospitality. After our wedding (barefoot on the beach in Mexico) and the birth of our son, Revel, we moved to a cozy apartment in Brooklyn where we began hosting pop-up supper clubs with food and cocktails. The business was booming and we were busy elevating the cocktail hour with our signature drinks at numerous events. And like most businesses, when Covid hit, we had to rethink everything. Hospitality and events were killed overnight.  We had considered a move to the Hudson Valley for quite a while but the lockdown era was the catalyst for us. We settled on a charming house on a 3.3-acre property in Olivebridge, NY. We instantly fell in love with the grounds, the mountain views and the fertile gardens. The move upstate has been amazing and we never looked back. It's a joy to have our children run about the backyard, go on daily hikes, and be inspired and nurtured by nature.
Where did you get the inspiration to start your business and what was your journey?
We started out doing in-person events working with high-end event planners, caterers and corporate planners creating signature cocktails for hotel openings, big birthday parties, weddings, and all types of celebrations, both local and abroad. We also hosted cocktail parties for celebrities, royalty and luminaries. If cocktails could talk we could share many stories! Next, we added bar consulting, creating bar programs for major restaurateurs like Chefs Club and Dos Caminos. And we became Brand Ambassadors for Spirit brands like Stoli by Elit and Tres Papalote Mezcal, working alongside Cheech Marin who was a blast. We also hosted supper clubs in our Brooklyn apartment featuring cocktails and Mauritian cuisine (Mauritius is where Nandini is from).
The inspiration to start Cocktail Architects came from our mutual love affair for good food, quality produce, mother earth, and traveling to far-flung countries where we'd visit spice markets and farmers' markets full of fresh fruit and produce. We always came home with a new spice or ingredient and began experimenting in the kitchen, trying out new flavors. Our cocktail recipes and inspiration come from cooking at home with a wide variety of spices, chilis and herbs. And yet, whilst our company is about creating multi-sensory drinking experiences and having fun, how we source our food and drink is something we take very seriously.  Our vision has always been to inspire everyone to drink, eat and celebrate life, consciously and organically.
The hospitality industry has seen much change and disruption with Covid. How are you adapting and is there a silver lining to be had here?
Yes- that's an understatement – it was a shocker, really, as we were in the upswing of our business. In the beginning, we took some time out to refocus and think. We headed to Annapolis to stay with a close friend, which was a godsend, quiet and away from the hustle of the city. We used this unexpected downtime to spend with our family and research and work on our business. One afternoon at the poolside with a cocktail or two in hand, we got a call from a past client asking us to host a virtual class for her and her friends. She was an avid lover of our cocktails, and we agreed to host a virtual cocktail class. It was a rewarding experience and much more intimate than we imagined as we could engage with everyone on screen. So we posted our classes on a platform called Vendry, a professional network and marketplace built for the events industry.
So you can say our online cocktail classes came about from Covid. We did not think much of it at the time. But, thanks to them, we literally blew up with so many emails from corporations looking for ways to connect their virtual employees or build team morale. So we hosted many online sessions, from Netflix to Spotify, using Zoom to teach our classes. It felt good to connect these working professionals who were working remotely. So many fun stories were shared. It was clear everyone welcomed the engagement and fun. With our classes being virtual, we also lowered our carbon footprint, as team members across the country could be united and connected online, and we get to work from home, which was an added bonus.
So, the silver lining for us was the creation of cocktail kits and our signature simple syrups. We realized that everyone wanted to craft a signature cocktail in the comfort of their own home and so our simple syrup line was realized.

You describe your business as  "multi-sensory cocktail experiences" Can you elaborate?
Yes, think of our classes as an interactive food and drink show where we share stories and discuss global drinking trends. We enjoy taking our guests on an immersive journey of the senses. Our aim is to transport our guests to a different place or time. We bring you 'Around the World' in some classes, showcasing far-flung spices and herbs. Others are themed more seasonally, where you'll get to learn about local ingredients. Either way, you get to touch, smell, taste, and see a variety of ingredients and flavor profiles.

Nandini is the Chief Storyteller and games mistress sharing food & drink trivia, whilst I demonstrate three cocktail recipes and share cocktail hacks and tricks. It is a multi-sensory experience with intoxicating aromas and tastes, punctuated by the sounds of shaking a cocktail. Basically, you create a drink you might have never tasted before and can say, "Hey, I made this drink, and it tastes amazing!" It's uplifting, confidence-boosting, and intoxicating all at the same time.
Who or what inspired you personally and professionally?
Nandini: We've had the support of great mentors like Colin Cowie for our business. Personally, my late father Gaya inspired me as he was such an enchanting spiritual man who had a brilliant attitude to life and was very Zen. I owe my tenacious spirit and optimism to him.
Yusef: Mostly the chance to be creative and turn people on to different flavors, aromas and tastes. Working with other like-minded people, getting to travel, being in the test kitchen, learning from others collaborating. And, I've had the great fortune of dining at some of the places you worked in NYC – The Mercer Kitchen, Dos Caminos and Andre Balaz' New York's sexiest bar, The Boom Boom Room.


Yusef, what are the signature drinks you've created for these hot spots and how do you go about developing a signature cocktail?
The Mercer Kitchen was a Sake Martini, made with Gin and garnished with a pickled yellow beet that had a bit of spice/heat to it.
Dos Caminos was a ghost chili-infused, Blanco Tequila Margarita. One of the hottest chilis on the planet and known for its amazing taste profile, I utilized it for a Passion fruit take on the famous cocktail.
The Boom Boom Room signature drink was Rosy Melons. This cocktail was designed during one of our test kitchen tasting sessions. Every season André Balazs would have all his bartenders come in to mess around with flavor profiles. It was Summer and we had a lot of ripe Cantaloupes. I ended up infusing Vodka with tarragon and mixing the Martini with fresh cantaloupe puree. A best seller for years when I was there. Probably the coolest bar gig I ever had.
Nandini, I know you worked with David Lynch at the David Lynch Foundation. I'm a huge fan! What did you learn from that experience?
II learned so much, especially the importance and the power of practicing Meditation daily. I learned how it affects your brain and the science behind it. I also learned how it really helps with addiction issues. I met Russell Brand, one of the meditators– he's a real hoot! Both being English and born in similar towns close near each other, we hit it off and had a long conversation about how Meditation has helped him immensely. It's such a necessity for us. Like David Lynch, I experienced being "one" with the universe. I learned all about the 'unified field' and the "default mode network" I have always been fascinated by the brain and how it works. I am convinced when you Meditate, you tap into that 90% of the brain we don't use. I also learned a little about the creative force behind David himself. We were fortunate to visit him at his home in LA and observe his creative energy in full force. I was so enamored that I gave him a hug at the end of our magical meeting.


Yusef, you have been named 'the Rockstar Mixologist' by event guru Colin Cowie. It doesn't get much better than that. How did you meet Colin and what does this mean to you?
I met Colin at his new apartment, The Icon in South Beach, Miami. I was there with some friends and ended up making drinks for all his fab friends, and we got to chatting as we knew some of the same people in NYC. He loved my drinks and how I used ingredients in my cocktails as a chef would. He appreciated unique flavor combinations and could see my potential and talent. One thing led to another, and before long, I became Colin Cowie events Rockstar mixologist. I was hired for every event imaginable to create beautiful cocktails. If you think about it, the bar sets the stage for what's to come at any event, so I was given full reign on creativity, which was great. I started flying around the world with him and his team in pursuit of the ultimate cocktail experience. I was on cloud nine! I met the most extraordinary people, visited different countries and venues, and was grateful my talents were being recognized. I made Cocktails for Oprah, Naomi Campbell, Iman… the list goes on. And, everyone was always so friendly. Colin put me on the map of mixology. To this day, I am truly grateful for our friendship and our creative experiences together. A talented man, to say the least.
Wow, lucky you! What is one question you're constantly asked or what's the biggest misconception about your business?
Often people confuse us for Architects, quite literally. It's funny as Yusef did want to be an architect at one time. We usually set them straight by explaining we do design, but not buildings–we design cocktails from the ground up. Another misconception is that people often think we often drink or are boozers. To be honest, back in the day when we met, we were, but now as we've become older and have kids, we are all more about balance. Let's face it, hangovers with kids are not fun, LOL. We make a plethora of nonalcoholic drinks, and our new simple syrup line is perfect for both drinks and mocktails.
OK, let's get personal! 
What are your favorite cocktails?
Anything that is Mezcal, Tequila or Gin
Name three things you always have in your fridge.
Oatmilk, fresh greens (bok choy, spinach), and pickled chilis.
What would be your dream Hudson Valley Staycation?
Camping under the stars, grilling local veg + meats, and fly fishing!
What are you watching?
Dr. Joe Dispenza on Gaia channel. He's amazing!
What are you listening to?
The IDLES, punk rock band
I have to ask… what is your signature drink?
The Exotique: Vodka, passion fruit, cardamom + star anise, and pink peppercorn. Delicious and has been served around the world.
What is your current state of mind?
Ridiculously optimistic!!!!
+ + +
DISCOVER + CONNECT
VISIT: THE COCKTAIL ARCHITECT | Premium Listing on INSIDE+OUT
SHOP: their gourmet Simple-Syrups and Cocktail Kits
BOOK: An online Cocktail Class