Back to Blog List
Upstate Arts Weekend | Combining Forces at the Swimming Hole Foundation
By
inside + out
| July 19, 2022
This weekend is the not to be missed event: Upstate Arts Weekend, taking place from July 22-24, 2022. More than 100 exhibitions and projects will be on view across the Hudson Valley, plus over 50 artists will open their studios to the public. This three-day self-directed, accessible event connects tourists and locals alike to celebrate the cultural vibrancy of Upstate New York. Click the link > to customize your Art Crawl at UPSTATE ART WEEKEND using google maps 
Included in this fabulous event is an exhibition and studio tour at the Swimming Hole Foundation, located in Woodstock NY.  "Combining Forces" is a collaborative work from the Swimming Hole residency program that will be shown during Upstate Arts Weekend. Over the past few weeks, fifteen artists have come to work together to create new artworks, ceramics, films and performances at the Swimming Hole Foundation. Each year, the Foundation selects artists, designers, educators and creative thinkers to collaborate on projects that embody environmental and social justice.
"Collaboration is a survival skill," says Debera Johnson, founder and director of the Swimming Hole Foundation. "We need to practice it and get good at it if we're going to right our ship."
Deb started the Swimming Hole Foundation a year ago. Curators are invited to create a theme and gather a group of people to work together from four days to three weeks. "I believe that artists and designers are speculative thinkers that can envision a better world. They have the power to show us the way things can be if we're brave enough." People live in the house and work in the barn. There is no cost and meals are provided. The environment is beautiful, the vibe is relaxed and the food is really good. "The best conversations happen at mealtime," says Johnson.
COMBINING FORCES
Collaborative Art and Artifacts Work created during the 2022 season.
DATE + TIME
Saturday, July 23, 2022
Work on view from 12 PM to 7 PM
Walking tour and reception at 5 PM
Register here > EVENTBRITE for directions.
Location: 61 Swimming Hole Road | Woodstock, NY 12409
Important – Neither the internet nor phone service work on the mountain!
GPS to 100 Walton Rd, Glenford, NY and follow signs
RSVP for Gate Code and specific directions.
+ + +
This year's exhibition showcases three collaborative work/themes done onsite over the past two months
Combining Forces is a part of the Upstate Arts Weekend | LEARN MORE by visiting Upstate Arts Weekend
BIRDS
The relationship between humans and animals is a complex one. Artifacts and artwork from a multitude of cultures depict, describe and celebrate animals. They are used to ornament ceramics, furniture, jewelry, tapestries, paintings, sculpture and more. These depictions demonstrate our intimacy, reverence and understanding of animals. Centering around birds, six artists combine their unique perspectives to create a multimedia installation.
This collaborative series celebrates the variety of form, behavior, habitat, biodiversity and joy that birds bring to our lives. Works include sculpture, projections, drawings and large-scale inflatables displayed against a spectacular view of the Catskill Mountains.
ARTISTS: Nancy Davidson, Sky Pape, Rick Klauber, Lyn Godley, David Provan, Rebecca Welz (Curator)
Individual works will also be on display.
LA CICATRIZ (The Scar)
Meaning "the scar" in Spanish, La Cicatriz is the first permanent installation at the Swimming Hole.
La Cicatriz is a permanent earthwork at The Swimming Hole. The "drawing" was carved into the ground by the natural force of rainwater and colored in with crushed brick from the local area. The result is a striking view of nature's organic handiwork. Directed by Debera Johnson, the founder and executive director of the Swimming Hole Foundation.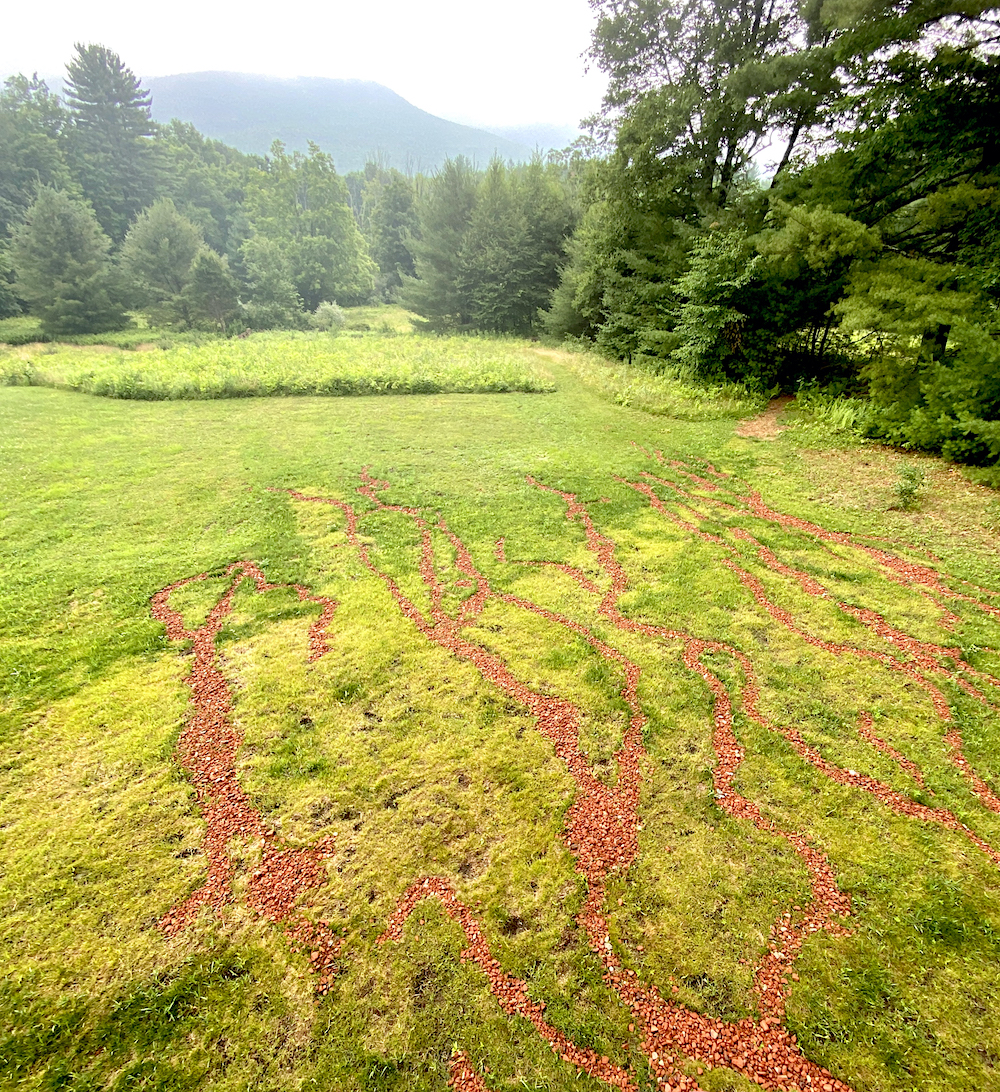 SIGNPOSTS IN THE SITESCAPE
The artists focused on experimental and multimodal collaboration and tapped the artist's visceral response to the mountain. The five Brooklyn-based artists present a series of artifacts: drawings, videos, notebooks, and recordings that document their collaboration.
ARTISTS: Maria Baker, Luke Degnan, Alex Goldberg, Megan Suttles, Amir Parsa (Curator)
INSIDE THE WALLS
Guest artist, Matt Nolan from Narrowsburg, NY will present new drawings and ceramics done at a one-month residency in Siena Italy.

There are five more collaborations coming to the Swimming Hole between now and October.
Themes range from "Chronic Body" to a workshop on data visualization.
It culminates with a five-day natural dying event and installation led by Madda Focelli and Ana Paula from Oaxaca, Mexico.

"These women are amazing and will dig into brilliant Mexican colors," says Johnson, "I can't wait to watch my hands turn red up to my wrists from the cochinel."
+ + +
More About The Swimming Hole Foundation
Founder | Debera Johnson
[email protected]

In a world of scarce resources and urgent problems, collaboration is now a survival skill for the future. The Swimming Hole offers groups of like-minded people a spectacular place to experiment, play and utilize the power of collaboration to carve pathways to a kinder more equitable world. Situated on the side of a mountain near historic Woodstock, NY, the Swimming Hole sits within 3500 acres of preserved land with expansive views of the northern Catskills.