Back to Blog List
For Something Special…It's Always a Good Night in Woodstock
We Are Upstate NY with Craig Leonard, one of the four owners of two super successful Woodstock restaurants: Silvia and Good Night. We were delighted to talk with Craig about his design process for Good Night and how it resulted in one of the Hudson Valley's swankiest restaurants.
With its plush banquettes and sweeping, elegantly curved bar, Good Night is pure Hollywood glamour. Combined with an Upstate NY laid-back vibe and Executive Chef Doris Choi's hyper-local seasonal menu of South East Asian cuisine (with a modern global twist), this local hot spot is perfect for any celebratory occasion or a special night out.
So whether you're looking for a romantic dinner for two, an exceptional group get-together, or just a quick bite at the bar, Good Night is the place to go for a great experience and a deliciously satisfying "good night."
INSIDE+OUT: Where were you born, and how did you wind up in the Hudson Valley?
CRAIG LEONARD: I was born in Bristol, England but grew up in London.The greatest. My hometown. But right out of high school, I discovered America and was smitten. I lived in Boston for 20 odd years and formed a clothing company there. I started with vintage and ended up having a successful streetwear retail store called Allston Beat. Kind of like Trash and Vaudeville in the city. Those were wonderful and exciting years. I started my retail business in Boston and spent a lot of time in NYC, so eventually, I moved there full-time. I became the retail partner of a large Dutch innovative denim company G Star Raw, opening stores around the country, from NYC to Chicago, Miami, and Boston. 
I think it was 2005 when we (Betty and I) first spent a Summer in the Hudson Valley. We rented a house in Rhinebeck and just loved it. In 2007 we bought our house in Woodstock, not knowing much about the town. We fell in love with a house and took the plunge. It only took two years for us to change from weekenders to full-time residents. With two young children in tow, we were ready for a new life. It was the best thing we could have ever done. 
What inspired you to enter the restaurant business, and what was your journey?
For at least a decade, I traveled back and forth from Woodstock to NYC as my business was there. But, in my heart, increasingly, it was becoming too much. I wanted to figure out how to make a living in the Hudson Valley and lose the commute. 
We're a family who has always been passionate about food, all food, but increasingly about healthy fresh food and its benefits. So floating an idea about a restaurant to Betty took a couple of years to not get a flat NO as a response. When her sister Doris moved upstate full-time, the wheels started to turn. Her Husband Niall was the only person with any real restaurant experience, and Doris could cook…really, really well. But she had never run a restaurant kitchen. It was an absolutely crazy idea but one we kept returning to at our family barbecues.
Driving through town every day, I would pass the old Joyous Lake building, seeing it still for sale–and it got me thinking. I knew the building was in disrepair. I was aware of its extraordinary history; seeing it falling apart was sad. But I loved it. Again it was a building that I fell for. 
Could this be the place? 
Is it way too big? 
Could we actually do this? 
Does it make sense at all? 
Of course, it didn't! 
It was a completely insane idea. So I bought it. 
Now we had to do something with it. After an extensive rebuild (far more extensive than planned), SILVIA was born. Doris is a genius, and our reputation grows. We celebrated our 5th birthday this July.
With the success of Silvia, what prompted you to venture into a second sister restaurant–GoodNight? 
Our second venture Good Night confirmed the understanding that we truly are all out of our minds. I have concluded that you must be that way to be a part of the restaurant world. If you enjoy high risk and chaos, this might be for you. But it is also seductive. 


Seeing people gather in a space you imagined and be genuinely happy with their experience is quite a thing to behold. I think making people happy is addictive. Knowing all the hard work and moving parts that make this experience seem almost flawless to our guests is still mind-blowing to me. Even today, I still don't know how it all actually happens. But it does, every day. 
So the question was asked, could we try to do it again? Should we? Well, we did. This time with some experience under our belt. Maybe a little less than the wing and a prayer that was SILVIA, but it is and has been another huge undertaking.
What are the similarities and differences between the two restaurants? 
The two restaurants are very different in look and feel, and the food is entirely different. They are similar in the way that they are run and the fact that we want to give our guests a quality experience that is relaxed and comfortable with friendly service.
Upon entering GoodNight, you can't help but swoon over its spectacular design. Tell us about your creative process, the team you worked with, and the inspiration for the final design. 
The design of Good Night was a labor of love. The process for me is always dictated by the space. Firstly I must love the building. Then the creative process begins. Imagining a myriad of ways that the space could be used. For me, this part is the most important, figuring out where the kitchen should go; we built an entirely new kitchen from the ground up as an addition to the building. This kept the original part of the building intact for us to imagine its use. It's a wonderful room, and we didn't want to take any of it away. 
I was adamant that I wanted Goodnight to look and feel very different from Silvia. We are so close to each other that great effort was made to give it its own identity and not to repeat ourselves.
Once the kitchen was decided, next, the main room, the Bar, and the seating area locations were key. It all has to flow, not just as a beautiful space but as a working space. Deciding on the floor plan takes some time. 
Like Silvia, this room could be imagined in endless variations. I love this part. Working with an architect, you can envision hundreds of different dining rooms. Eventually, you land in a place that seems to make sense. The main element in the room is the bar–the focal point and the first thing you see when you enter the restaurant–it had to be special. Once I had decided on a bar with curves, there was no going back. This one aspect drove the entire design of the space. Beautiful, expansive curves. The other main element of the space was the seating. We learned from Silvia that everyone loves booths and wants a corner spot. So we designed a seating plan with as many corners as possible in the room. We did have a great architect in Dino Kalesis on this whole project.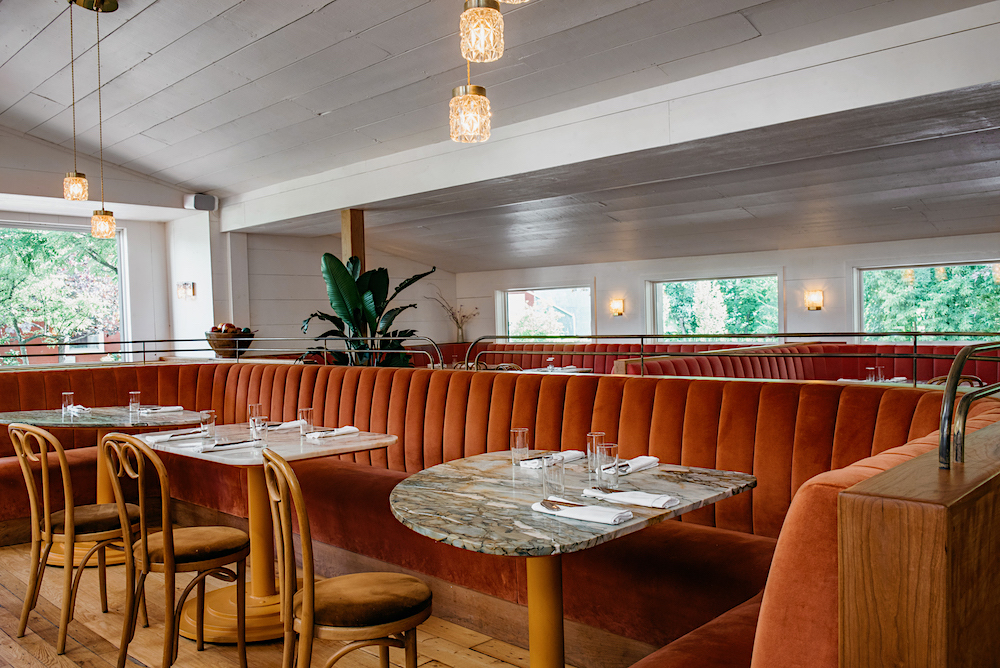 With this settled, now the sexy part. The look and feel of the decor. For this, I needed an eye that I trusted. To bring ideas, to steer me away from poor decisions. Someone to collaborate with and bounce ideas around. For that, I was fortunate enough to work with Kai Kuhne. He is a true original and a design genius. It was an excellent collaboration, and we worked surprisingly well together. I say "surprisingly" because we had worked together on Silvia. He is a handful, a notorious "enfant terrible." Opinionated, headstrong, out of his mind brilliant. At this point, practically all decisions on the look of the restaurant were made with Kai. 
With four partners, how easy was it to make decisions on the vision and design of Good Night?
With all this activity, I had to run everything by my partners before big decisions were made. Mostly they deferred to me and trusted I would get it done. The response to Good Night has been overwhelmingly positive. People are almost obsessed with the place. It is very different from all other restaurant choices in our area, which was intentional. 
How has the community responded to Good Night? The space, the menu, the vibe? The restaurant is pretty hopping whenever we're there. 
The flavor profile of the food is not something you find anywhere else. The restaurant's look is also entirely original, and people feel comfortable there. It has been pretty busy, considering we have only been open for a short time, and there is quite a vibe, especially on the weekends. The restaurant is pretty hopping. We opened the patio this Spring, and people just love the outside space; everything about it, especially the garden.
We have made an excellent start, and I know we will only improve with time. Silvia took a couple of years to find its stride, but Good Night has hit the ground running. By this time next year, we will be better at what we do as we learn how to operate two locations. 


What's one question you're constantly asked about your business?
We are consistently asked about the marble choices and the lighting. What are they, and where can I get them? Everything came from so many different places that it's almost impossible to answer. Of course, I know most of it, but we like to keep some secrets.
What impact does your business have on your community?
Being in our infancy, it's hard to say what impact Good Night will have on the community. Probably the most significant positive impact is that we employ about 45 people at any given time. We are here to give people another choice in this great food town. Another place where people can gather and celebrate with loved ones. Eating out is one of life's greatest pleasures. We are highly aware of its importance and will always do our best to make the experience good. Making new friends and seeing all our regulars from both restaurants is really what it's all about.
What local businesses do you rely on to be successful? 
We try to rely on as many local businesses as possible for our produce and services. We work with many local farms to get the freshest produce, proteins, and local drinks companies. Why wouldn't we? The Hudson Valley is the best resource.
Tell us something about GoodNight that people might be surprised to learn.
Only locals of a certain era will know the true history of the building. It has quite a storied past. The building housed a famed musical bar in the 70s called The Elephant, with its own legends and lore. In the 40s and 50s, it was called, The Seahorse. No music then, but it was THE town drinking hole of its day. There is a book, "Tales from the Seahorse," with stories about the bar, its characters, and Woodstock back in the day. A fun read. We know it was a horse stable in the 20s for a gentleman who owned a Hotel overlooking the green. I want to research more to know exactly when it was built. I am pretty sure it was originally a barn.
Photos Courtesy of Good Night and Photos Harrison Lubin for Inside+Out Upstate NY
+ + +
GOOD NIGHT
15 Rock City Road, Woodstock
845-684-7373
www.goodnightwoodstock.com