Back to Blog List
Building With Community: Meet MJ Collum of Country House Realty
By
inside + out
| August 7, 2023
Inside+Out Upstate NY is pleased to present an ongoing series of exclusive interviews in support of Kingston Design Connection and Ulster Habitat For Humanity's Building With Community Series.
Today, we are Upstate NY with real estate agent Megan Jo "MJ" Collum of Country House Realty. With an extensive background working in real estate development in NYC, MJ mastered the process of transforming properties through sensible design and dynamic renovations. Drawn to the welcoming community and natural beauty of the Hudson Valley, she moved upstate and became a licensed real estate agent in 2017. It only took three years to earn Top Producer recognition from her local realtor board and she has closed over $61M in sales, to date.  Looking to buy or sell a home? MJ is both a buyer's and seller's agent, specializing in Hudson Valley properties of all price points and home types—from rustic cabins in the woods to modern builds. Be sure to join us for this month's Home Improvement Speaker Series

RENOVATE YOUR HOME FOR MAXIMUM RETURN
A talk on cost-effective ways to increase your home's resale value and renovations to maximize long-term value
Date: August 15
Time: 5—6:30 PM
Ticket: $10 per person. Includes preview of new ReStore items before general public. Get your TICKETS HERE
And now, let's get to know MJ Collum…

INSIDE+OUT: Where are you originally from and how did you wind up in the Hudson Valley?
MJ Collum: I was born in Wyoming, raised in Texas––and refined in NYC. Drawn to the warm community and natural beauty of the Hudson Valley, I decamped to upstate about six years ago.
What inspired your interest in real estate and what was your personal journey?
Growing up in Houston, my grandfather owned a large general contracting firm that built mid-rise to high-rise buildings, so I always had a personal relationship with the built environment (surroundings created for humans, by humans and to be used for human activity). After getting a degree in marketing and communications, I worked in real estate development in NYC for many years. While there, I was intrigued by the work of the real estate agents we collaborated with to sell our new developments––but it wasn't until getting married and moving upstate that I felt I could really take that leap into a full-time commission-based job. It was scary at first, but I'm so glad I took the plunge!
What is one thing that sets you, Country House Realty, apart from other realtors?
I think the main thing that sets me apart from other real estate agents is a deep knowledge base of building concepts and materials. We have very old housing stock in this area and to be a valuable real estate advisor requires more than just a cursory understanding of the transaction process. And, in two decades of owning real estate myself, I have renovated three of my personal homes (the oldest one dating back to 1889)––and have also been a multifamily landlord and short-term rental host. So, I've just about done and seen it all!
Additionally, I love numbers and let data guide the decisions to be made in every transaction––from setting an asking price for a listing to negotiating purchase offers. My goal is to empower clients with information and let them be the ultimate decision-makers. I also make it my mission to treat all folks with dignity and respect––from clients to service providers and other agents.
Country House Realty is a woman-owned boutique brokerage, with a curated team of agents featuring diverse backgrounds in arts, music, design and photography. From styling, staging and marketing properties for sellers, to getting to know different towns while house hunting with buyers, we offer a superior client experience informed by deep market knowledge and local relationships.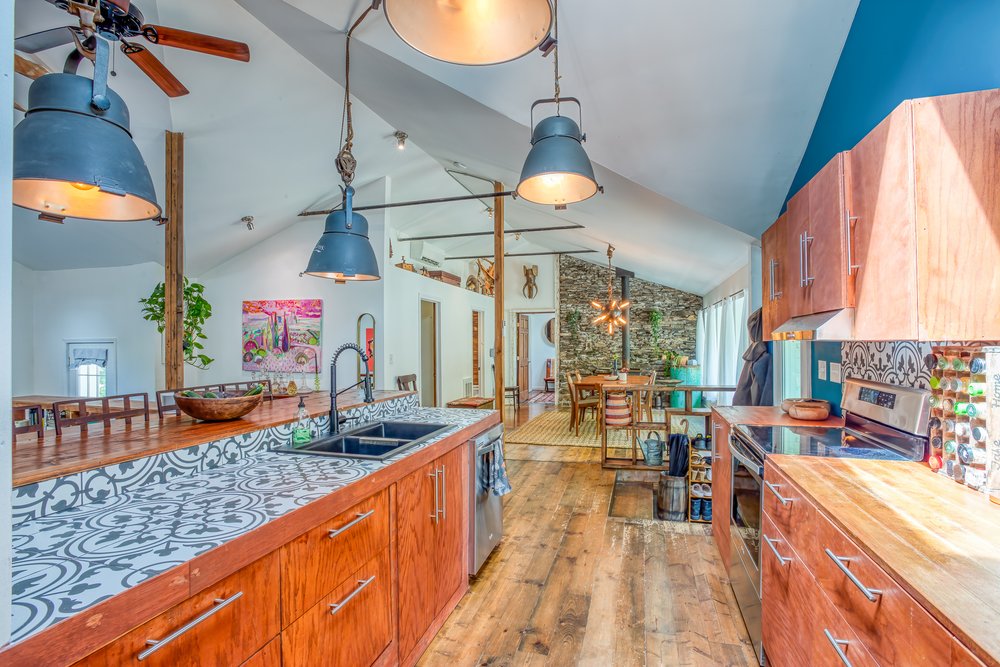 Who is your ideal client? Are you more of a buyer's or seller's agent?
My ideal clients are enthusiastic about the process and eager to make a deal happen! I work with both buyers and sellers––which I think makes me a better advisor to each, by knowing what's happening on both sides of the market. And while I love helping home buyers land their dream home, I really enjoy working with sellers, since I get to flex my creativity in styling, branding and marketing properties. And who doesn't love a good before and after?
What is the most incredible home you've represented or sold?
My largest sale to date ($5.5M) was an ultra-modern estate in Ghent (Columbia County), that had the trifecta of gorgeous Catskill mountain views, a big beautiful heated pool and a guest house nearly as nice as the main quarters. I represented the buyers, who basically described this property during our initial consultation, so we jumped on it the day it hit the market. Listing & Photos Courtesy of Dan Kessler, COMPASS.












What is the most rewarding and challenging part of your job?
The most rewarding part is seeing the joy on every client's face when they reach the closing table. The most challenging part is adjusting expectations when necessary, especially in regard to what buyers can reasonably afford at their budget or setting home prices for sellers. Sellers often have sentimental attachments to their homes, so telling them anything other than glowing praise has to be done very tactfully.
What is one question you're constantly asked or the biggest misconception about what you do?
"How's the Market?" is the most common question by far, I get asked this at least a couple times a week… and the biggest misconception is that going into real estate sales means you'll have more "free time" than a 9 to 5 desk job. I definitely work more hours and have a more jam-packed schedule than I did at any of my most demanding jobs in NYC.
How do you grow your business and how do your clients find you?
The majority of my business comes from referrals from past clients and my local relationships in the community. Clients primarily find me on Instagram or from their friends/family who know me and refer them directly.
What is it about the Hudson Valley that makes it unique to live + work here?
The Hudson Valley has such a great mix of vibrant town centers, with great shopping and dining options––and open space, including a trove of rail trail networks, state forests, public parks and other green spaces. It's a slower pace of life than the Big City. People are generally friendly and pleasant. The upstate creative community is also thriving. The arts and music scenes offer so many opportunities to partake, as either a creator or a spectator.
What impact does your business strive to have on your community?
I try to operate my business as a responsible community member, by giving back to local organizations and businesses––from arts to farms. I am currently an underwriter or sponsor of the Radio Kingston Community Fund, the Kingston Design Connection, and the Kingston Emergency Food Collaborative, among others. I have also donated to and co-hosted fundraising events for Upper Hudson Valley Planned Parenthood and local election campaigns. I'm a big proponent of supporting small businesses and building strong communities, so I enjoy connecting people with each other, and to other local businesses and services, whenever possible.
What local businesses do you rely on to be successful?
Aside from all the local restaurants who feed me on the daily (you are the real heroes!)––I rely on a network of inspectors, attorneys, and other service providers who consistently show up for me and my clients. And for staging and marketing my listings. I like to work with local vintage, antiques and home goods stores for furnishings and decor, as well as magazine-quality local photographers.
What is missing in the area that you wish we had?
First, more tradespeople––folks in the local trades are trending toward retirement age and we need more young people to learn the trades and continue to service the ongoing demand from local homeowners (Shout out to BOCES for their technical training programs!). Second, a mid-size music venue/bar (1000-person capacity) in or around Kingston––that has been sorely missed ever since BSP shuttered in 2020. And personally, I'd love to have a Trader Joe's!
Tell us something about yourself that people might be surprised to know.
As much as I love the scenic vistas and fresh mountain air, I'm not very "outdoorsy"… Give me a screened porch and a rocking chair to take in a verdant vista and I'm happy as a clam!
What is your current state of mind?
In spite of all the turmoil going on in the world, I feel very optimistic about our region and am constantly thankful for being here. Both in terms of how our state is poised to handle climate change and the human rights protections we are so fortunate to have here. The cost of living in NY State may be high, but as the old saying goes: "You get what you pay for!"
BUILDING WITH COMMUNITY: A Home Improvement Speaker Series
Join MJ Collum for a discussion on cost-effective ways to increase your home's resale value and renovations to maximize long-term value.
For more information just click HERE.
See you there!
Follow MJ Collum and Country House Realty via her Website | Facebook | Instagram
See all of our exclusive interviews from the "Building With Community" Home Improvement Series:
Building with Community: Meet Furniture Designer Megan Offner of New York Heartwoods
Building With Community: Meet Elizabeth Finkelstein Host of HGTV's Cheap Old Houses