Back to Blog List
"Studio 54 on Wheels" is Back in a Blaze of Retro-Chic – See You at Catskill's Roller Disco IV!
May 23, 2023
A lively spring is upon us and once again the season calls of "ready to roll!!" and "dust off your skates" ring forth from the newly relaunched, BjornQorn's popcorn-forward Skate Time in Accord, NY.
Attention freaks, sheiks, gays, geeks, and country hipsters of all the stripes:  Dust off your wheels and prepare for those warm and fuzzy nostalgia skate vibes at the '23 season of CATSKILLS ROLLER DISCO! — invite your family, friends, and neighbors for an action-packed bumpin' night of top DJ's, classic dance traxx, skee-ball, arcades, drinks, snacks, and jam skating with lots of dazzling outfits encouraged.
This year's Catskill's Roller Disco promises skaters, once again, an action-packed night of world class DJ artists and talent. A unique spectacle where you'll need to unleash your inner Roller Queen vixen to keep up with this cool crowd! You know what to expect: groovy classic disco skate tracks, old schoolhouse jams and jumpin' rolling tunes. Artist includes our queen of the decks Defected Record's Anna Collecta!
Saturday June 3, 2023
BjornQorn's Skate Time 7:00 pm – 11:00 pm
5164 US-209 • Accord NY
Tickets Start $30, with skates and afterparty included.
Click here for tickets
Stonehill's Barn AfterParty 11:00 PM
77 Mill Hook Road Accord NY
Entrance $25
Worldwide sounds of upstate music curator and producer, Eli of Soul Clap, and the slower half of Wolf + Lamb and Roller Disco founder Zev playing with the gems from the disco era, 80's + 90's to present day.




Photos by Fred J. Devito
Future disco outfits and Farrah Fawcett hair are highly encouraged to be in the running for the annual awards. Prizes will be donated by Hudson Valley's local small businesses. If your skate skills are tight, dare to enter the Ultimate Roller Disco Hustle class by Amy G.  For those feeling slightly wobbly on their wheels, sit back and check out the action while jiving to the tunes at Skate Time's new bar, stocked with locally sourced beer and wine.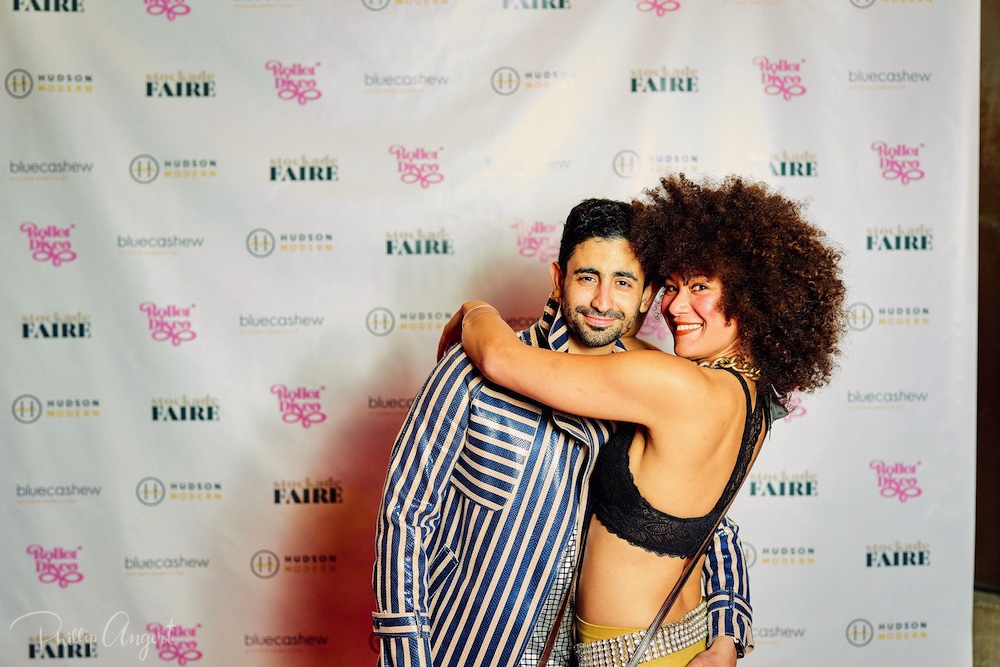 The retro flair event doesn't end at Skate Time, for 2023 your magical wristband includes the Stonehill's Barn afterparty where the warm tunes and good vibes kickoff from Kingston's own DJ Redlion's notorious Quesadisco followed by old school house tracks by Garret Roche. Wolf + Lamb's Baby Prince, House of Yes' David Kiss back-to- back with Sensay Shnay fuel the party until the morning hours. Closing the morning we welcome producer music maestro Peter Napoli (Eagle NYC and Pavilion F.I.). Magical
Saturday June 3, 2023
BjornQorn's Skate Time 7:00 pm – 11:00 pm
5164 US-209 • Accord NY
Tickets Start $30, with skates and afterparty included.
Click here for tickets
Stonehill's Barn AfterParty 11:00 PM
77 Mill Hook Road Accord NY
Entrance $25
Lighting Design Installation by Niteminds. Sound by White Rabbit Audio.
Cocktails by Accords' favorite mixologist Brendan of Catskill Cocktail Club.
+ + +
PARTNERS
Extrovert and introvert, three-time cancer survivor and social saboteur – for two decades, these differences have only sparked the seismic energies that Zev Eisenberg and Gadi Mizrahi have brought and continue to bring to dance music and international DJ culture. Upstate since 2001 and continue to bring joy to people through music, dancing, and roller skating.
A culinary think-tank / kitchen shop located in the Stockade District of Kingston. An experimental space fostering exploration of subjects including events, formal structured cooking classes, chef & author demonstrations plus a well-curated arsenal of culinary tools and designed objects.
It's not just about modern dwellings — it's about a modern approach to community. Active in real estate development in the Hudson Valley since 2001, Zev founded the brokerage with David Shapiro, founder and owner of NYC-based Grand & Co in 2018 and was joined by rock star agent Shane Menaker. The company has an emphasis on community living in a rural setting. It's newest project, Rustic Pines goes on sale this summer.
BjornQorn is a cult favorite popcorn brand based in New York's Hudson Valley. The flavors are all vegan, nutrient fortified, and made in a custom-built solar electric kitchen. Their 'Classic' nutritional yeast flavor has been described by Bon Appétit as "…the only packaged popcorn worth buying."
An annual event taking place in the "Uptown" Stockade area of Kingston, NY on Saturday September 30, 2023. Local businesses come together to highlight Uptown's thriving creative community welcome locals and visitors from afar to shop, feast and peruse the maker's market curated by Phoenicia Flea. DJs for Climate Action stage, Hotel Kinsley Live Music Stage programmed by Drew Frankel of Impact Artist. Pugsley's Hog and Hotrods.
Welcome the Kingston queer community. A local group of fun loving local loving group that serves the needs of queer life in Kingston. Queer Conspiracy uses their connections to provide social events and raise the level of queer life throughout the year.
A new, 19 home community in Wawarsing, NY — just minutes from the roller rink. Untouched nature surrounds each modern chalet, with a thoughtfully designed, 2,200 sf home ready to build on 2.7 wooded acres starting at $749,000.
Photos by Phillip Angert and Fred J. Devito