Back to Blog List
An Insider's Guide to Home Decor Shops in the Hudson Valley
By
inside + out
| October 6, 2022
What makes a home a home? Whatever makes it uniquely yours. Creating a home that reflects your interests is one of life's real joys. And the many home decor shops in the Hudson Valley make it easy to find just what you're looking for—even if you don't know quite what that is. If you're furnishing a new home or expanding into a larger space, looking for elegant glassware or a reupholstered vintage sofa, want a conversation-provoking art object or just a bottle opener, there's an amazing selection of decor sources to realize your decorating dreams…
BEACON NEW YORK
Solstad House | 488 Main Street, Beacon NY | 845-440-7281
Unique tea cups, vividly patterned tea towels and fragrant candles are just a few of the home decor items available at Solstad House. Beacon residents Steve Yount and Frankie Martinez launched Solstad House to provide a well-curated, unique shopping experience with an emphasis on hand-made products from small, US-based vendors. The result is a community general store that looks, smells, tastes, and sounds amazing.
Berte | 500 Main Street, Beacon NY
Berte is a curated home and lifestyle shop, specializing in handcrafted goods and modern design, with the mission of bringing intentionality into the day-to-day. Home decor includes creatively curated candles, kitchenware, ornamental decor, mugs, rugs, linens, and wine glasses.
Sybil | 426 Main Street, Beacon NY
The Beacon store features distinctive glasses and cutlery, vases and mugs, woven throws and a selection of deliciously scented bath and beauty items. Sybil emphasizes timeless design and quality materials, celebrating the creations of artisans who have carefully honed their craft.
CATSKILL NEW YORK
Kaaterskill Market | 428 Main Street, Catskill NY | 518-291-8874
The market features sustainable, local, fair trade, natural homewares and gifts. Looking for a wicker birdhouse, brightly patterned Swedish dishcloths, a rounded basket or a natural broom? These are just a few of the beautifully functional inside-and-outside decorative items found in the market.
High Rock Home | 443 Main Street, Catskill NY | 518-303-1466
Located in a renovated 1920s building, Joe's Garage, the store offers decor, entertaining and gift ideas for home and garden. The store's collection of home decor and accessories focuses on nature, with every product inspired by the natural beauty, changing seasons and wildlife of the Catskill Mountains.
Corduroy Shop | 396 Main Street, Catskill NY | 518-598-9550
Fancy denim patched upholstered vintage couch? That's the one-of-a-kind project the Corduroy Shop takes on, and as a result, has home decor items you can't find anywhere else. Much of the shop's art, decor, pillows and furnishings are made from hand-sewn recycled fabrics. Anything is possible and the upholstery in this store is eco-friendly.
HUDSON NEW YORK
Lilli & Loo | 259 Warren Street, Hudson NY | 518-822-9492
Lilli and Loo's elegant Hudson shop is housed in three adjoining 19th-century buildings. The shop's inventory incorporates the classical as well as the eccentric. Shop wares include a range of vintage and modern furnishings, lighting, tableware, drapes and pillows, as well as wonderfully textured and crafted objects to add interest to any room.
Minna | 421 Warren Street, Hudson NY | 518-697-5638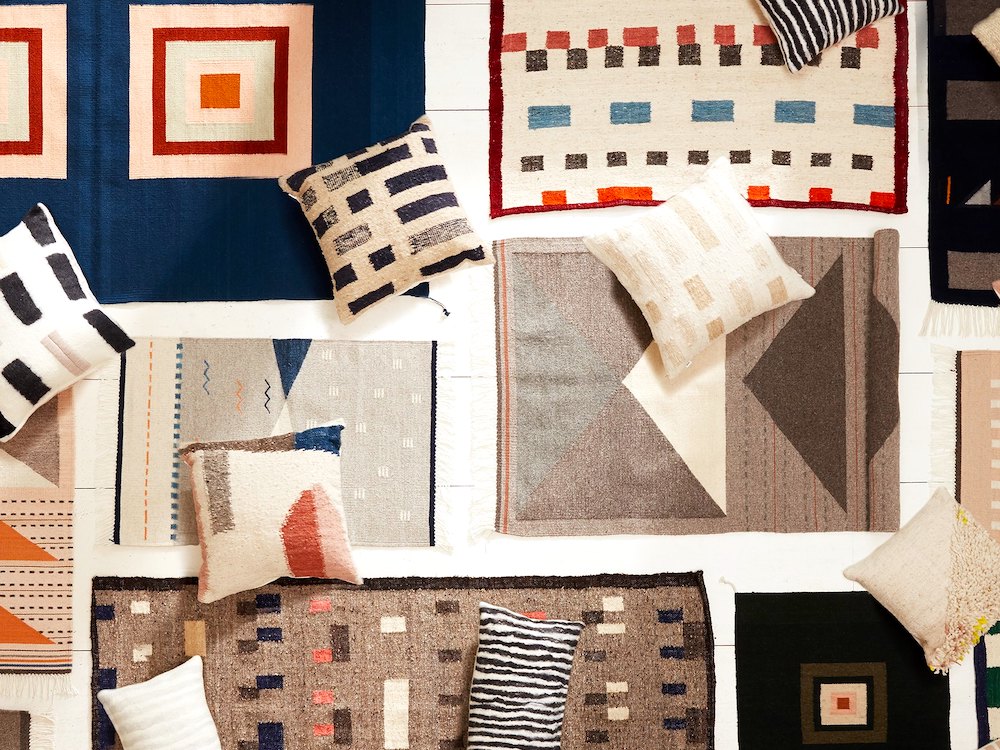 Minna is a tight-knit team of artists, creators, and thinkers who believe in creating beautiful, ethically made products and using business to do good. Carefully crafted products include pillows, bedding, rugs, kitchen and pantry items, furniture, baskets, artwork and objects. You can also buy fabric by the yard.
Dish Hudson | 103 Warren Street, Hudson NY | 917-971-9533
Dish Hudson emphasizes simple lines and the basics of casual but elegant living with every item that the store sells. Candy-colored mugs and vintage Willow Ware are just part of the wide selection of dishes, serve ware, glassware and tabletop accessories found at Dish Hudson. The store also features a line of DISH branded table linens, placemats, runners, coasters and other handmade products, some using vintage cloth.
Finch Hudson | 427 Warren Street, Hudson NY | 518-828-3430
The store's collection of vintage and modern goods for the home was created by luxury fashion leader Andrew Arrick together with his husband Michael Hofemann. The luxurious and sophisticated collection includes various forms of seating, tables, lighting, art and textiles, plus distinctive objects of interest made from glass, metal, ceramics and electronics.
Les Indiennes | 444 Warren Street, Hudson NY | 518-828-2811
Mary Mulcahy launched Les Indiennes in 2002. She wanted to create products made from naturally dyed cotton, with airy patterns of big, single-colored motifs. Unable to locate such fabrics anywhere, she decided to create her own eco-friendly material, which she has transformed into gorgeously patterned wall hangings, shower curtains, bedding, pillows, table linens, curtains and wallpaper.
Hudson Home | 366 Warren Street, Hudson NY | 518-822-8120
The store is home to many items a home needs to be both comfortable and sophisticated. Hudson Home has a bounty of both new and vintage furniture, custom upholstery and case goods, decorative lighting and accessories, bed linens and tableware, fragrant candles, artwork and vintage finds/
Next Home Decor | 160 Fairview Avenue, Ste 73, Hudson NY | 518-947-0578
Next Home Decor is home to alluring rugs, charming farmhouse decor, garden decor, antiques and vintage furniture, industrial storage options and designer picks. There's new inventory daily and the business holds online auctions.
Tradewinds | 409 Warren Street, Hudson NY | 518-697-5100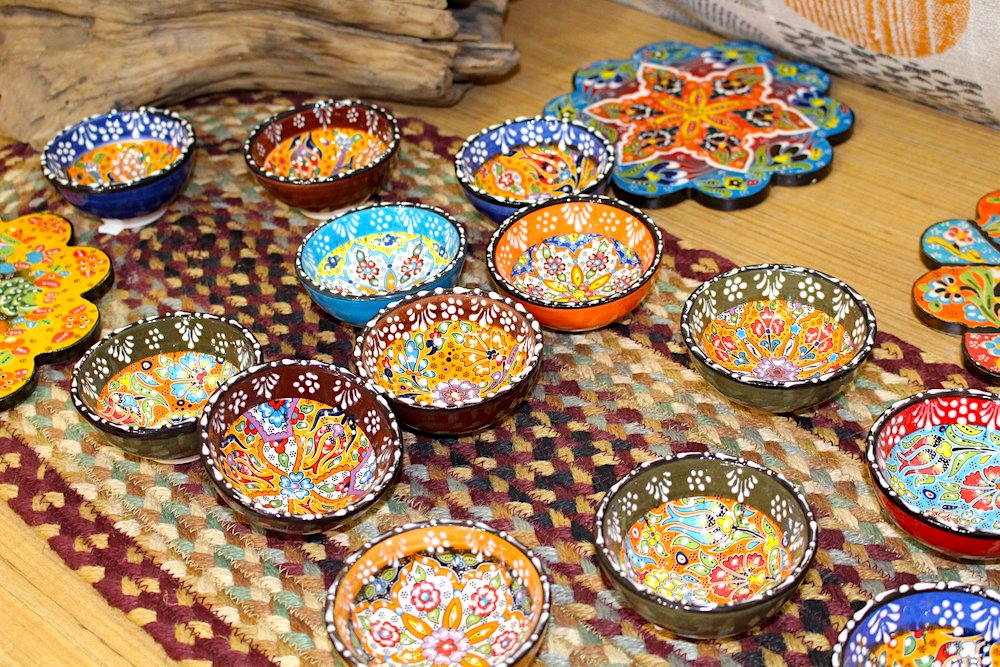 The nonprofit retail store features unique handcrafted items made by artisans from around the world and people with intellectual and/or developmental differences. The store is run by Coarc, the largest nonprofit organization in Columbia County, which is dedicated to helping people experiencing disabilities to achieve their individual goals. Buying home decor accessories at the shop helps support Coarc's goal.
Batterby House | 609 Warren Street, Hudson NY | 518-822-9229
You'll love this little shop inside the Battersby House Inn. Everything sold at Batterby House makes a bold statement, whether that's antique sterling silver and glass match strikers, an antique child's leather club rocking chair, vivid Moroccan bowls and terra cotta candle holders, handmade kitchenware or the selection of gourmet food items. The store also sells candles, colorful tableware, tie-dyed pillows and Turkish pillows.
KINGSTON NEW YORK
The attractive culinary concept shop offers quality cookware, stylish tabletop items and intimate hands-on cooking classes. Bundt form pans, tea and matcha gear, stemware, chef's knives and provisions are just a few of the aesthetically pleasing kitchen must-haves that the Kingston store stocks.
Exit Nineteen | 390 Wall Street, Kingston NY | 845-514-2485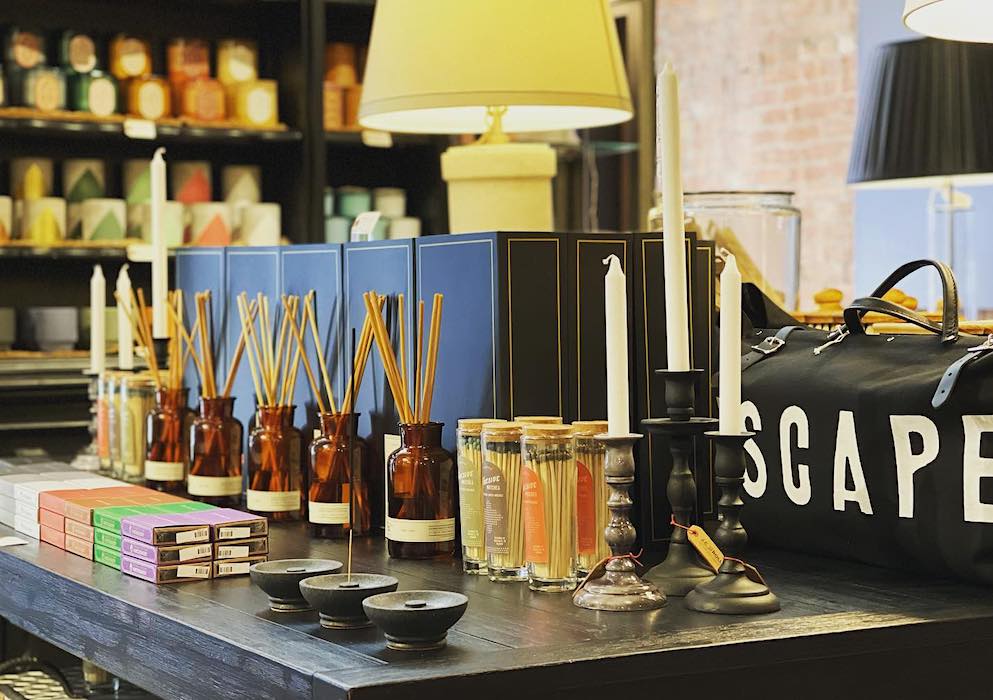 Exit 19 carries stylish furnishings, vintage pieces and decor items as well as a beautiful line of products to enhance table settings. Sourced from all over the world, that includes cheese boards and knives, glassware, serving bowls, decanters, hybrid china, and bar accessories. Check out their beautifully decorated windows and seasonal display.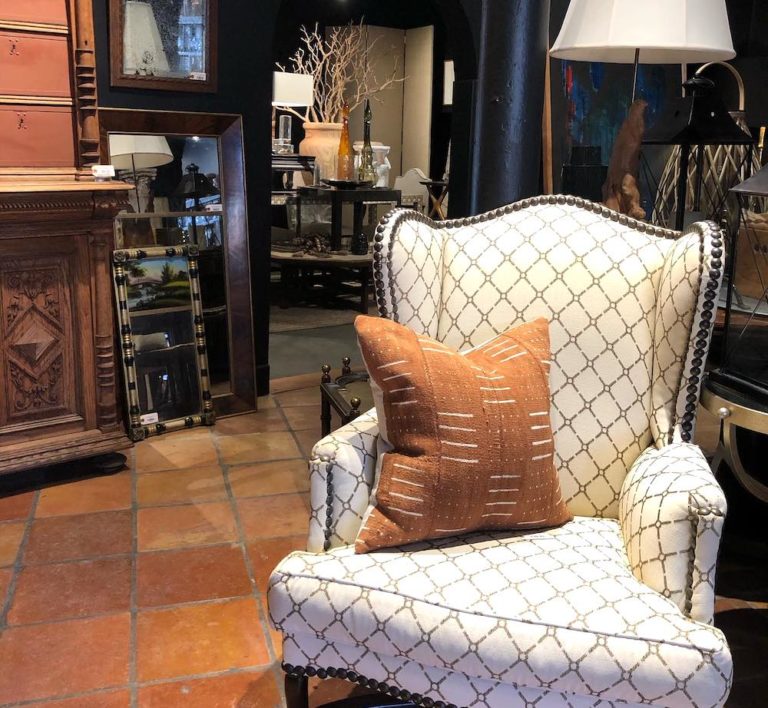 The store features an unexpected blend of 20th Century furnishings, art, lighting and decorative objects. The eclectic mix includes an ever-changing vintage selection of both American and European mid-century masters, along with many stylish hand-selected pieces. Found in Kingston's historic Rondout neighborhood, the store also features mirrors, bar items and glassware, boxes, baskets, bowls and candle ware.
NEW PALTZ NEW YORK
Cocoon | 67 Main Street, New Paltz NY | 845-255-6862
From dream catchers to retro clocks, the store offers an array of inventive housewarming gifts and home decor items to make your own interiors more interesting. Cocoon's sister store, Verde, is located at 3 North Front Street and offers clothes as well as candles, bath and beauty supplies.
Isabella's Treasure | 7 North Front Street, New Paltz NY | 845-255-5100
Isabella's Treasure has been described as a whimsical gathering of all things beautiful. That gathering includes delicate picture frames, whimsical holiday decorations, baskets, brightly colored Polish pottery, earthenware, vintage cups and toys.
RHINEBECK NEW YORK
Hammertown | 6420 Montgomery Street, Rhinebeck, NY | 845-876-1450
Hammertown is home to antique and modern furnishings for the kitchen, bedrooms, bath, plus indoor and outdoor living spaces. There's a selection of beautifully crafted sofas, loveseats, chairs, dining tables, rugs, tables and ottomans, plus vintage drawers, storage options, mirrors, textiles and rugs.
SAUGERTIES NEW YORK
Mod Catskills | 92 Partition Street, Saugerties NY | 845-418-3270

This store specializes in mid-century modern furnishings, including chairs, tables, and cabinets as well as lighting, rugs, art and decor. The store was featured in Architectural Digest as a great place to buy antiques. Green is also home to a gallery and an interior design service.
Treasures in the Rough | 188 Burt Street, Saugerties NY | 845-246-1170
There are treasures to be found in this Country Primitive shop, which sells handmade items and custom-built furniture for home and garden. The wares include pillows, chairs, lighting, wreaths and decorative objects. A great selection of holiday items.
Bosco's Mercantile | 89A Partition Street, Saugerties NY | 845-247-3157
The upscale bedding and lifestyle store provides quality goods while supporting fair trade. The store features organic Coyuchi linens, throws, vintage indigo decorative pillows, tabletop ceramics and other beautiful works created by artisans around the world.
SHANDAKEN NEW YORK 
The market is a great place to browse through a variety of rustic, antique and modern furnishings. The huge inventory features various kinds of decor with a focus on good design, oddity, and functionality.
WOODSTOCK NEW YORK
The Gilded Carriage | 95 Tinker Street, Woodstock NY | 845-679-2607
The Gilded Carriage is a long-time Woodstock source for fine kitchen and housewares. The inviting store features rows of colorful Le Creuset pots and pans, richly scented soaps and candles, custom-made towels and ceramic dishware, as well as sculptural teapots and glittering glassware.
Beck Home and Goods | 65 Tinker Street, Woodstock NY | 845-684-7110
Beck Home and Goods features everything you need to organize and make a house cozy for the cooler months. Candles, blankets, towels, storage, baskets, pillows and rugs are neatly arranged throughout the store. There's also a selection of kitchen items—glasses, mugs, cutting boards, bowls and trays.
Shop Little House | 47 Tinker Street, Woodstock NY | 845-684-7178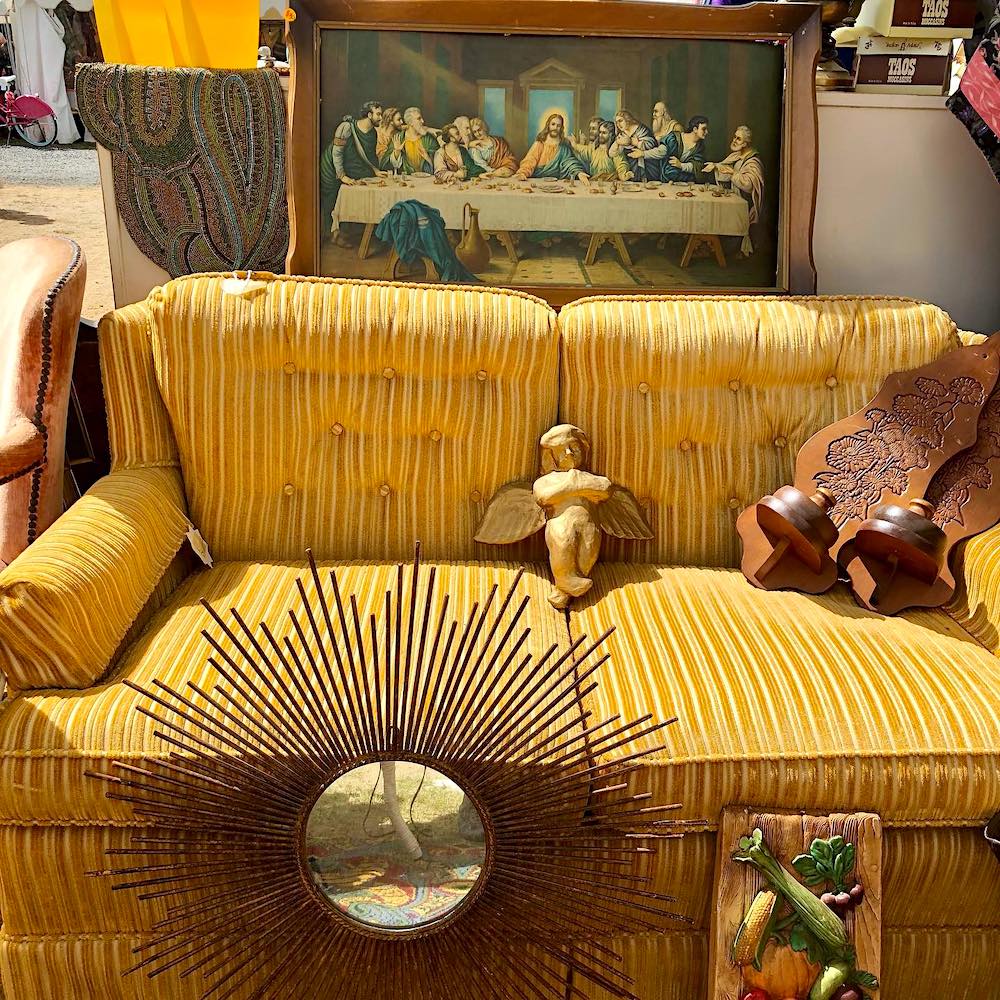 Shop Little House is a good source for the entertaining basics, such as glasses, bowls, shakers and vivid splatter ware. The shop also features cozy blankets, pillows and throws, art, books, totes and one-of-a-kind vintage finds.
Timbuktu | 2 Tannery Brook Road, Woodstock NY | 845-679-1169
Timbuktu stocks beautiful home goods that are handmade, repurposed and made locally. That includes a unique selection of rugs, pottery and fine art, plus textiles, organic bath and beauty products. Whether you are looking for a handmade walnut cutting board or hand-blown amber glass Moroccan tea glasses, Timbuktu is a fun place to explore. (FEATURED PHOTO: Dorthy & Alice "I've seen some weird shit." is from Timbuktu)
+ + +
SEARCH the INSIDE+OUT online directory for all your home decor needs! SEARCH HERE
Did we miss your favorite home goods shop? Leave us a message – we'd love to hear from you