Back to Blog List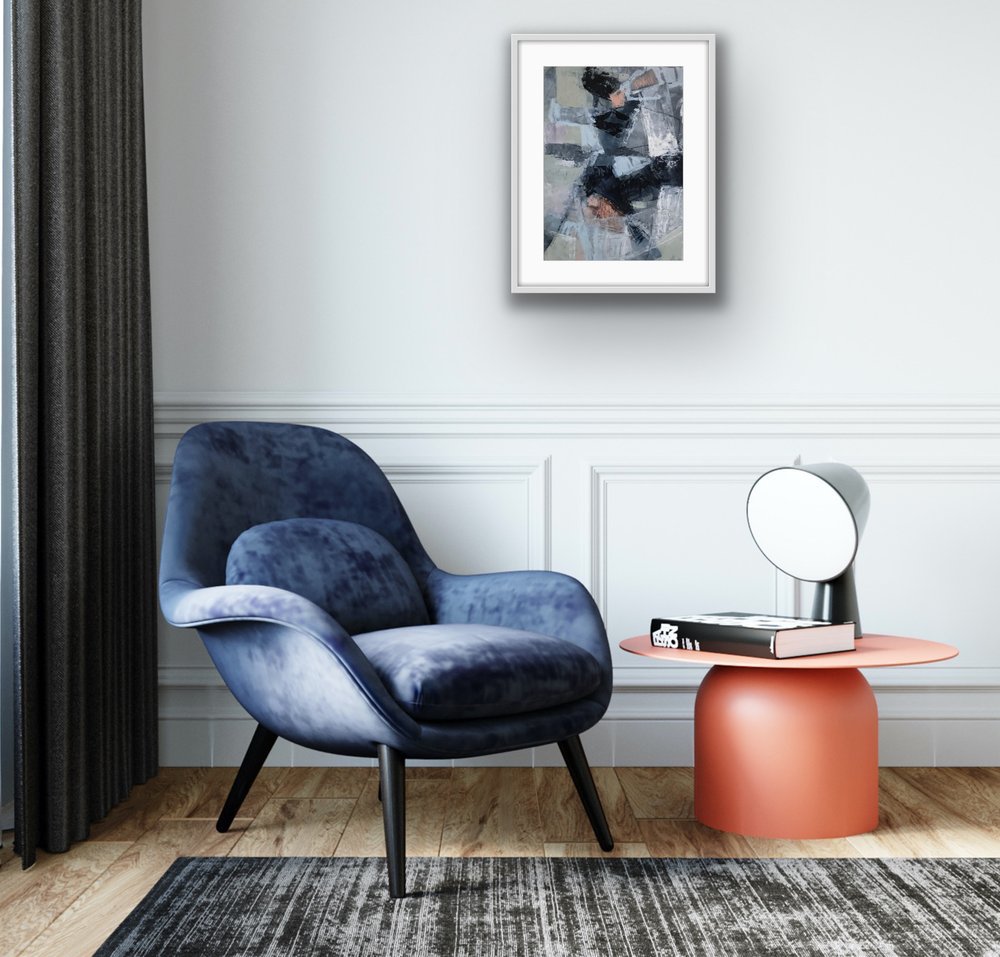 Kingston's Pinkwater Gallery Puts the Focus on Local Women Artists and Affordability
By
Sal Cataldi
| October 24, 2022
The Hudson Valley art scene is bursting with new galleries but perhaps none as single-minded, and as approachable for the newbie and casual collector, as Uptown Kingston's Pinkwater Gallery.
Pinkwater was launched in September 2019 by Anne Sanger, a former Brooklynite and fashion illustrator. It was designed as a platform to showcase her art and that of other uniquely talented local women artists focused on abstract forms.  Sanger also wanted the art to be affordable and the gallery environment homey and welcoming – an alternative to the sterile and standoffish "white box" spaces, and sky-high price tags, of New York City's Chelsea.
"I studied fashion design and worked as an illustrator and then designer in the garment district for 25 years," begins Sanger.  "I started painting again in the summer of 2015 by taking classes and workshops at the Woodstock School of Art. It is through the school that I met many of the incredible women artists we showcase here at Pinkwater."

Pinkwater got its name from a series of paintings by Sanger in the gallery's premiere exhibition, the environmentally-themed and ironically titled, How I Learned to Stop Worrying and Love Climate Change.
"It was a series of green and blue paintings on which I poured a Pepto Bismol pink," laughs Sanger.  "I fell in love with the name and decided it would be a memorable one for the gallery.  Many galleries are named after their owners and that is something I definitely did not want to do."
After buying a home in the area, her own evolution as an abstract artist and the community she found among local women artists led to the decision to spotlight contemporary women artists at the gallery.
"I bought a house in Hurley in 2017 and became a full-timer in 2019," she continues. "I felt I had 'aged out' of fashion and wanted to return to my first love – painting.  When it came to the gallery scene, I felt that women, and especially those working in abstract forms, were wholly underrepresented.  And with news like the overturn of Roe vs. Wade, it's more important than ever that women artists have a voice and a platform like ours."
Pinkwater presently shows work by ten to fifteen artists every season. The gallery features a new group show every other month and brings a handful of new artists into the fold each year.

"Anne's background as a fashion designer gives her an exquisite eye for seeing beauty, style, detail, a refined color sense — and she brings it all together with the artwork she exhibits and the relationships she creates with her artists," adds artist Susanna Ronner. "It's been a joy to work with Anne and I am grateful for the opportunity to exhibit my art on the Pinkwater Gallery walls."
Pinkwater is also focused on making collectors out of locals and Hudson Valley visitors by keeping the art affordable and showcasing it in a uniquely approachable way.
"My intention with Pinkwater is to provide affordable art," says Sanger. "The works sell for anywhere between a couple of hundred dollars to a few thousand.  It enables people to buy stuff on a lark, especially visitors to the Hudson Valley which represents about 50% of our clientele.  A big part of our business is also new arrivals who are looking for art for their new homes."
The latter is a group Sanger works with in two novel ways: her unique à la maison showcase and Loan On Approval initiatives.

When you enter the Pinkwater Gallery, you immediately feel at home thanks to Sanger's à la maison.
"A la Maison" means 'at home' and that's what we seek to do at Pinkwater," continues Sanger.  "Our gallery is dressed like a home, with various furnishings, so buyers can get a feel for what the art on exhibit may look like in their living room, bedroom, etc. It's the opposite of the off-putting and pretentious 'white box' vibe.  And it has worked really well for us, especially with first-time art buyers."
Sanger takes things further by loaning artwork on approval, the ultimate in personal service in the art world. "If a buyer lives within a 50-mile radius, I will bring the work to their home and hang it for them.  They have a couple of days to live with the art before committing to purchase.  To date, everyone who has benefited from this level of personal touch has become a buyer."
"Pinkwater is my favorite gallery to go into because the owner does such a good job curating and presenting the work," adds Dorothea Marcus, a collector from Woodstock.  "Anne has impeccable taste in the artists she shows. I have bought several different pieces – a painting, a print, a sculpture – and love living with them!"
As part of Uptown Kingston's retail community, Sanger is always looking for novel ways to promote the Stockade District. From appearing on Radio Kingston and The Cidiot podcast to collaborating with Fruition Chocolate Works on a special edition sweet treat inspired by the work of artist Melanie Delgado, Sanger has become as much a marketer and publicist as a curator and artist. Recent events include wine tastings, an end-of-summer party with new Fair Street restaurant Chleo, a canine couture fashion show with the brand Haute Dogue, and of course there are openings of new exhibits every other month
The gallerist is especially excited about her latest show, Men Argue, Nature Acts.  Entitled after a quote from French Enlightenment-era philosopher Voltaire, the show considers the natural world not as a direct inspiration, but rather as something to be appreciated before it is gone.  It includes works by some new additions to the gallery and will be on view through November 27.


In Sanger's words: "These works may be derived from nature in the form of an abstract landscape, but they are really jumping-off points for a more political statement, or as a meditation, on the impermanence of life in the face of climate change."
Contributing Writer: Sal Cataldi is a musician, writer and publicist living in the Hudson Valley.
+ + +
PINKWATER GALLERY
Gallery Hours: Thursdays through Sundays 11 AM to 6 PM throughout summer and fall and thereafter on weekends or by appointment
Check the website for current business hours or to make an appointment.
Contact Anne Sanger, owner of Pinkwater Gallery, with inquiries | [email protected]
Phone: 718-243-2350
Follow:  Facebook | Instagram @pinkwatergallery