Back to Blog List
Hasbrouck House: A Modern Brand With Historic Roots
September 29, 2021
The Hasbrouck House serves as both a luxurious weekend haven for visitors to the Hudson Valley as well as a spot for locals to sit on the stone patio, have a meal, walk in the garden, and enjoy the 50 park-like acres. Through creative storytelling and strong community connections, Hasbrouck House has grown to be more of a lifestyle brand than a destination, attracting travelers and local visitors alike.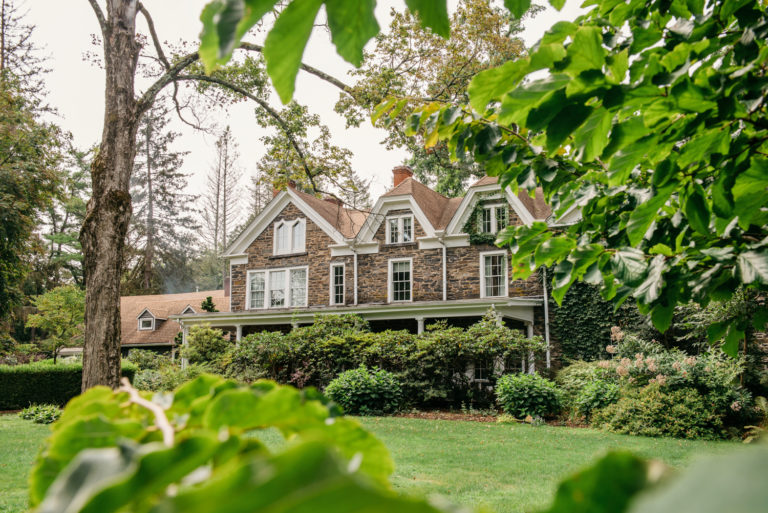 Built-in 1757 as the country estate of the wealthy Hasbrouck family, this iconic stone mansion maintains its charm and continues to draw locals and visitors to the bucolic town of Stone Ridge three hundred years later.  The former Stone Ridge Inn was purchased by co-owners Akiva Reich and Eitan Baron in 2015, who lovingly restored and transformed it into Hasbrouck House, a luxury boutique hotel that opened in summer 2016. Their goal was to keep the property's rich history while modernizing the space for a complete luxury experience.  The redesign includes 29 different rooms spread out between the main house and the early 20th century-constructed carriage and stable houses, restoration of the 55-foot pool built in 1923, and reclaiming the use of the property's original smokehouse that had been abandoned for ages.
The responsibility of showcasing such an iconic property is in the capable hands of Ashley Ruprecht, Marketing Director for both the hotel and Butterfield, the restaurant housed in the main building of the Hasbrouck House. Following an early career in creative fields in New York City, first at MTV Networks and then at advertising stalwart Ogilvy & Mather, Ashley moved to the Hudson Valley full time in 2016. Along with her partner, she began running Laurel & Ash Farm, which produces limited batches of wood-fired Grade A maple syrup on a 50 acre-working family farm and forest nestled within a mountainside in Holmes, New York. After working with the hotel part-time, Ashley began running the marketing full time about two years ago. She manages traditional and social marketing, while taking on additional creative duties, including everything from design direction to collaborating with Executive Chef Jesse Frederick on menu items to planting her own sunflower seeds in the garden. Ashley aims to create vignettes in and around the space and restaurant, often featuring the garden-fresh bouquets she arranges to bring aspects of the natural world inside the space. 
Ashley ensures that Hasbrouck House has a consistent design and an authentic voice; she firmly believes that consistency is the key to any brand's success. She has cultivated partnerships with many photographers who shoot the hotel, capture seasonal vignettes, and provide content for marketing materials. She strives for a consistent look and feel for the brand.  That includes reining inin the number of collaborators, honing the overall look and feel of the social feeds, the website and printed guide, postcards, and more. Ashley also shoots a bit to solve immediate needs, capturing weekly food and cocktail specials as needed.  Her goal is to keep things consistent around the property – keeping the design light, bright and airy while esthetically meshing the two brands. 
The lifestyle brand ethos is further evident through the strategic partnerships formed with a broad group of Influencers, who document their visits to the location and surrounding towns. Influencer marketing is not a new concept, and Hasbrouck House receives frequent requests for partnership.  Ashley is working to further hone this area of her communications plan – making efforts to work with a diverse set of Influencers, making sure that people of color are represented. These partnerships are purposeful and thoughtful, with Ashley's selections predicated on those influencers who will make truly meaningful content and whose values and esthetic align with those of Hasbrouck House.
Collaboration and storytelling infuse everything at the Hasbrouck House, from the local products sourced and available in the rooms and for purchase at the Front Desk Mercantile, to the brand's stellar Instagram channel.  2020 was challenging for every business, particularly for the hospitality and events sector. Yet, Ashley leveraged Instagram to keep a connection to (and grow!) the core base of followers.  She tempered the cadence of posts, pulling former images, and developed some recipe posts with the chef. As the space began to open back up, the consistency of photography and a tightened cadence kept the feed fresh. And it's working – under Ashley's tenure, Hasbrouck House's Instagram has almost doubled to 23,000, and Butterfield is more than triple what it was two years ago with 4,000 followers.  
Hasbrouck House has worked to forge strong connections with the local community, who Ashley credits with showing their love and support during the pandemic. That included everything from buying gift cards to showing up to take advantage of the outdoor patio space. To cater to the local crowd when indoor dining and the bar were closed, Ashley and the team developed the Cauldron Bar at Butterfield for the 2020 fall/winter season.  The outdoor space was transformed into a safe, socially distanced destination with beautiful, swinging cauldrons, and a customized menu featuring truffle fondue among other delicacies. It was a hit – drawing many locals anxious for an escape from their homes last year, who came to catch the sunset, have a cocktail, and sit by the fire. 
Additionally, the connection to the local community is strengthened via daily Sunset Flix. These events draw a local crowd for themed nightly movies at Butcher and Bar's outdoor space, which served as a welcome respite for nights out during the pandemic.  Another successful local program has been the Hasbrouck House Community Nights which were designed to thank the community for its support during the pandemic. Each Community Night supports a local organization, helping to raise both funds and awareness via a 35% donation on all meals sold onsite. These events have supported such local projects as The High Meadow School, Rondout Food Pantry, and the Stone Ridge Library. Each evening includes a happy hour and discounts, a tap takeover from local brewers, giveaways, and entertainment in the form of a relevant film. The Community Nights have been so successful, there are more planned for the future. The next one will be held this week, September 30, 2021, to support the Workers Justice Center of New York and will feature the film Minari. 
Of course, the Hasbrouck House has continued to be a popular destination for Corporate Events. Due to the abundance of open space, dining options, a private lake, yoga, meditation, and the white-glove service offered at this luxury destination, they host up to four events weekly. The space also hosts many small weddings, with a maximum of two per month to preserve the delicate balance and keep it a popular destination for visitors.  It's so popular that weddings are sold out through 2022, with 2023 dates set to open soon.  
So what's next for Ashley and the Hasbrouck House?  High on the list is pushing herself, and the brand creatively while continuing their success with community engagement and brand consistency.  She'll continue the storytelling journey, developing even more content and expanding the repertoire to have more content via reels. Ashley will remain focused on strong community ties, further collaborating with local vendors, photographers, makers, and artists to fully showcase Hasbrouck House as a modern and sophisticated lifestyle brand. 
All photos by Harrison Lubin unless otherwise noted.