Back to Blog List
Meet the Hudson Valley Creatives Designing Your Next Experience
August 26, 2021
Kristin Sloan and Doug Jaeger believe that changing your environment can help open up new opportunities for creativity, relaxation, and connecting with people and nature.  And they're proof of concept: since moving Upstate in 2015, they have changed their creative process and embarked on entirely new experience-driven businesses, inspired by living and working in the Hudson Valley.
The two run JaegerSloan, a corporate branding and design firm based in Kerhonkson, NY along with The Reset Club – a sourcebook of curated products and experiences that includes two of the region's popular Airbnbs – Cook House and nearby Zink Cabin.  Sloan is a former dancer with the New York City Ballet who became the company's first Director of New Media, and Doug a former partner at TBWA\Chiat\Day and JWT where he worked with such clients as Apple, MOMA, and VH1. In the fall of 2012, Hurricane Sandy hit New York City.  They lived in the East Village just blocks from the flooding. They'd felt disconnected from nature, and then nature came knocking on the door.  Huddled in a hotel room in Brooklyn, they realized how vulnerable their business was – all their work in a ground-floor storefront in a flood-ravaged city.  After years of visiting upstate in Airbnbs and with friends, they found themselves gravitating to the Kerhonkson/Stone Ridge area, which to them felt just undeveloped enough and full of creative people. Instagram was a big force in giving them a preview of the local Hudson Valley towns, the people, and the creative energy they were looking for.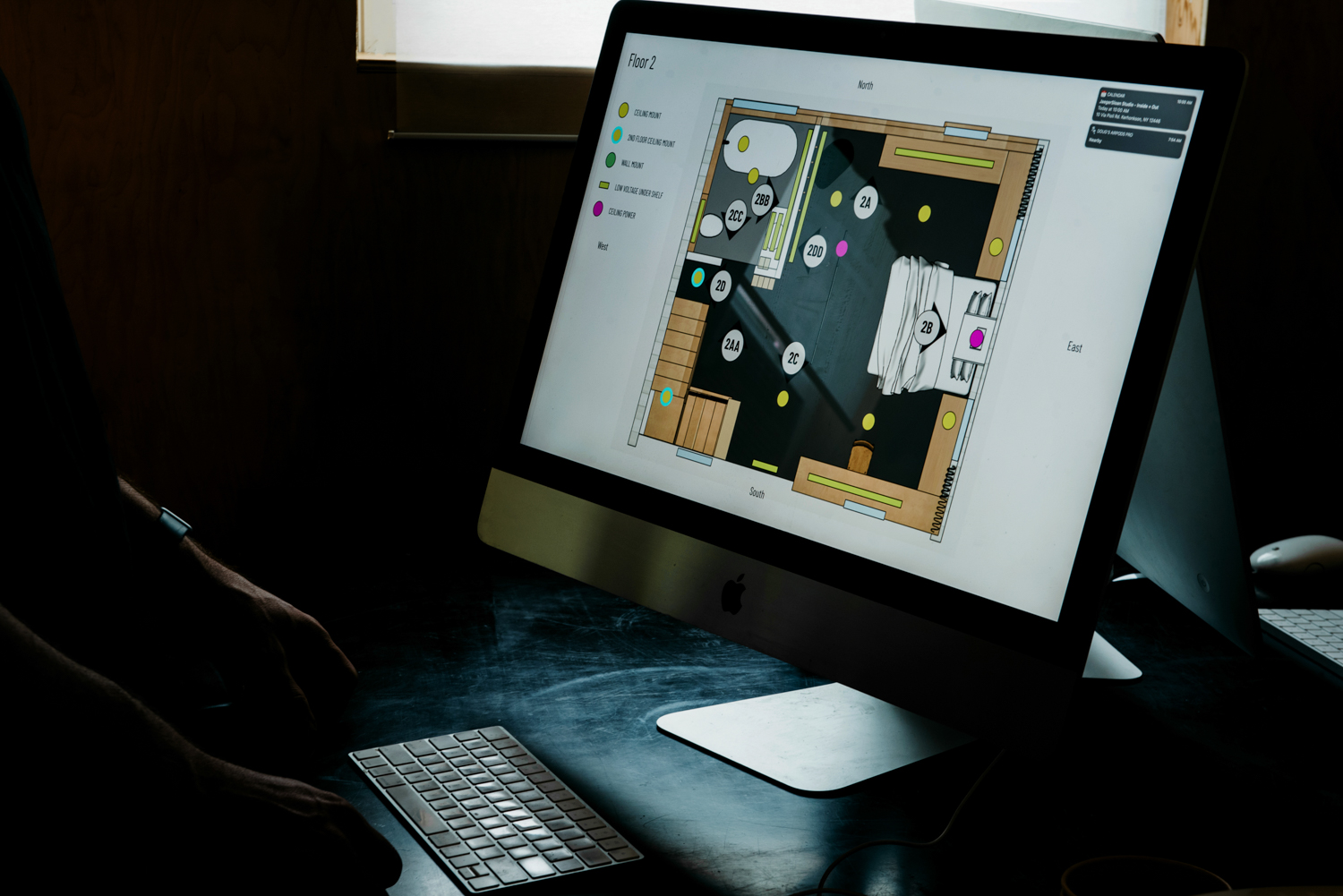 Sloan and Doug settled on a tiny cabin with an amazing view and moved in with the intent to use it as a weekend getaway, yet found themselves spending more and more time upstate.  This prompted a change in their creative process into one of a sprint/workshop model: they'd get different stakeholders at a client together for a brainstorm and whiteboard period and then head upstate to work out the challenges. They'd return to the clients for more working time before providing the final product.  For this type of workflow, they realized it wasn't necessary to be in New York City at all – they had clients in London, California, New York City, and across Upstate NY.  With the installation of high-speed internet in the area, they began working with a local contractor to build a separate building as a garage/studio.
At the completion, they had a clean, beautiful working and living space, and they decided to live there, leaving the cabin as is for the time being. Their first visitors were in awe and suggested that they list it on Airbnb.  Once they did, the space was rented frequently. They enacted their own creative process to evaluate how the space was used, the design of the interior, how visitors experienced and spent time in the space.  And Sloan and Doug discovered how much they enjoyed hosting people, excelling at creating an experience and continually improving upon it.  In wanting their guests to have a great time, they constantly sought to make the space better and better.  Similar to their brand work, they were problem-solving using their guest feedback to continually upgrade the space.  "We love to optimize spaces and environments for function. We think about every experience someone has from the minute they open the door. How can we help them feel relaxed and at home as easily as possible?" says Kristin.  It was feedback that drove them – Sloan and Doug realized that being a part of guests' lives was different from helping a marketing executive achieve his or her goals. There have been major birthdays celebrated in the space and intimate marriage proposals.  Guests have used their time to write poetry, books, and even successful albums while visiting.
Doug likens the Airbnb experience to producing craft beer.  He says, "it's not easy or inexpensive to do it on a small scale, and the experience must be high-quality and memorable to make an impact.  Yet this is why we choose to be creative people in this field." The incredible personalization and attention to detail are what make the experience memorable.  Sloan and Doug are raising sixteen chickens, who provide the fresh eggs and ice cream that are given to guests at their properties. And you can recreate portions of your stay via The Reset Club, a curated sourcebook of experiences and products – many of which can be found within their properties.
Most, if not all, of their projects, come via word of mouth.  And they like it that way – preferring to work on less, higher quality things and hand-selecting the projects they really want to work on.  Many of these connections are found within the Hudson Valley: the person who helped build their studio referred them to a local recruiting company that was looking to rebrand their website. The parking lot at their son's school has become a place for networking. Their Instagram is incredibly beautiful and curated – a great way to showcase their vision and design, and a great way for their work to be discovered. And living and working upstate has allowed them to maintain a personal connection with clients during the pandemic, as they were able to safely host in-person whiteboard sessions around a firepit, while their young son Silas slept inside. Far from the loud and congested city restaurants, client meetings now take the form of casual conversations, held outside at a picnic table.
As they look to the future, they're looking to delve further – exploring the intersection of technology, creativity, and hospitality to develop a tech startup idea to manage their properties.  While the couple freely admits that they're not architects, they are very much interested in continuing to design spaces – both for themselves and for others who appreciate their aesthetic.  A stay at one of their properties led to applying their design process to a newly completed home in Gardiner.  For Kristin Sloan and Doug Jaeger, the goal isn't to build a huge company, but rather to design one that affords them the flexibility to be creative and to continue to collaborate with others in the Hudson Valley.
Photo courtesy of JaegerSloan.
All photos by Harrison Lubin, unless noted.