Back to Blog List
We Are Upstate NY with 7 Miles to Kingston Founder Konstanze Zeller
When Konstanze Zeller first laid eyes on the 300-year-old home, now known as 7 Miles to Kingston, it was love at first sight. She was looking for a project, and the idea of taking on this renovation gig fully intrigued her. With a panoramic view of the Catskills Range, the property was simply irresistible, with 6 acres of land leading to the Esopus creek winding through an adjacent nature preserve.
Inside+Out Upstate NY catches up with proprietress Konstanze Zeller to learn more about her past, her love of the Hudson Valley, and her foray into the hospitality business.

INSIDE+OUT: Where are you originally from and how did you wind up in the Hudson Valley?
Konstanze Zeller: I am a native Austrian from Salzburg. I fell in love with NYC working in fashion during the 90s. I moved from Berlin and found NYC incredibly fascinating at that time. After living in NYC for years I wanted to find a new life experience. I was happy to find so many interesting, creative people in the Hudson Valley that have changed their lifestyles to have more freedom and creativity. That inspires me.
How did you find this property and what inspired the idea for 7 Miles to Kingston?
This is the only house I looked at with my agent. I fell in love with it immediately, it had everything I was looking for. A needed a gut renovation with land and a pool, a horse barn I could renovate for future events, and a creek. The house is located on an old street that led to Kingston, NY and the name was inspired by the milestone marker in front of the house, indicating Kingston was seven miles away.
It looks so dreamy…tell us about the property. Did you design this yourself?
I believe the house found me. It needed to be restored and taken care of with a dedicated effort to maintain its historic legacy in American history. Designed by an architect in the 1780s, the house already had an amazing structure. I immediately saw the potential of this project with the goal of retaining the magnificence of the house.  For the renovation, I had my architects and friends always watching my progress and offering suggestions.
Guests can rent your stunning home or book an event in the barn. What can guests expect from a stay or event at 7M2K?
Stay at 7 Miles to Kingston
Our guests can experience a most extraordinary stay or a remarkable event at 7M2K (the name of the event space).
The house surrounds you with 2 feet-thick stonewalls and old wide plank floors. You can feel the history in every corner. It is fitted with the most energy-efficient modern appliances and mid-century furniture that give the house a contemporary and more "Rock and Roll" vibe. I am a big fan of breaking rules and bringing old and new together.
Guests can enjoy the seasonable saltwater pool and a wood-oven barrel sauna. Relax, fish, kayak, or swim in the Esopus creek flowing thru the property–there are many options. The panoramic window in the Master suite overlooks the whole mountain range of the Catskills, providing the perfect backdrop for your getaway.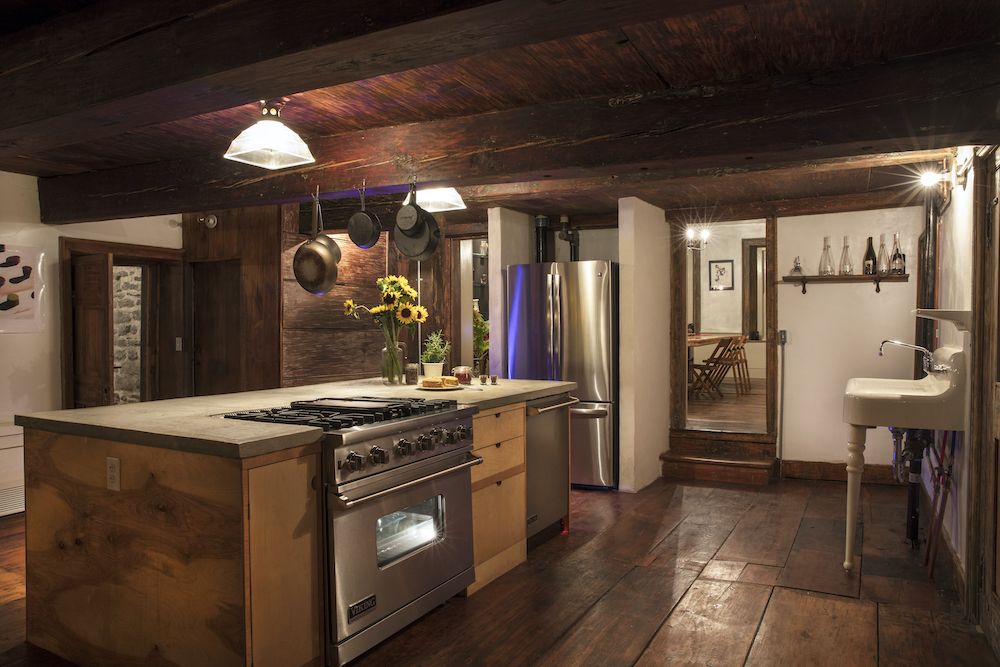 Host Your Special Event at 7M2K
Our Event space at 7M2K is a contemporary barn fitted with white lanterns and a disco ball. The view overlooks our meadow and the creek. The wide wooden steps built out of tree trunks are following into our gravel field that is shaded by a Sycamore tree. This is a perfect spot to host a dinner. For our events we use bonfires, torches, and cauldron fires to give it the ambiance of rustic and nature, We host most ceremonies close to the creekfront to overlook the flowing waters.



There is a very peaceful, wellness retreat vibe we're getting. As the host of this tranquil property, we're curious…what does wellness mean to you?
BALANCE! I am a big believer that health is most important. I installed a wood-burning sauna in the middle of the apple trees and restored a 20 x 40-foot saltwater pool. I find my tranquility there and while spending time meditating by the Esopus Creek at the bottom of the property. In addition, I am the founder of "COCORAU," a brand of Raw Power Bites and Adaptogenic Herb Elixirs that are made in the professional kitchen in the basement of the house
You have hosted special dinner parties at your property. Tell us about the dining experience at 7 Miles to Kingston and how one gets invited.
I hosted several chefs that intrigue me with the food they are cooking or their stories. I love working with chefs, I love great food and I love hosting people. I renovated this property to share it with people and we should all enjoy it. You can sign up on our mailing list on our website to know about our newest adventures.



How do you grow your business and how do clients find you?
I started growing my business with AirBnB and Red Cottage. In addition, my house is available for video and photo shoots, so it's listed with location scouts. Over the past year, we mostly leverage Instagram and Facebook. I am also fortunate to have my friend, Rony, from RO-NY, who is helping me create more digital visibility. And, with the support of my assistant and friends, our social media presence is more accessible. My goal is to offer the beauty and experience of 7 Mile to Kingston to the world.
What is it about the Hudson Valley that makes it unique to live and work here?
The closeness to NYC while still having all the advantages to be surrounded by nature and lots of creative people.
What local businesses do you rely on to be successful?
Local landscapers, cleaners, contractors, rental companies as well as chefs and restaurants, and I hire locals for construction and maintenance for 7 Miles to Kingston
What is missing in the area that you wish we had?
Restaurants and venues that open late and during the week.
+ + +
7 Miles to Kingston
Book Your Stay > HERE
7M2K
Book Your Event or Wedding > HERE
Visit their Website
Follow on Instagram @7milestokingston