Back to Blog List
We Are Upstate NY with Photographer Kate Sears
By
inside + out
| September 3, 2022
Today we have the pleasure of introducing you to Upstate NY photographer Kate Sears. One look at her body of work and you'll discover an artist not defined by one look, one style or one theme. She loves shooting food, still-life, travel and interiors and her color palettes are inspired by the season or mood of the moment. We were introduced to Kate's work through a friend– her vision and style immediately caught our attention as someone we wanted to work with. Let's get to know this Kingston NY based image maker and revel in her unique vision and talent.


INSIDE+OUT: Where are you originally from and how did you wind up in the Hudson Valley?
Kate Sears: I grew up in Falmouth, on Cape Cod. I ended up in the Hudson Valley after taking a glass wet plate workshop with the photographer John Dugdale about 10 years ago. My husband and I fell in love with the area and started looking for a small house soon after…
When did you realize that you wanted to be a photographer, and how did you get your start?
I got a job as a photographer for the local newspaper, The Falmouth Enterprise when I was a junior in high school. I shot local parades, festivals, fishing tournaments… and other town happenings. It was my first time working under an assignment and that's still how I like to work.


Tell us about your style of photography and your photo journey.
I was incredibly lucky to be introduced to a wonderful photography team, Gentl & Hyers (Andrea Gentl & Martin Hyers), straight out of college. Honestly, I don't think that I had really considered photography as a real possibility until I met them. I was an art history major in college and was pursuing gallery/museum positions at the time. Then I started to think about returning to school to study photography but Marty basically said "Don't do that. We'll teach you everything you need to know."
I'm still so grateful to them. My luck continued when I met photographer Maria Robledo. I assisted Maria for a few years before going out on my own. She was an incredible mentor to me and so generous. Maria would lend me her studio, props and equipment for test shoots. Work from these test shoots led to my first portfolio, which ultimately led to my first editorial shoot.


What type of camera equipment do you use? Do you shoot videos as well?
I shoot with the Canon R5. I have been working on shooting videos and hope to be able to offer it to my clients soon.
Can you share your creative process with our readers?
I don't think of myself as an artist. I have an artistic and creative side but I consider myself more a camera for hire. I like working under assignment, collaborating with a team to create beautiful images within a given time frame and then moving on to the next shoot. The work of other creatives- ceramicists, architects and designers- is usually the fuel behind any images that I create on my own. But there is still a commercial aspect to the images that result–meaning that I'm usually aware of who (and what client) an image may appeal to. If I'm being really honest, I can't really shut this side off. I like the challenge of targeting a client and then trying to pull them in. I believe this puts me heavily in the camp of "commercial photographer".


The images on your website are so beautifully eclectic. What do you love shooting most?
Oh, that's a tough one… I think variety is a driving force behind my work. I'm not fond of shooting any one thing ALL of the time. I love interiors but I love food too. I even love an occasional fashion shoot! There are different schools of thought when it comes to commercial photography and the one that annoys me the most is the one that says I have to have a distinct look, a "style" or a subject that is all my own and I need to stick with it. For how long? The rest of my life? That seems nuts to me. I like to think that I'm pretty adaptable and this allows me to meet the needs of a variety of clients.



My own taste varies from season to season. Winter often has me gravitating towards deeper tones, heavier shadows and cooler light. I'm looking forward to this change in mood as summer soon gives way to fall.
I'd say that when I was about 4-5 years into my career, I realized that I was sort of on autopilot. Work was coming in consistently (all of it was food shoots), but I was in a bit of a rut creatively. I worked really hard to push myself out of my comfort zone to come up with new portfolio work that would reach a wider audience. This is a good practice; the hardest part can be finding the time. But it's really necessary. I like this process of reinvention.
What is one question you're constantly asked about your work?
Is the food real? Yes! It's all real and the crew does get to eat it after it is photographed! Shoot leftovers may be my husband's favorite part of my job.



What advice do you have for photographers starting out?
Assist as much as you can. Every assisting job is an opportunity to learn, to familiarize yourself with new equipment, dial in lighting scenarios, to make mistakes and to learn how to correct them. This is your chance to observe and to learn industry standards such as set etiquette and workflow.
You have a pretty impressive A-list roster of clients: How do you grow your business and how do your clients find you?
The more you assist, the more your network grows. Again, I was incredibly lucky to work for the photographers I assisted and they all helped put my work in front of the right people. Once I was working somewhat steadily on my own, a photo agency reached out about representation- the network continued to grow from there. I decided to leave my last agent when we moved up to Kingston full-time. This was a good decision for me but I may go the agent route again sometime in the future. I don't enjoy the negotiation side of things, I just want to show up and get to work.
Do you leverage social media to get work and how is that working for you?
I look at social media all the time but I'm pretty bad about posting myself. I do think it's a powerful tool and I love seeing where art directors are pulling my work from– more often than not it's my Instagram feed. So I should DEFINITELY be posting more!

What are you working on now that you're excited about?
I have a studio at the Fuller Building that calls to me all the time. Most of my shoots are in the city or out of state so I'm not able to be at the studio much. We're still building out the space and eventually there will be a place for everything, but for now, I feel as though I spend most of my time moving piles of beautiful art books and magazines from one place to another. I LOVE IT. I'm not getting much work done but I'm surrounded by my props and surfaces and a lovely shoot kitchen. I've never had anything like it.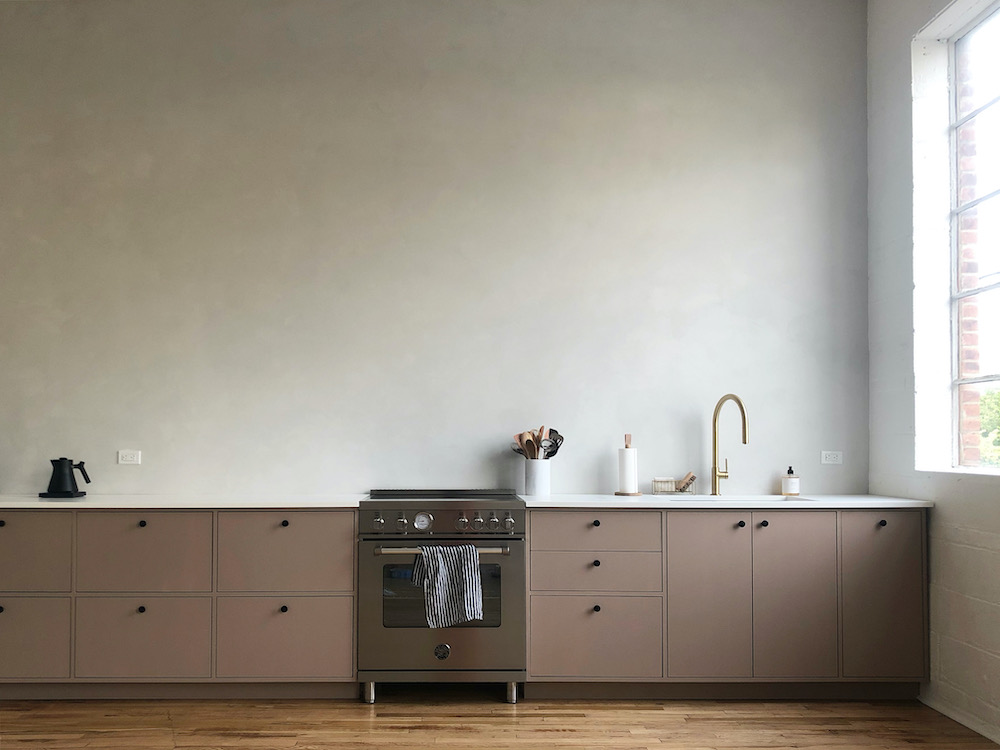 My favorite shoots lately have been for The New York Times Cooking section. The Times has a terrific new kitchen studio, equipped with all the photo gear one needs and a great prop collection. It's just me and the food stylist, pulling the props and surfaces we like and making beautiful images.
What is it about the Hudson Valley that makes it unique to live + work here?
I built my career in New York City but was drawn to the Hudson Valley for a better work/life balance. It certainly helps that the landscape is breathtaking and that there are so many artists and creatives here- not to mention amazing food stylists! Plus the sound of peepers beats traffic any day.
How do you find your support crew? Assistants, hair, makeup, and stylists? Do you have a team in place? By the way, did you know we have an online directory that lists professional services like this?
I did not know that you have an online directory! I need a local assistant. Most of my work is still in the city so that tends to be where my crew is.



What impact does your business have on your town/community?
I really admire the work that Rebecca Ffrench and Frida Kristinsdottir of The Upstate Table are doing with the Kingston YMCA Farm project and would love to work with them and the youth crew on the next YMCA cookbook.
What local businesses do you rely on to be successful?
Flowers from Hops Petunia for sure! Ingredients from the Kingston Farmers Market and Adams Fairacre Farm. Lunch orders from Village Grocery and Refillery and early dinners at Kingston Standard Brewing Co.
What is missing in the area that you wish we had?
A grip and lighting equipment rental house. Is there one?


What would be your dream assignment?
Shooting Casa Luis Barragan in Mexico City or George Nakashima's house, studio & workshop in Pennsylvania.
Tell us something about yourself that people might be surprised to know.
I'm terrified of balloons. I'd be thrilled if there was a ban on all balloons.
What would be your dream local staycation?
A weekend by the pool at Inness.
What is your current state of mind?
Relieved. I tend to go through a decompression period following a really big shoot. Adrenaline carries me through the shoot and then I crash once it's over and I'm so darn relieved when everyone is happy at the end…we captured beautiful photos, everyone got along and the crew worked well together, and no one got hurt. Those are the goals!
+ + +
Hire | Connect with Kate Sears 
Website | katesearsphotography.com
Instagram @ksears