Back to Blog List
We are Upstate NY with World Music Maven, Isabel Soffer
By
Sal Cataldi
| July 1, 2022
Inside+Out Upstate NY is delighted to share an exclusive interview with one of the nation's most energetic and creative advocates for World Music and arts, Isabel Soffer.
A Brooklyn native who has lived and worked in Malden, New York for five years, Soffer has been at the forefront of globally-centric cultural programming for nearly three decades. She was instrumental in the development of the American global music and dance scene as Director of the World Music Institute in the 80s. But Isabel may be better known as Co-founder and Director of the globalFEST, a non-profit that produces this much-anticipated and acclaimed annual music festival and conference in New York City. Now marking its 20th year, globalFEST has exposed tens of thousands of music lovers and, importantly, concert bookers and managers, to hundreds of hugely talented but sometimes little-known artists from every corner of the globe.
Isabel has been responsible for producing scores of historic concerts and tours and introducing audiences to the likes of Nusrat Fateh Ali Khan and The Masked Dancers of Kerela, India, as well as co-founding The New York Flamenco Festival, The New York Fado Festival, a Masters of Persian Music, The Gypsy Caravan tour and much more. All totaled, she has orchestrated well over 1,500 concerts, with artists from more than 100 countries and nations. She has also produced seven critically-acclaimed albums, three of which were Grammy-nominated.
Now Isabel is using her talents and connections to bring top-flight World Music and culture to the Hudson Valley. Soffer recently partnered with veteran promoter Danny Melnick to create Hudson Valley Live, a company that is producing world music events this summer at Colony in Woodstock and the Broken Wing Barn at White Feather Farm. Soffer is also presently the Chair of the Saugerties Arts Commission (SAC). This organization is connecting artists, businesses and the community via a spate of social and new cultural events like Make Music Saugerties. Isabel also serves as a Board Member of Opus 40, the world-renowned sculpture park in Saugerties. Though she has experienced almost every corner of the globe and culture, the Hudson Valley holds a special place in her heart. This daughter of two NYC artists has been coming here since she was a child. She is delighted to call Upstate NY her home and to now be playing a central role in bringing a wide world of great sounds and art to our door.




Inside+Out: Tell us a little about yourself, where were you born and how did you end up in the Hudson Valley?
Isabel Soffer: I was born in Brooklyn, NY and my mom still lives in the apartment I grew up in. My parents were both artists, my mom, Ruth Soffer, is still a practicing botanic illustrator but she is unbelievably talented in many art forms. My father passed away when I was young but he was a talented craftsperson and specialized in stained glass. I have two sisters both of whom are very artistic. All three of us went to the High School of Music and Art in Harlem and we had a very arts-oriented upbringing. My parents would often sell their wares at craft fairs and that was when I first remember coming up to the Hudson Valley. We also had friends in Woodstock and spent time in Boiceville. I was a city kid but loved coming up here and looking at the stars and listening to insects and watching fireflies. I lived all over NYC throughout my adult life, but I moved to West Orange, NJ with my husband who had a house there. We raised a daughter there. When she graduated from High School, we knew she would go to college, so we sold that house and bought an old house in Malden, a hamlet in Saugerties. We didn't expect to live here full time. But like so many, we were intoxicated by the beauty, our neighbors and friends, and the cultural scene and settled in full time about four years ago.
She is delighted to call Upstate NY her home and to now be playing a central role in bringing a wide world of great sounds and art to our door.
World Music is your thing. When did you first become exposed to it, and what artists first excited you? How/when did you decide to make it a business?
My mom first introduced me to Indian classical music when I was really small and I've loved it ever since. My first deep loves were the Qawwali master of Nusrat Fateh Ali Khan; Iranian-Kurdish vocalist, Shahram Nazeri; India's sitar maestro, Ustad Vilayat Khan; Mauritanian vocalist, Dimi Mint Abba; Mali's vocalist, Salif Keita and Nigeria's, Fela Kuti. I was lucky enough to go on to work with many of them. I didn't expect to go into the music business and didn't really know what I wanted to do. But after working a few years at World Music Institute in my early 20s where I became the Director of Programming, I knew this is what I'd keep doing. It's not an easy business to be in, but it is fulfilling and meaningful in many ways and for me, that is most important.
globalFEST is, without a doubt, your marquee event. What was the inspiration and how has it grown over its 20-year history?
globalFEST, the festival, was founded in 2003 following 9/11 and the Iraq war by me, Bill Bragin and Maure Aronson – all industry veterans committed to bringing global music to their stages. This painful period brought xenophobia to the surface of American society and performing arts presenters were becoming risk-averse to bringing bands to the USA from overseas. We wanted to make sure that didn't happen and knew it was more important than ever to open Americans' eyes and ears to the world's cultures. Shanta Thake became our third partner when Maure left a few years after globalFEST started. Bill, Shanta and I currently co-direct it.
Over 20 years, globalFEST has become a not-for-profit arts organization that has worked to move global music and American regional music to the center of the performing arts field; introduced hundreds of ensembles and thousands of artists to U.S. stages and abroad; created a touring fund which has been able to get money directly into the hands of artists to catalyze touring opportunities and has threaded anti-xenophobia, gender balance, next-generation leadership and global and political relevance to the field.
globalFEST's annual showcase/festival each January with twelve artists from around on three stages in one night during the annual Arts Presenters Conference has served as an important gateway for artists and has helped demonstrate the marketability of global and regional American music and has been a driving force behind inspiring presenters to commit to diverse programming.
NPR Music has been a longtime partner. In 2021, we were thrilled to join forces with Tiny Desk to create Tiny Desk meets globalFEST, something that has enabled participating artists and our work to reach millions more.
Although music is your sweet spot, you work producing many other kinds of events, from public arts events and conferences. Tell us about something memorable outside of the musical sphere?
Most of my work has a connection to music on some level and often is global in nature but not everything I have produced has been concerts. I love working in all the arts and finding ways of making connections between art forms. I am currently the executive producer of a contemporary immersive multimedia musical theater piece that is based on ancient Sufi poetry. Details haven't been announced yet, but will soon, and I can't wait to share them.

I have executive produced seven recordings, four of which have been nominated for a Grammy. They include three recordings by Ghazal: Persian and Indian Improvisations; two by Masters of Persian Music; one by Indian sitar maestro Shujaat Husain Khan and one with Hossein Alizadeh and Djivan Gasparyan. I also produced a project called On Love: The Art of Lines, Shapes & Symbols, where I invited four artists from Iran, Japan, India and the United States to explore the poetic theme of love using words, letters, shapes and symbols from their languages of birth to explore the linguistic and artistic connections to calligraphy. Each artist created large-scale paintings on the windows of the Winter Garden in Lower Manhattan overlooking the Hudson River, as passers-by watched them develop their work. Google it.
Through globalFEST, I produce a 2-day music conference on timely issues geared toward arts professionals who have an interest in global music and for artists who are seeking professional development and making contacts. We've been able to keep it fun, inspirational and social. It's not your typical stagnant conference style. In addition, globalFEST has created a series of Industry Awards which are celebrated each year and highlight people, organizations and artists in four categories who have done outstanding work in the cultural arts.
You are now working to make the Hudson Valley a hotbed of world music. Can you tell us about the recent events you are producing, at venues like White Feather Farm and the Colony Woodstock?
I have spent the last 30+ years helping develop the global music scene in NYC and throughout the States. My dream now is to be able to shift most of my work to the Hudson Valley and bring extraordinary arts from all over the world here, so we don't have to go to NYC or elsewhere to experience great music and make musical discoveries. I am working on programming at a variety of unique spaces in the area including farms, barns, churches, festivals, site-specific spaces and theaters. My music partner Danny Melnick and I recently created Hudson Valley Live, and our programs start this summer at White Feather Farm and The Colony Woodstock where we'll be bringing the renowned band Dakha Brakha from Ukraine; a new project from The Meridian Brothers from Colombia; one of Iran's greatest musical treasures Kayhan Kalhor; jazz great Bria Skonberg; a Fela tribute band, Cumbia music, Afropop and more to be announced soon.
Your work as current Chair of the Saugerties Arts Commission has really helped build community among the artists in the town, from visual artists to writers to musicians. Tell us a little about its activities and how you have helped it grow?
Thanks for saying that, it means so much to us. I am one of the founding members of the Saugerties Arts Commission which was created by the Town Board in 2019 and is made up of Saugerties residents who are deeply connected to the arts. The SAC was founded on the belief that arts and culture foster social cohesion and community well-being and that arts play a strong role in a healthy society and is vital for the enrichment of its residents and economic development.
Saugerties is home to a beautiful array of artists, arts organizations and supporters of the arts, and our goal is to promote opportunities for residents and visitors to experience the rich cultural life of the town through visual, performing, media, decorative, applied, and literary arts.
Saugerties has been behind many other Mid-Hudson valley towns in supporting the arts, and we do not currently have a cultural or arts center, which is one of our bigger goals. For the past few years, through Covid, we have been very active in connecting artists and arts professionals to each other and we have seen some amazing results from these initiatives. There are many exciting cultural activities in the works in Saugerties and it's a really interesting time to work with the Town Board to develop paths forward for the arts. Our socials are at SAC which is the best way to stay in touch. You can also join our mailing list by going to our SAC website.
As you are in the business of world music, how much of your job involves travel? Is your business home-based?
I have always traveled quite a bit, especially to music festivals and conferences around the world. This has taken me to many countries across the Americas, Europe, Asia and North Africa including some unexpected locales, such as Uzbekistan, Morocco, the Reunion Island and Svalbard near the North Pole. Luckily, these types of events are starting up again. I also participate in many cultural forums, panel discussions and workshops which introduced me to a wide range of people and organizations doing extraordinary work in the cultural sector. For me, these events are critical to musical discovery which is the best part of this work.
I have worked from home since moving to Saugerties and it works fairly well, although I've been thinking about joining a co-working space. Why? Because I like to be around other people and I think it is way healthier!
I met you through your work with the late Malcolm Cecil, the synthesizer pioneer and music producer. What was so special about him and what do you hope to do to ensure his legacy?
Dear Malcolm Cecil. He was a fascinating and complex guy – an extraordinary artist, thinker and visionary. He was a creative force and so hopeful about restarting his career in his 80s, all he really seemed to want was to play music and have audiences around him. He loved it. He was in the process of writing several books, one from the perspective of TONTO (the legendary synthesizer he built and utilized by Stevie Wonder and other artists), which I hope someone may be able to finish one day. It was such a cool idea. He also deeply hoped to release new music and set the record straight on issues surrounding Gil Scott Heron with whom he had a very special relationship.
The saddest thing about Malcolm to me is that, while he was alive, he was rarely mentioned and seemed to be mostly forgotten. But, when he died, obits from all over the world came pouring out about what an incredible, visionary musician and producer he was. Malcolm can probably be credited with having a role in changing the sound of American popular music through his work with Stevie Wonder, which all happened on such a whim. I hope he is inducted into the Rock and Roll Hall of Fame where his name and contributions will be recognized.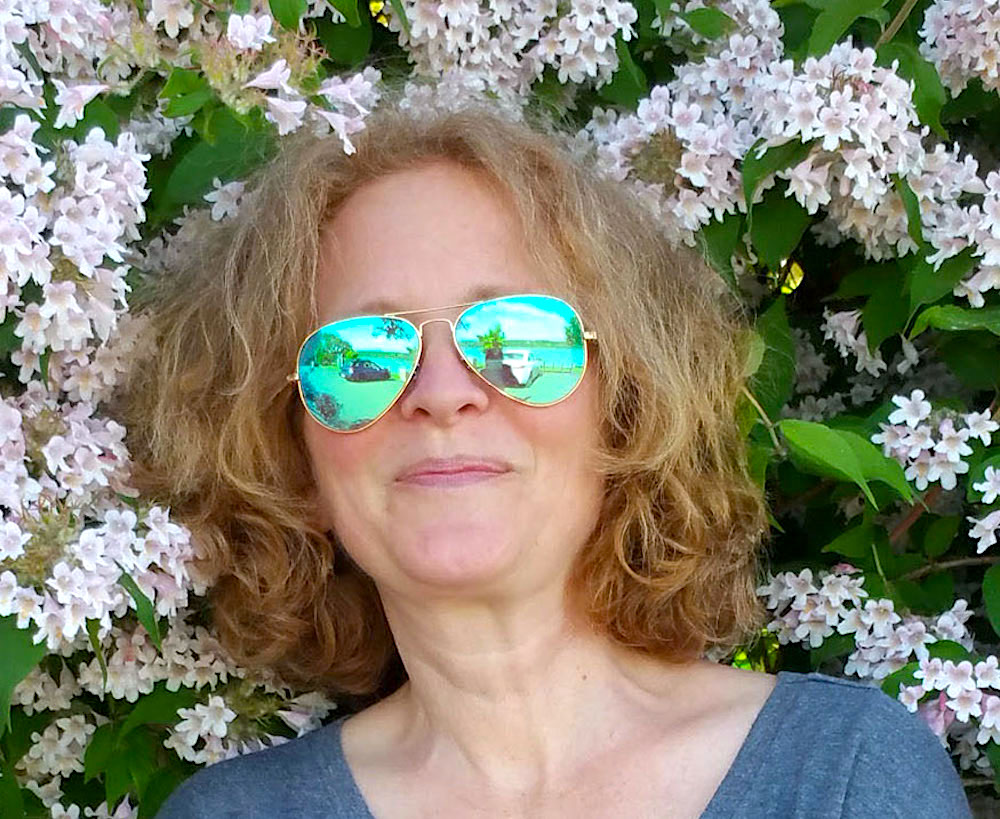 What it is about the Hudson Valley that attracted you to the region? And what is it about the people that make them so receptive to the arts and now global music?
As a lifelong city person, I fell in love with nature, the art scene, and the laid-back vibe up here. There's a lot of open-mindedness, and since there isn't such a sensory overload here as there is in NYC, arts and cultural events stand out and people like to try new things. It's easy to be creative up here, experiment, take risks and explore without the same pressures of success. I have also experienced a tremendous amount of camaraderie here with people actively working together to make things happen.
What are some of your favorite non-musical activities to take in the Hudson Valley?
My favorite things to do here are mostly nature-oriented, like hiking, biking, swimming, and kayaking. I also love exploring places, towns and cities in the Hudson Valley.
What are some of your favorite world music artists, a list that would make a great playlist for newbies to the genre?
Instead of a list, I've created a Spotify playlist for Inside+Out Upstate NY fans, that is very much in formation and is seriously flawed. However, it will give you a fun overview of great music from all over the world, as well as some songs that have had a big influence on me. I've really enjoyed putting it together and will continue to add to it so if anyone is interested, please follow it. To name a few: Ali Farka Touré from Malia, Parov Stelar from Australia, Cha Wa from Louisiana, Concha Buika from Spain and Ghanaian-American singer-songwriter  Moses Sumney. The list goes on!
Listen to Isabel's INSIDE+OUT Music Playlist on SPOTIFY | ENJOY

+++
ISABEL SOFFER
Visit her Website
Email Isabel to join her email list:  [email protected]
Follow Instagram:  @isabelsoffer
Join Facebook Group | Global Music in the Hudson Valley
> Sal Cataldi is a musician, writer and publicist living in Upstate NY. He is President of Cataldi Public Relations and leader of the band Spaghetti Eastern Music and a member of the duo Guitars A Go-Go and Vapor Vespers.