Back to Blog List
We Are Upstate NY with Phoenicia Soap Co. Owner Barbara "Babs" Mansfield
By
inside + out
| October 19, 2022
An exciting new business opened this year in the heart of the Catskills–Phoenicia Soap Co. & Maker's Space founded by alchemist, Barbara Mansfield. They say most successful businesses develop a product or service that fills a void, something that is missing that people want or have a hard time finding. That's where founder, Barbara "Babs" Mansfield's story begins.
From field to face. Driven by the fact that everyone in her family has extremely sensitive skin (including her dog!), the line of products made at Phoenicia Soap Co.are plant-based, using oils infused with botanicals wild-crafted or sustainably grown in the Catskills. What they do not include are colorants and ingredients that harm people, water, and land.
"I couldn't find a soap that both smelled great and was pure, gentle and moisturizing enough for my family—so I made it."
Barbara is also a member of Hinterland Collective, a cooperative of women makers, artists and designers in the Hudson Valley and NYC Metro area., who collaborate and inspire each other's work. We're excited to experience Barbara's latest project where she designed a signature scent for the Hinterland Room featured at the Kingston Design Connection's 2022 Showhouse. So, let's meet Barbara Mansfield to learn more about her business, her creative side, and her love of living and working in Upstate NY!
Here is a link to get the details for this year's Showhouse, which runs annually in October. Psst: Free samples of new products in the Hinterland room!

Palmarosa Pink Grapefruit Shave Soap
Rosemary Biochar
INSIDE+ OUT: Tell us about yourself: Where were you born; how did you wind up in the Hudson Valley?
Barbara "Babs" Mansfield: I was born in NC, where my mom still runs a goat dairy. She taught me how to make (goat milk) soap. My family moved to the Hudson Valley from the City in 2006 to run a general store/cafe in West Shokan. Like so many who move upstate, we were looking for a lifestyle change following trauma–in our case, a year of treatments and surgeries my son underwent for cancer.
You recently launched a boutique shop in Mt. Tremper NY, called Phoenicia Soap & Makers Space. Where did the inspiration for this business evolve?
My son and daughter are my inspirations for everything I make. I started studying aromatherapy when my son was diagnosed (at age 11). In addition to using aromatherapy for chemo nausea and to relieve anxiety, he had radiation treatments for years and we were looking for safe skincare to soothe burns. That's how I began learning about plant therapies. Meanwhile, my daughter had severe allergies, eczema and sensory issues, which further inspired me to focus on sensitive skin care.

What was the inspiration behind the Maker's Space?
I've been committed to eliminating plastic packaging since I started Phoenicia Soap. Pediatric cancer diagnoses continue to rise in relation to the proliferation of microplastics in our environment. But, when I learned how many other great makers in the Hudson Valley are equally committed to making clean, zero-waste personal care goods I wanted to hold a space for that community.
You're an artist, maker and more. Tell us about your art, and the art of making products.
I come from a family of artists and performers whose aesthetics extended to functional goods. Like, my mom was a textile artist and then an artisanal goat cheese maker. In addition to playing a few musical instruments, I knew how to throw a vase on a pottery wheel and warp a loom by age 12. Mom thought we should have at least enough understanding of mediums to fully appreciate what artists and makers do.
How and when did you connect with and join The Hinterland Collective?
Hinterland founder Jennifer L. Salvemini bought my soaps at the farmer's market and then reached out to me about supplying goods for gift baskets she was curating. When I delivered the goods in person she talked about her vision for Hinterland, and I was like, "I want to join her circus." The women in the Collective work in multiple mediums, encouraging each other's creative processes. I've never felt so supported to try new things.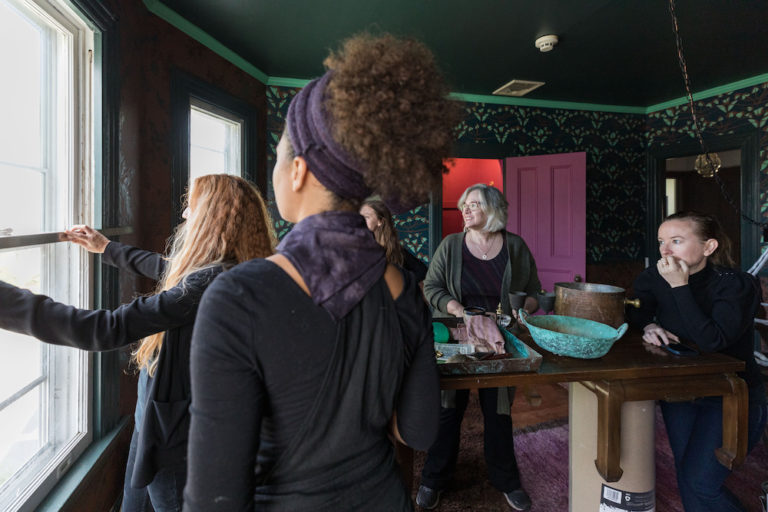 You are also involved with Kingston Design Connection's annual Showhouse event – I believe you created a fragrance specifically for this event. Tell us more.
Jennifer did a mood board inspired by the beauty of aging and Victorian Naturalists. She had a list of words to spark the Collective's imagination too: "rust, patina, decay, mycelium, conduit, opulence…." These words and the mood board reminded me of how rain transforms mountain air in early fall: old moss beds perk and evergreen needles drop, creating this loamy, resinous aroma that's unique to the Catskills. I made a diffuser blend called Hinterland Petrichor (the term for post-rain scents). The blend smells completely different in a diffuser than it does in a reishi lotion.
How are art and scent connected?
Colors and textures often make me think of particular aroma blends. Also, when you move through space or light to experience art, it's like how aromatic notes change over little bursts of time.
Tell us about your career before Phoenicia Soap.
Except for the detour my husband Phil and I took with the general store/cafe, I was in nonprofit arts administration for 30 years. I learned a lot about collaboration from that work, but I'm learning even more from the maker community now.
What's one question you're constantly asked or what's the biggest misconception about your business?
I'm a little sad that a lot of people think "handcrafted" means less sophisticated. They don't get that I'm always reading scientific studies and testing formulas.
What are you working on now that you're excited about?
I was researching how to extract the most beta-glucans from reishi mushrooms and a study showed that steam pressure was the most effective method. That justified my purchase of a Star Wars pressure steamer that looks like BB-8 (astromech droid)–which I'm very stoked to use.
What is it about the Hudson Valley that makes it unique to live + work here?
I love the terroir–how everything that grows here has a unique character.
What impact does your business have on your town/community?
We do maker parties, offering visitors fun and unique experiences. There aren't many places you can distill your own aromatherapy blend from flowers or herbs grown nearby. It's an opportunity to celebrate what grows here while touching on responsible harvesting and cultivation–how to love up on this amazing land.
What local businesses do you rely on to be successful?
Local farms and growers, farm markets and other makers.
What is missing in the area (or town) that you wish we had?
Affordable housing for workers.
Who or what inspires you personally?
I'm inspired by the teachers and students at BOCES career and tech. I've learned so much working with them teaching soap making.
Tell us something about yourself that people might be surprised to know.
I love it when people bring their dogs and babies to the store.
What would be your dream local Staycation?
Buying a ton of books at Golden Notebook and reading at least half of them.
What is your current state of mind?
I love what I do and the people I collaborate with. When I get scared about the state of the world or the economy, I refocus on that which I love.
+++
Phoenicia Soap Co. & Makers Space
5371 NY-28, Mt Tremper, NY
(845) 688-8900
Opened Thursday through Monday 12 – 6 PM
Website | @phoenciasoap | Facebook