Back to Blog List
12 Family-Friendly Thanksgiving-Themed Shows That Aren't Turkeys
November 24, 2021
The parade and football game are over. Your Thanksgiving dinner has been voraciously consumed – with barely enough room left over for dessert. And, of course, texts and social media updates have been checked for the umpteenth time.
So . . . what to do now? Might there be something family- and holiday-friendly on Netflix? Of course, there is! You can find something the whole family will agree on, and we're here to help. Gather around the living room, light the fireplace and just hit play. There's nothing to clean afterward. There are no board game pieces or electronic toys to set up. You might actually get a minute to relax. Here are a few of our favorite family-appropriate Turkey Day movies and TV shows on Netflix, and all can be instantly and effortlessly streamed to a screen near you.
Waffles + Mochi TV-Y (2021)
Now here's something you can watch with the entire family! In this show, two puppet friends (and their occasional bud, Michelle Obama) travel the world learning about food and cooking. There are episodes dedicated to many thinks you can find on a Thanksgiving table, including potatoes, corn, mushrooms, herbs and spices and salt.
The Guernsey Literary And Potato Peel Pie Society PG (2018)
This warm romcom gives you all the homey, cozy feelings you want on Thanksgiving. Set during World War II, it follows a London-based writer who ingratiates herself with a community on a channel island after she learns about their book club.
Best Leftovers Ever TV-G (2020)
Everyone knows that leftovers are the best part of Thanksgiving. In this competition series, clever cooks are tasked with transforming old leftovers into new dishes. In the third episode, they have to use holiday ingredients like glazed ham, apple pie and green bean casserole, so you might be able to get some pointers.
Anne With an E TV-PG (2019)
PBS has made it a tradition to air a new chapter in the Anne of Green Gables story on Thanksgiving, making Anne synonymous with the holiday. While the PBS specials are not streaming on Netflix, this acclaimed series, which ran for three seasons, can keep the custom going.
Holiday Rush PG (2019)
After DJ Rashon "Rush" Williams loses his job, he and his four kids are forced to downsize and move into his Aunt Jo's house. This comedy-drama brings all the feels and reminds everyone what the holidays are really about.

A Charlie Brown Thanksgiving  | Go for the 40th Anniversary Deluxe Edition DVD NR (2013)
Turkey, cranberries, pumpkin pie…and the Peanuts gang to share them with. This is going to be the greatest Thanksgiving ever! The fun begins when Peppermint Patty invites herself and her pals to Charlie Brown's house for a REALLY big turkey party. Good grief! All our hero can cook is cold cereal and maybe toast. Is Charlie Brown doomed? Not when Linus, Snoopy and Woodstock chip in to save the (Thanksgiving) Day. With such good friends, Charlie Brown – and all of us – has so many reasons to be thankful. This Remastered Deluxe Edition with Improved Picture and Audio is guaranteed to bring on that grateful glow. NOTE: not available for streaming.
Fuller House's "A Fuller Thanksgiving" TV-PG (2016)
If you don't want to commit to a whole movie, dip into the Thanksgiving episode of Fuller House (season 2, episode 6). In it, the Tanner clan reunites — except Michelle, of course — and has to re-learn how to all coexist under one roof. It might sound eerily familiar.
5 Thanksgiving Episodes of Friends
Season 2, Episode 8, "The One With the List"
Season 5, Episode 8, "The One With All the Thanksgivings"
Season 7, Episode 8, "The One Where Chandler Doesn't Like Dogs"
Season 8, Episode 9, "The One With the Rumor"
Season 10, Episode 8, "The One With the Late Thanksgiving"
Note: Friends is currently available on HBO Max. Individual seasons as well as the complete series can be purchased at Amazon.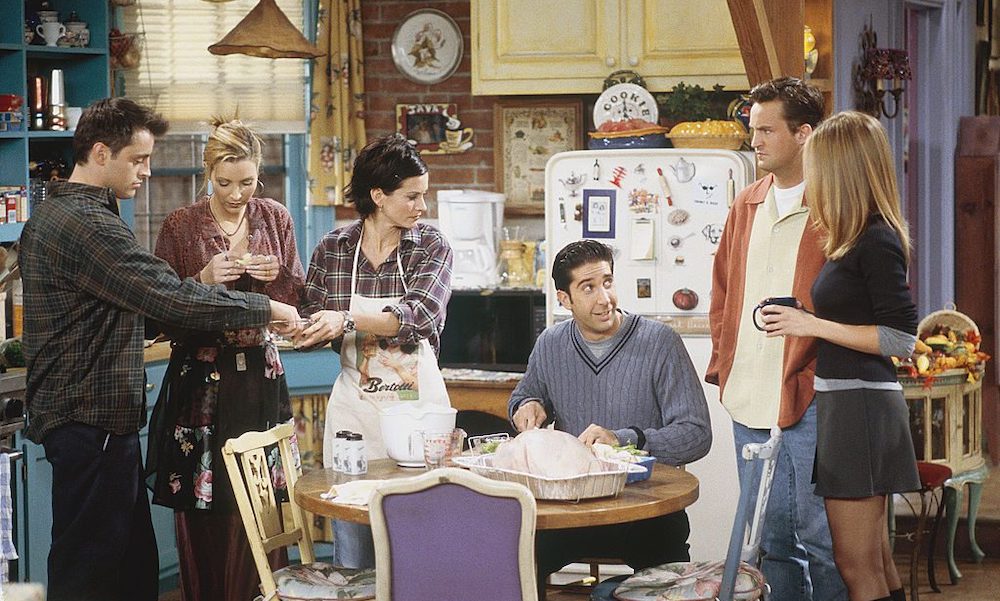 Gilmore Girls
While the Gilmore Girls episode "A Deep-Fried Korean Thanksgiving" always deserves a re-watch, when you're done with that you can move onto the last installment of this four-part mini-series. This puts a button on the whole Gilmore Girls journey, and feels perfectly in tune with the season.
Master of None (2015).
Writer Lena Waithe won an Emmy award for writing the "Thanksgiving" episode of this comedy series, which is the eighth episode in the second season. It tells the story of Waithe's character's coming out over a series of Thanksgiving dinners from the '90s to the present.
Free Birds
Two birds are on the hunt to turn back time and take turkey off the Thanksgiving menu. But will they succeed?
She's Gotta Have It (1986)
If you thought your Thanksgiving guests had awkward histories together, in Spike Lee's She's Gotta Have It, a Brooklyn artist is dating three men at the same time — and invites them all over for the big feast. Netflix also has a newer series based on the movie.
HAPPY THANKSGIVING TO ALL!