Back to Blog List
City Winery Hudson Valley Welcomes Spring with a Sprightly Food & Wine Event
May 4, 2022
Set in the scenic Hudson Valley, City Winery offers world-class live events, amazing food, and, of course – a selection of outstanding wines. A few months back, we at INSIDE+OUT indulged our gastronomic sensibilities at City Winery's unforgettable and unique winter Wild Game feast. We recently rejoined them for Executive Chef Tony Moustakas' truly delicious taste of Spring. On to the Tasting!

The Wine
City Winery sources its grapes from some of the finest vineyards in the world, with a focus on terroir — the French expression for the combination of factors including soil, climate and sunlight that gives wine grapes their distinctive character and flavor. Their grape sources include Cabernet Sauvignon from Bettinelli in Napa, Pinot Noir from Hyland Vineyards in Willamette Valley, Oregon and Malbec from the esteemed Catena Vineyards in Agrelo, Mendoza Argentina.
Attending one of their Food & Wine Pairing events is a great way to sample their wine. You can also join their Wine Club and shop on-premise or online.

A Little Bit of History
The newly renovated winery and vineyard is currently the only hydro-generated operating and functional winery in New York.
All energy produced and used by the mill is powered by water flowing over a large water paddle, sourced from an 1890 man-made dam built that draws from the Wallkill River. In 1913, owner William Crabtree reestablished the dam as the main power source for energy within the Montgomery Worsted Mill, as it was then known. When the Steinberger family took over the mill in 1939, they used hydropower until 1959, when the Mill's yarn-spinning machinery was converted to electric. The mill began producing hydropower again in 1985 and continues to this day.
When you tour City Winery, be on the lookout for the many historic artifacts from the old Mill that dot the property. Antique wooden coal conveyor belts, an original Toledo scale, the architecturally unique chimney… and much more!


The Dining Experience.
We've yet to experience a better food & wine pairing event! City Winery's Spring 2022 Food & Wine Tasting featured 12 courses impeccably paired with cocktails and wine. It was nothing short of amazing.
Ganna "Ania" Fedorova (National Beverage Director), Travis Van Caster (Winemaker) & Tony Moustakas (Executive Chef) are absolute culinary geniuses. We were served 12 courses, each a flavorful and visually rich, mouth-watering presentation. Our gastronomic juices were flowing freely from start to finish.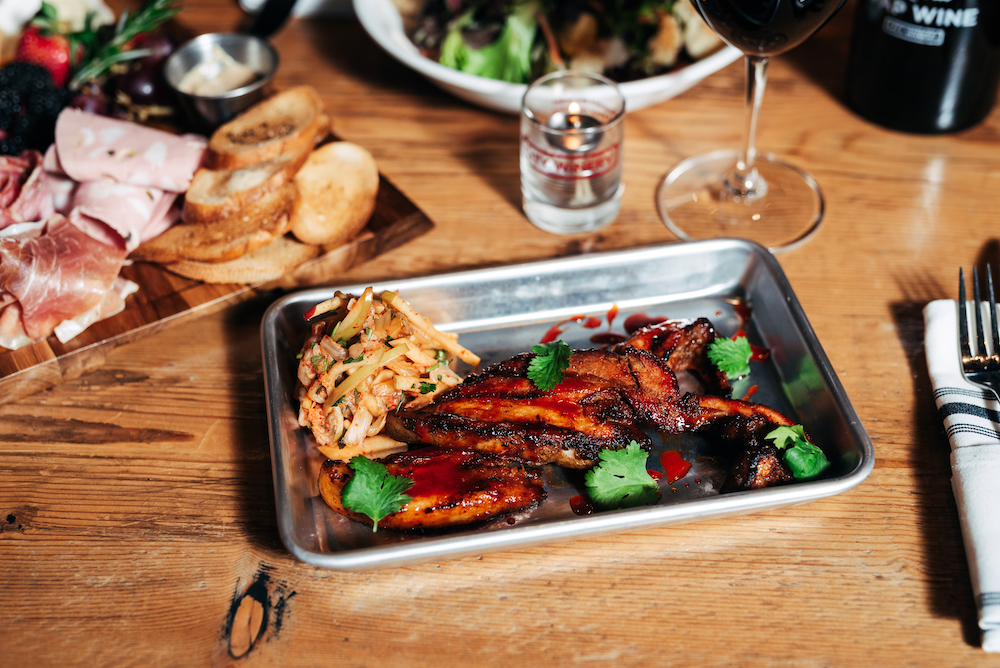 We look forward to our next visit in anticipation of another fabulous dinner and an outdoor show. And check out the amazing music lineup coming our way on their website. You won't want to miss out so be sure to keep it on your radar!
About Tony Moustakas | Executive Chef| Hudson Valley
Tony Moustakas was born and raised in Dutchess County, right here in the Hudson Valley. His family owned The Village Restaurant in Pleasant Valley and he graduated with a degree in Culinary Arts from Johnson and Wales University. A third-generation chef, Tony also has a deep knowledge of the food service business. Before joining City Winery, Tony owned and operated Slammin' Salmon in Millbrook for 12 years. He joined the CW team in March 2020; the restaurant began serving in June 2020.
City Winery's gorgeous, industrial, elegant space, with its multiple dining rooms and banquet options, is right in Tony's wheelhouse. His philosophy is to take the best ingredients, often locally sourced, and alter them minimally. His classic menu features Signature City Winery items like wild mushroom goat cheese risotto balls, flatbreads and the delicious CW Burger.
About City Winery
City Winery delivers a unique high-end culinary and cultural experience to guests who are passionate about wine, music, and dining. By combining a fully functioning winery with intimate experiences and fine dining, City Winery has created a compelling venue for its sophisticated clientele of foodies and active cultural patrons. City Winery is the brainchild of Michael Dorf, founder of the iconic Knitting Factory, one of New York City's longest-running music venues. Dorf's goal for City Winery was to create a space where he could combine his shared passions of music and wine.
We think he's succeeded admirably!
Photos: Kim Colomban for Inside+Out Upstate NY and City Winery
CITY WINERY HUDSON VALLEY
23 Factory Street
Montgomery, NY 
845-424-0222
Website
MONDAY-TUESDAY CLOSED
WEDNESDAY-THURSDAY 4-9 PM
FRIDAY 4-10 PM
SATURDAY 12-10 PM
SUNDAY 11:30-9 PM