Back to Blog List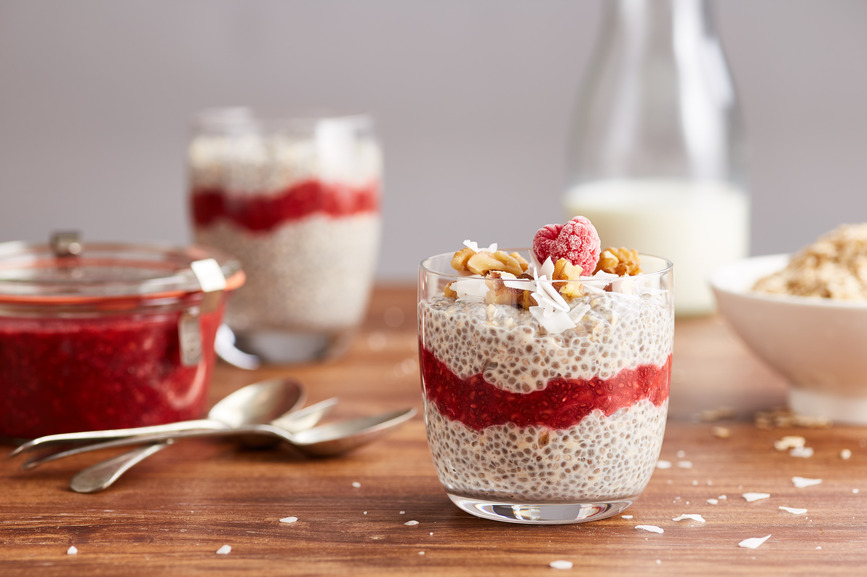 Healthy and Easy-To-Make Fruity Chia Pudding
April 12, 2023
Sponsored Post brought to you by SUNFLOWER MARKET
All you need is a package of chia seeds, agave or maple syrup, and your favorite a non-dairy milk–just 3 ingredients and you have chai pudding! Simple as that!  This is one of those recipes you can whip together and let it set overnight for a quick-serve go-to healthy breakfast. Chia seeds come in black or white varieties, you can use either. Once you make a basic 3-ingredient base pudding, you can add toppings like fresh fruit, a swirl of peanut butter, coconut flakes, granola, nuts, fresh mint and/or chocolate chips. For a special presentation try topping this off with a whole frozen raspberry or two. Chia pudding is a family favorite for a healthy breakfast, dessert or snack – if you have yet tried this, you're in for a treat!
CHAI PUDDING
Two Servings
This is the base recipe for chia pudding, once this is made, add toppings of your choice!
INGREDIENTS
1/4 cup chia seeds
1 cup almond milk (or nut milk of your choice)
1 tablespoon maple syrup, agave nectar or honey
DIRECTIONS
In a medium bowl, whisk well to combine chia seeds, sweetener and milk
Cover and refrigerate until thick, up to 2 hours or overnight.
Serve chia pudding in small bowls and add toppings of your choice. Or, serve in a glass or mason jar and layer fruit, chia pudding, nuts, chia pudding, and top with fresh fruit.
Note: if the Chia pudding is lumpy or too thick, just add a bit more nut milk and mix until smooth. Enjoy!
+ + +
SUNFLOWER MARKET, thank you for SPONSORING this post! Stay tuned for more easy-to-make home cooked recipes! Shop Sunflower Market in Woodstock or Rhinebeck for most, if not all, of the ingredients featured in our recipe series!

SUNFLOWER MARKET | WOODSTOCK + RHINEBECK  LOCATIONS
The Hudson Valley's premiere organic market, Sunflower Market is a family-owned business, dedicated to bringing the best natural and organic products to our community– whole-body health products we can all feel good about serving to the people we love.