Back to Blog List
Next Generation at the Helm of Sunflower Market
By
Joan Vos MacDonald
| January 17, 2023
Forty-four years in business is a long time, and Sunflower Market celebrated that noteworthy milestone in 2022 by passing the torch to the next generation of family owners, Melissa and Paku Misra. Melissa and Paku vow to respect Sunflower's founding ideals and honor the organic market's historical role as an oasis for clean, sustainably sourced food–and the many ways in which Sunflower contributes to their community.

A lot has changed since Bob Whitcomb first opened Sunflower Market in 1978 before eating healthier had gone mainstream. Bob describes the success of the market as a "good accident" in that Woodstock was a welcoming place to set up a natural foods business. "Woodstock was very open to our purpose and what we were selling," says co-owner Roz Balkin, "There's also been a big change in food consciousness worldwide. Yet when Bob started the business, financing wasn't easy to come by. Banks weren't eager to bet on a small store with what they perceived as a limited customer base." Despite their reluctance, inevitable setbacks, and occasional deficits, Sunflower grew from a small 1,800 square-foot market to its current footprint of more than 14,000 square feet.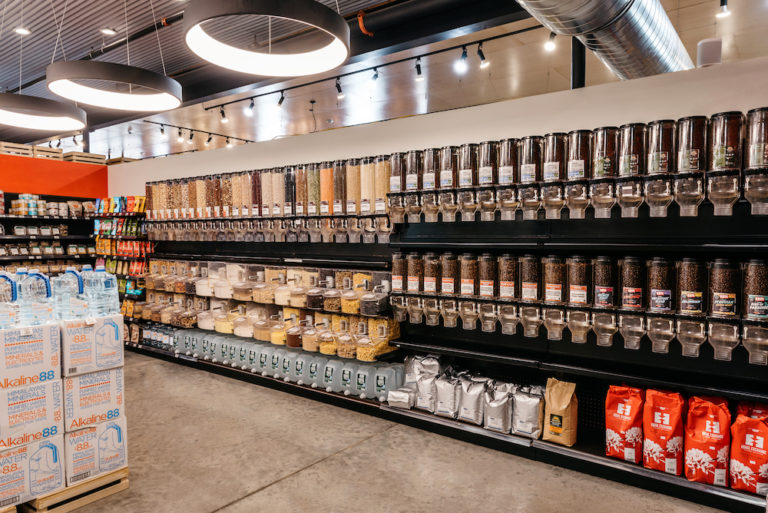 The Sunflower staff has also grown exponentially, from eight original employees to over 75 today. It may have been an opportune location within a receptive community, but Bob's passion for healthier eating, his business acumen and a supportive family drove the store's subsequent success. The selection of health food items has expanded along with the market's size. Today, the market's airy, neatly stacked aisles are filled with tempting selections of fresh organic produce, and its shelves are full of all-natural products and homeopathic remedies. In 2014 they opened a second store in Rhinebeck, taking over a health food store from retiring owners there. Since then, more communities have expressed an interest in having a Sunflower Market of their own. Who knows what the future may hold?

When she and Bob married in 1988, Roz had her own jewelry business, Roz Balkin Inc. "She started helping me right away," says Bob. "It's been a big help to have someone really committed to working alongside me." Then, about 25 years ago, the couple approached Melissa and Paku to ask if they'd like to someday become involved and take over the business. The younger couple said "yes," and would love to continue the Sunflower legacy of offering healthy food options. "Food connects humanity; it nourishes us on every level," said Melissa. "It is critical that natural, organic options are accessible to everyone."
When Melissa joined Sunflower full-time in 2007, she focused her efforts on marketing, relying on her experience at the Poughkeepsie Journal to expand the store's media outreach. "The store had run some basic ads on the radio and in the Woodstock Times," said Melissa, "but I wanted to amplify their vision for clean, healthy food and leverage all the work Bob and Roz had put into it. When asked to consider her legacy, Melissa reflected on the healthy meals her mom always prepared. "The greatest influence on me was my mother," she said. "Her values tie beautifully into the store. Even on a budget, she created these delicious, healthy meals. She raised me on clean food, so from early on I had a clear concept of what healthy food looked like and what are the best things you should eat."

In addition to Bob's efforts, the store's growth has been fueled by the contributions of three generations of women: Roz, Melissa, and now, Melissa's daughter Jenna. Their ongoing outreach to minority- and women-owned businesses and organizations has resulted in their strong representation among Sunflower's product collections. "We will use our voice to raise awareness about equality and other social causes, and we hope to inspire others to maximize their own potential." she said.
Sunflower's owners consider their extended staff part of a larger family – and the feeling is mutual. Indeed, some employees have worked there for 30 years. "Many came to work here because of what the store was," recalls Balkin. "In the beginning, many folks worked here because they liked healthy food, so you had like-minded people working together. People also like to work here because they like who they work with, which has much to do with its longevity." (It could also be due in part to Sunflower's generous benefits, which include profit sharing for all employees, a 401K, paid time off and health insurance.) "Everyone has a story, and everyone has a life that's separate from here. How can you not be compassionate?" says Roz.
Melissa and Paku are now divorced but remain friends and business partners. They officially took over the business in mid-July and pay homage to the first generation's accomplishments. "Bob and Roz's goal as the first generation was to bring healthy food into the mainstream," said Paku of his in-laws. "They had already accomplished that when we came on board. You could see healthy food in conventional grocery stores, and 'organic' is now a buzzword. One reason we've lasted over 40 years while others haven't done as well is that they didn't have a second generation to pass on the legacy. That's where Melissa and I kind of stepped in. Our responsibility is to build on that legacy. They accomplished their vision. Now how do we live up to that?"
A primary focus of theirs is sourcing local organic food. When Bob first opened the store, organic products weren't so easy to find. Getting local organic food was a double benefit. "Today, you look at the state of the world, and you need to consider how the supply chains work," says Paku. "Some of the larger businesses weren't able to manufacture during the pandemic, so we're returning to that agribusiness model from earlier times. Thank God the Hudson Valley is a fertile area with so many local organic businesses. Thus, 'Long Live Local' is our mission." Ironically, says Melissa, "there are so many 'locals' out there today that it's become a double-edged sword. You want to support them all, but there are so many more. Yet our farmers and local artisans are critical to our community's ecosystem and economy. When we make buying decisions that support and sustain them, we build on our tradition of sourcing local products."

Plans are also underway to offer more possibilities for community building, which may involve creating spaces in the market for customers to congregate. "I look at every interaction with employees and customers as an opportunity," said Melissa. "It's an opportunity for me to learn what's important to them personally and how we can provide more and better service. We believe that our primary role is to support the whole-body health needs of our community," said Melissa. "But a natural byproduct of our work is that of helping to address the multitude of larger social and economic issues that impact millions of others."
Helping charitable organizations will continue to be a priority. Over the years, Sunflower Market has donated tens of thousands of dollars to local organizations and events aligned with their values. "By giving back to our communities, we hope to send a message of collective responsibility that resonates with others. We intend to expand on our history of giving by continuing to identify those within our communities that share our passions and mission and build relationships with them."
Yet another goal of theirs will be to prioritize green resources, making sustainability a priority. Plans include:
A composting program and community-wide recycling program.
Reduce food and packaging waste
Making improvements to their solar power program.
Adopting eco-friendly technologies to improve efficiency and decrease their carbon footprint.
"We have a shared responsibility to work toward sustainability," said Melissa. "We'll pursue all opportunities to organize and implement green initiatives."
Bob and Roz are pleased to transition the company to family members so firmly committed to their vision. "It's amazing to see how many of the Sunflower concepts they've embraced, upheld, and continue to manifest," says Bob with evident pride. "I'm delighted to turn it over to Melissa and Paku."
+ + +
SUNFLOWER MARKET WOODSTOCK
75 Mill Hill Rd, Woodstock, NY
Link to Premium Page
SUNFLOWER MARKET RHINEBECK
24 Garden Street Rhinebeck, NY
Link to Premium Page