Back to Blog List
Upstate NY Specialty Food Markets Foodies will LOVE!
By
inside + out
| August 11, 2022
Shopping for a specific hard-to-find item? Or perhaps you're hosting a small gathering and want an array of gourmet treats for your guests. Specialty markets are a great source of culinary inspiration, a way to discover new and exciting foods to enrich your weekly menus. From artisanal cheeses to Asian grocery staples to local organic produce, the Hudson Valley's well-stocked specialty markets have a lot to offer.
Comment below to let us know which shops are your favorites or if we missed one you love!
Talbott & Arding | 202 Allen Street, Hudson | 518-828-3558
The store's provisions are the product of a love affair with the Hudson Valley, curating the best the valley has to offer: from cheeses to meats to seasonal produce. They offer an extensive selection of cheese and charcuterie, plus homemade sweets such as fruit and nut loaf, strawberry rhubarb jam and peanut brittle, as well as a selection of gifts.
Grazery | 10 Main Street, Suite 302, New Paltz | 845-255-2444
Grazery describes itself as the "cheesiest" plant shop around. They offer a farm-fresh menu, artisan cheeses, and gorgeous plants, all curated with love. The cafe offers salads, sandwiches and soups, while the store is a good source for such items as Isigny Ste. Mere butter, Wild Icelandic Kelp, a variety of cheese platters and boxes, olive oils and meats.
Accord Market | 21 Main Street, Accord | 845-377-0060
While offering a selection of favorite products, Accord Market also features a selection of gourmet and health foods. The store prioritizes local farms and businesses, as well as sustainability. That includes beer from West Kill Brewery and frozen and fresh local meat.
Harana Market | 603 Wittenberg Road, Woodstock | 845-684-5835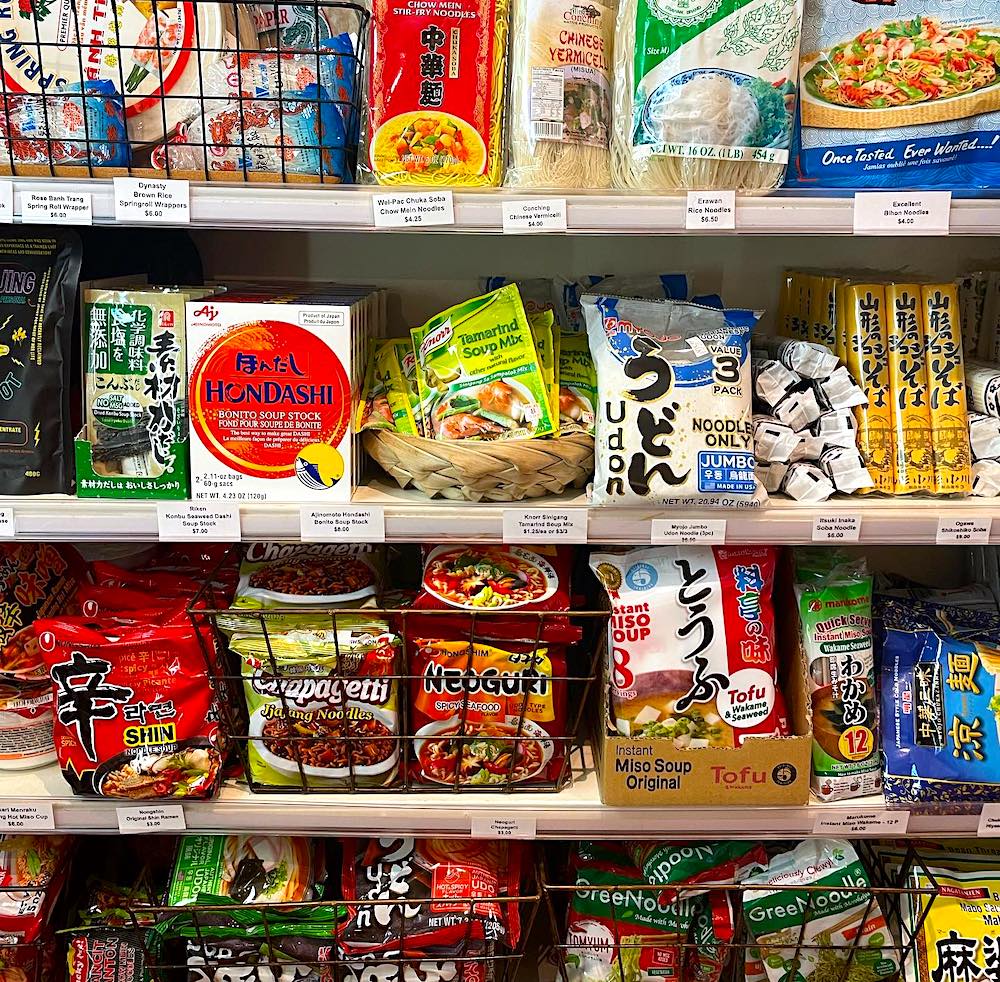 Harana Market sells Lutong Bahay (homestyle) Filipino food and a selection of Asian groceries. The prepared food menu changes every day, but you can also buy items there and order online. Add some excitement to your next meal by trying Organic Coconut Jam with coco syrup, Masala Mama Coconut Curry Sauce, Abokichi Okazu Japanese Mio Chili Oil, Kikkoman Oyster Sauce, Sea Grapes or We Rub You Gochujang.
The Epicurean | 11 Shatzell Avenue, Rhinecliff | (NO PHONE)
The upscale neighborhood market and coffee shop focus on foods raised, grown or produced sourced within 100 miles. For information, email them at [email protected]. We are a neighborhood market and coffee shop serving up locally-produced foods from the Hudson Valley!
Scarborough Fare | 257 Main Street, Beacon | 845-831-7247
Scarborough Fare | 15 N Front Street, New Paltz | 845-255-0061

Scarborough Fair boasts the largest selection of gourmet olive oil and vinegar in the Hudson Valley! Visit one of their two gourmet shops–one in New Paltz and one in Beacon to enjoy a taste of an enormous collection of sea salts, olive oil, vinegar and spices.
Cub Market | 3203 Route 212, Bearsville | 845-679-6569
Formerly The Bearsville Store, Cub Market features shelves and cases filled with an abundance of organic produce, a thoughtful offering of local and artisanal goods, as well as everyday grocery staples. The store offers coffees, fresh baked goods, a cook's pantry, gourmet specialty items, cheeses and charcuterie, and a fine collection of imported and local craft beers & ciders, with a focus on Trappist beers. In addition, you can buy made-to-order sandwiches, daily specials, prepared foods and soups for takeaway.
Olde Hudson Specialty Foods offers some wonderful culinary products, curated by owners who are passionate about food. They feature an extensive variety of amazing cheeses, including Alp Blossom, Bayley Hazen Blue, Cravanzina, Bica and Brillat Savarin with Truffles. The site's blog offers recipes to help make the most of its first-class products.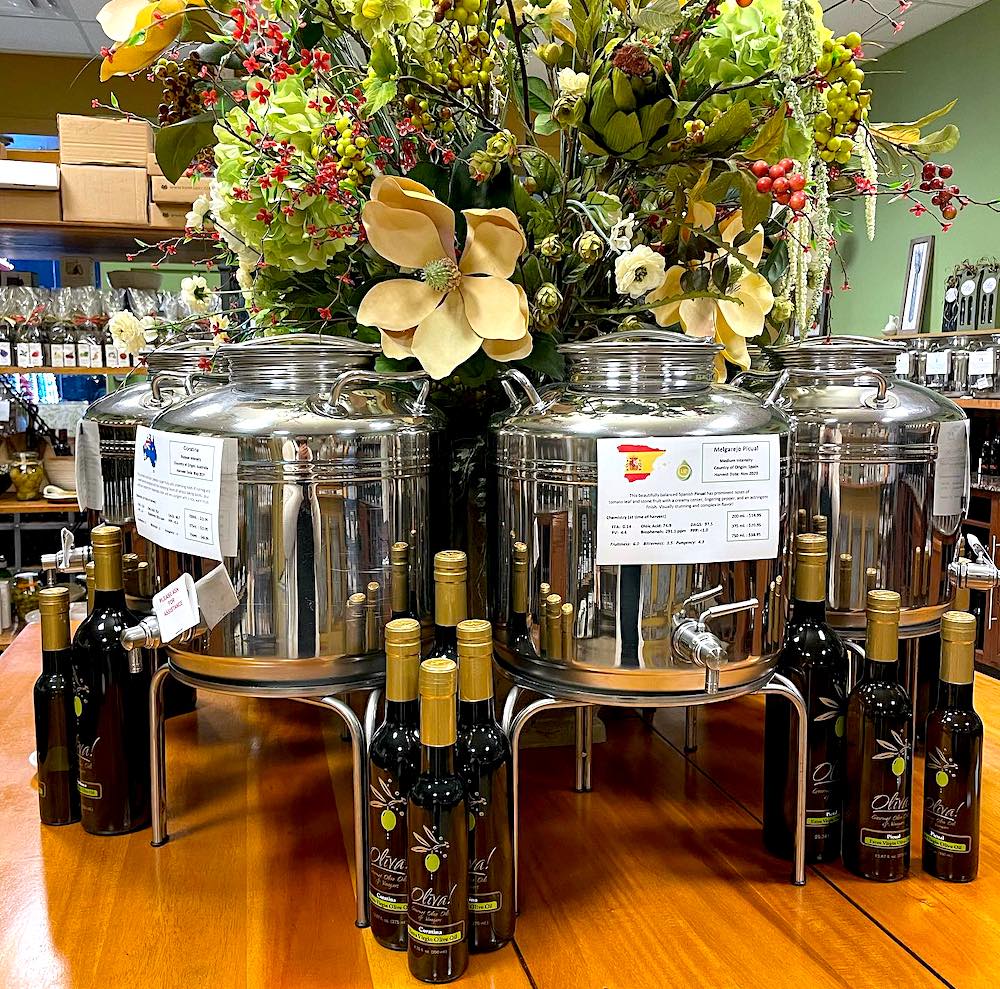 Oliva! Gourmet Olive Oils & Vinegars specializes in single varietal, award-winning olive oils from around the world. They carry fused and infused olive oils including Tuscan Herb Olive Oil and Garlic Olive Oil. Fruity oils: Lemon Fused Olive Oil and Blood Orange Olive Oil and spicy oils such as Cayenne Pepper Fused Olive Oil. In addition, they specialize in aged balsamic vinegar from Modena, Italy.


The deli at Village Grocery offers a curated selection of meats and cheeses and house-made deli salads and sandwiches. Their groceries and produce, as well as many of their carefully curated pantry items, mainly come from local upstate farms and suppliers. They offer a wide selection of locally brewed beer and cider. The store aims to reduce waste by offering many products in returnable/ refundable/ reusable containers and cups.
Cheese Louise | 940 NY-28, Kingston | 845-853-8207




Cheese Louise offers an impressive selection of imported, domestic and local cheeses, as well as freshly baked baguettes, authentic cured meats and salami, mortadella, bresaola, prosciutto di parma, Iberian paleta, and guanciale. They carry local sausages, fresh and roasted local chicken and a variety of fresh and local smoked fish, as well as psta, tomato products, olive oils, vinegars and condiments. They also carry truffle products, caviar and blinis, olives and cornichons, honey and organic coffee.
Beacon Pantry | 382 Main Street, Beacon | 845-440-8923



Beacon Pantry was born with two goals: 1) To bring high-quality food, including cheese, French, Italian and Spanish pantry staples, to the Beacon community, and 2) to offer a welcoming atmosphere where customers can explore and learn about new ingredients. Since its founding Beacon Pantry has expanded and evolved to include a full-service cafe and a market that is four times its original size. The pantry offers ingredients that are difficult to find in the Hudson Valley and provide a little taste of Europe in the process.



Family-owned and operated, Beacon Natural Market strives to provide the local community with a more conscious alternative to the mainstream shopping experience. The market specializes in gluten-free, non-GMO, vegan, vegetarian, certified fair trade, eco-friendly and cruelty-free products.
+ + +
Whether you're visiting, working or living in the Hudson Valley– be sure to check out our full online Directory for all the fabulous places to eat, drink, stay and play in Kingston NY. Just search for restaurants, specialty markets, cafes, coffee shops, organic markets and so much more! There's also the option to start an account so you can SEARCH & SAVE your favorites!