Back to Blog List
A Conversation With Artist and Graphic Designer William van Roden
By
inside + out
| September 15, 2023
INSIDE+OUT UPSTATE NY is please to present our on-going series of exclusive interviews with seven intriguing artists participating in the upcoming exhibit–Exquisite Corpse, The exhibit was Inspired by a game from the '20s, when it was adopted as a technique by artists of the Surrealist movement to generate collaborative compositions. The upcoming exhibit follows the journey of seven artists/collaborators with one rooted seed – queer culture: past, present, and future. Each artist will present their journey as members of the queer community and the visual representation of a collaborative journey through the game Exquisite Corpse.
We are Upstate NY with graphic designer and artist William van Roden, one of the seven artists participating in the exhibit. Let's learn more about Kingston local, William van Roden.
EXQUISITE CORPSE
September 29th – October 29th
At the Everett & Treadwell Building, 33 Canfield Kingston NY
On the Ground Level and Second Floor
The Opening Reception is September 29th at 6PM
+ + +
Where are you originally from, and how does that affect your work?
Originally from Pennsylvania. I would not say that my upbringing and location are impactful on my work at all. However, there are seeds planted in early work in high school of working with pencil on paper and using typography.
Who are your biggest artistic influences?
The list is too long. However, when looking at many of them, there is always conceptual thinking, shape, typography, and even line work. Some of these artists include Jenny Holzer, Sol Lewitt, Laszlo Maholy-Nagy, Gertrud Goldschmidt, and designer Josef Müller-Brockmann.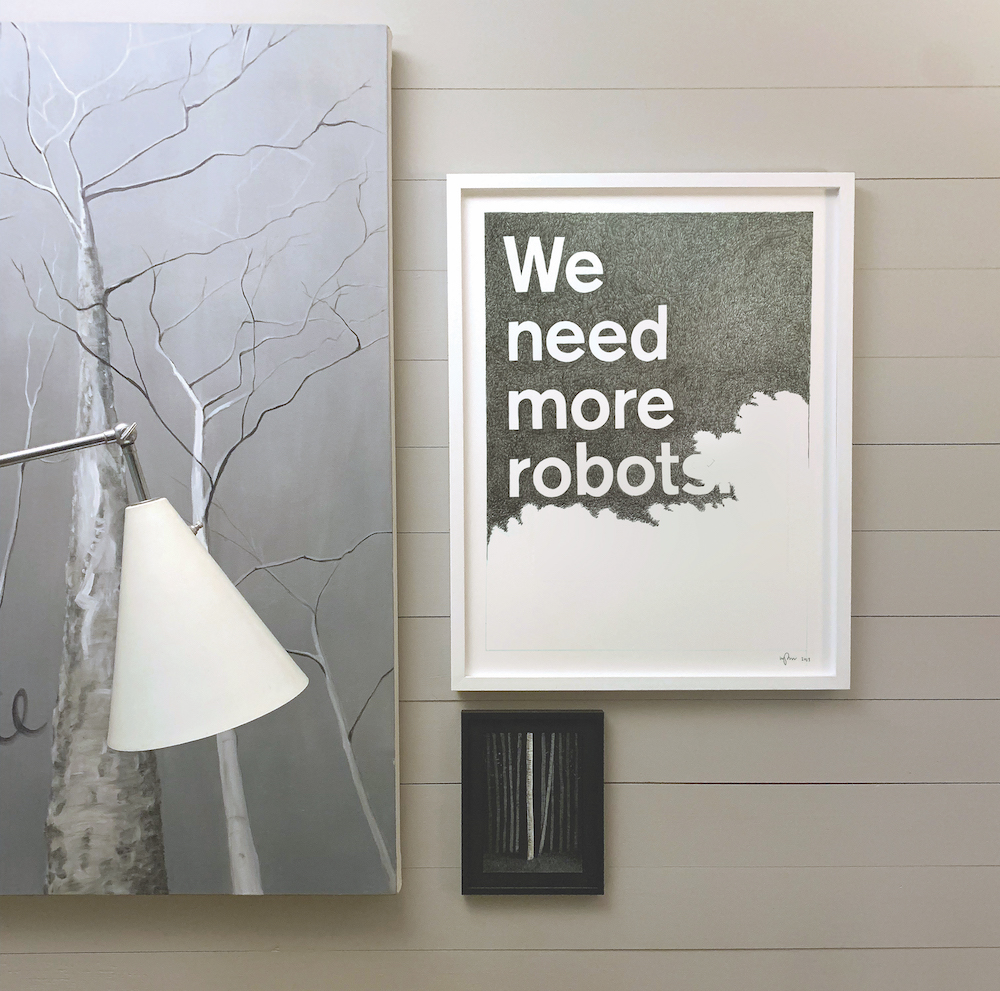 Tell us about your work as an artist?
By day, I am a graphic designer focusing on branding and printed matter. I always find inspiration in artists. In my NYU class, I show artists alongside designers for learning and different ways of thinking. This inspiration has permeated my design world and allowed me to investigate my work as an artist.
What was your reaction when you were invited to participate in Exquisite Corpse?
"Sounds fun."
Tell us about your experience collaborating with the participating artists – were you intimidated, excited and/or inspired to add to someone else's work?
After college, I did some musical Exquisite Corpse projects with a friend. And the idea is always fun to build on something with very little information. I almost thrive on it.
Describe your creative process for this project, and did this change or evolve with each session?
I leaned into my vocabulary of line work and drawing, typography and language. Whenever possible, I would choose words that made sense with what I could see to help create a stronger connection or suggest a narrative. The process remained largely the same. However, with each piece, I could explore some ideas of shape or language, which, in turn, I could create my own pieces. I basically have been doing two pieces: one for Exquisite Corpse and one for me.
What was your goal in participating in Exquisite Corpse, and do you feel you've accomplished it?
Initially, this was an opportunity for some fun and to explore ideas for my own pieces. However, the process has become emblematic of how a small group of queer people can have their own voices and also be part of a larger group… creating impact and nuance, personality and collective-ness.
What impact do you hope this exhibit has on the audience?
Similar to the goal, this is an output where similar or shared identities can align.
Do you believe art can affect societal issues?
Yes.
What are you working on now that you're excited about?
I have been focused on using Polari (a subculture language of 1960s Britain) as a source for language and type in my pieces.
+ + +
Follow Exquisite Corpse @exquisitecorpse2023 
William van Roden is a design director based in Kingston with a focus on brand identity and printed matter. He received his degree from the Rhode Island School of Design. Clients include The New York Times, HP, Martha Stewart, Sotheby's and a long list of publishers. In addition to his day job, he explores concepts of inventory, the redistribution of that inventory, and the use of language that manifests in posters and printed matter using typography, shape, and imagery. The work blurs boundaries between making, production, art and design. Recent works of pencil-on-paper have focused on Polari, a form of slang adopted by gay Brits in the 1960s as code to help identify each other and avoid police detection.
THE ARTISTS
Follow the artist/collaborators on Instagram:  Abraham Cruz, Anita Ragusa, Jason O'Malley, William van Roden, Raul Castro-Cerrato, Sergey Vershin, and Nicole Becher.
EXQUISITE CORPSE
September 29th – October 29th
At the Everett & Treadwell Building, 33 Canfield Kingston NY
On the Ground Level and Second Floor
The Opening Reception is September 29th at 6PM
SEE YOU THERE!