Back to Blog List
We Are Upstate NY With Jesse Greenberg and Stef Halmos From NADA Foreland
By
Cat Tyc
| July 19, 2023
INSIDE+OUT UPSTATE NY is pleased to present an exclusive interview with Jesse Greenberg, Program Director + Head Curator for NADA Foreland and Founder/Executive Director of Foreland, Stef Halmos about the event.
NADA Foreland has returned as an immersive, campus-wide exhibition during Upstate Art Weekend 2023. The event dates are July 21-23, 2023, with open hours from 11:00 AM – 5:00 PM. In addition, there will be a Waterfront concert at 8:30 PM on July 22nd, as well as a marketplace with custom Foreland beer and food by Lil' Debs Oasis in the Bookhouse building. The full participant list is HERE. Tickets will be available at the door, or can be purchased online HERE: General Admission Link (Under 18 is free at the door).
Based on attendance two years ago, they are expecting 3,500 visitors throughout that weekend to see art from Hudson Valley-based to NYC-based galleries that will be installed throughout 111 Water Street including the Waterfront event space, the 1st, 3rd and 5th floors, the Glass Bridge and Tower Stair.
INSIDE+OUT UPSTATE NY: This is the second NADA Foreland in Catskill. Besides the building wide exhibition, the Print Fair and Performance series are new additions to this year's programming. Can you break down more about how this adds to the NADA (New Art Dealers Alliance) experience and any information about your upcoming lineup ?
Jesse Greenberg: This year the Bookhouse will be used for what we are calling the Community Market. A roster of 20 exhibitors will present and sell items that range from print editions, ceramics, books, snacks, clothing and other unique art objects. The Community Market will also be where Lil Deb's Oasis will serve food and drinks the whole time to make it an active social hub.You can even get a tattoo by Electric Anvil Tattoo. Foreland is extremely excited to showcase a specially brewed beer in collaboration with Grimm Brewery from Brooklyn. One of our studio artists Samantha Bittman worked with Grimm to design a label for a locally inspired spruce tips lager. So all weekend Grimm Foreland Fir will be available. And, we are setting up a stage on our waterfront lawn with a variety of performances and programming.
"Foreland Presents" is excited to showcase our first-ever edition: a limited edition of Tupperware lamps by Artist Chris Beeston.


Ajay Kurian will lead a panel discussion about his newly founded NewCrits. They will essentially perform a critique of a studio critique with a selection of artists within the exhibition. And our main event will be a sunset concert on the waterfront; Into The Garden by Camp Saint Helene followed by an audio soup DJ set by the art collective Bobo, complete with performers and props. By having our Bookhouse and Waterfront open this year, we really hope that our audience can also enjoy some relaxation on the waterfront.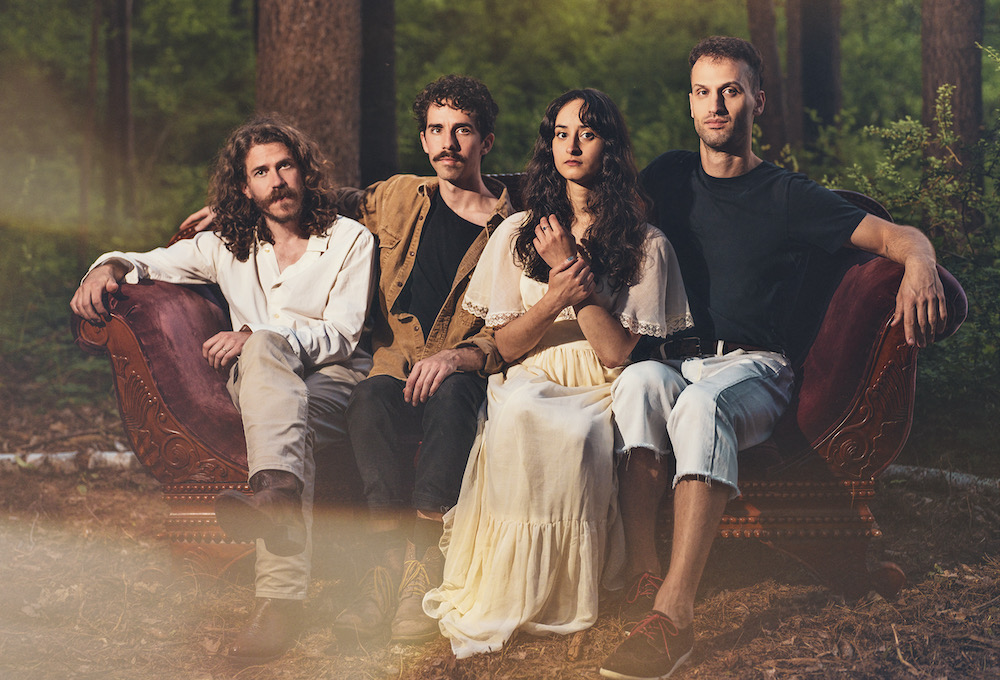 Any other highlights/ featured artists you feel particularly excited about?
Foreland Presents will also be showcasing our first-ever Artists commissioned work by Rachel B Hayes, who is launching our Glass Bridge Series which is on view to the public. The Glass Bridge acts like a public vitrine, presenting Rachel's brightly colored fabric textiles, like soft stained glass. Visitors will be invited inside for this weekend. The work will remain on view for eight months, after which will follow a series of long-term artworks commissioned for the Glass Bridge and Foreland Presents The Tower Stairs.


With the expertise of our team member Wesley Harper, we have engineered a state-of-the-art custom sound system in our 6-story stairwell, dedicated to Sonic artists with a seamless and totally encompassing experiential system that has been worked out. This too will be an ongoing series and the artists who will launch it this weekend are sound artists: Landon Metz, Julia Kent, Maria Antelman, Friends Meeting, Rory / Benedict, Liam Singer, Stonefruit + Maeve Schallert.
How about you Stef, in regards to any other highlights/ featured artists you feel particularly excited about?
Stef Halmos: Our very first "Foreland Editions" with the magnificent Chris Beeston. He's making a limited edition of 20 lamps available only at Foreland throughout the weekend. It's a great opportunity for individuals to collect his work outside acquisitions through the gallery and institution route, which is pretty extraordinary.
I am also curious to hear from you about what does it mean to have NADA at Foreland again? How does it add to the vision and community in your mind as the founder?
It's a big endeavor, and a ton of work, but is sort of a fun way to let our team loose on all their greatest ideas.
That said, what's so special about NADA Foreland is that it subverts what we've come to expect from fairs and exhibitions: the work isn't simply on white walls, it's entirely immersive.
Jesse has curated a show that places the work in direct conversation (harmoniously, or in opposition, or simply in consideration of light!) with the architectural and spatial qualities of the buildings themselves. My personal opinion is that it makes the viewing experience way more fun.
Long-term, Foreland will no longer have ongoing programming. We will focus on one giant, fully immersive event per year.
And in between, we will build our "Foreland Presents" concept: sonic works in our Tower Stair, and public-facing works on our Sculpture Pads and Glass Bridge, alongside exhibitions by local artists in our foyer. At the heart of it, Foreland is a studio building. Our focus is on the artists who house their practices here.
+ + +
NADA Foreland
July 21-23 2023
NADA Foreland returns for Upstate Art Weekend with Art, music, food, an art market & more
Foreland will open two of its main buildings and waterfront with over 100 works of art.111 Water Street, Catskill, New York
Fri July 21st, 11 am – 6 pm
Sat July 22nd, 11 am – 7 pm + concert on the waterfront 8 pm – 11 pm
Sun July 23rd, 11 am – 6 pm
+ + +
Connect with FORELAND via website | Facebook | Instagram