Back to Blog List
Inside+Out Upstate NY's Top Picks for Upstate Art Weekend 2023
July 18, 2023
We're counting the days for this year's UPSTATE ART WEEKEND, one of the most exciting art festivals in Upstate NY. Poring over this year's program, we've mapped out  some of our favorite picks below.  With over 130 participants that include local art organizations, artists studios, galleries, museums, residencies, and creative projects–this will be a "not-to-be-missed" event! Be sure to visit the website for each event space listed for the days and hours they are open.
UPSTATE ART WEEKEND | July 21 – 24, 2023
Click HERE for the Program
Click HERE for the MAP of all Exhibitions
All events are free and open to the public unless otherwise specified.
Founded by Kingston resident and art visionary Helen Toomer, UPSTATE ART WEEKEND, is a connective multi-venue, multi-county art festival that draws thousands of artists, patrons, collectors, and art enthusiasts to the region. This year's festival spans from the northern line of Westchester as far north almost to Albany, near east as Connecticut and as far West as Pennsylvania, this Upstate Art Weekend is the biggest yet!
And now, for our favorite picks for this year…
NADA Foreland | 111 Water Street, Catskill | @newartdealers |  Read our Exclusive Interview with Foreland HERE
A collaborative weekend exhibition at Foreland—the upstate New York arts campus—featuring artwork installed in Foreland's historic industrial building in the center of Catskill, New York. In partnership with Upstate Art Weekend, this exhibition will highlight artworks from NADA's community of galleries, nonprofits, and art spaces, with a focus on artists working within the Upstate New York region.
Special Events: Saturday, July 22 @ 8 PM – Into the Garden, a Saturday evening concert by Camp Saint Helene; and a post-concert DJ set by Bobo. Admission is included with ticket purchase to NADA Foreland.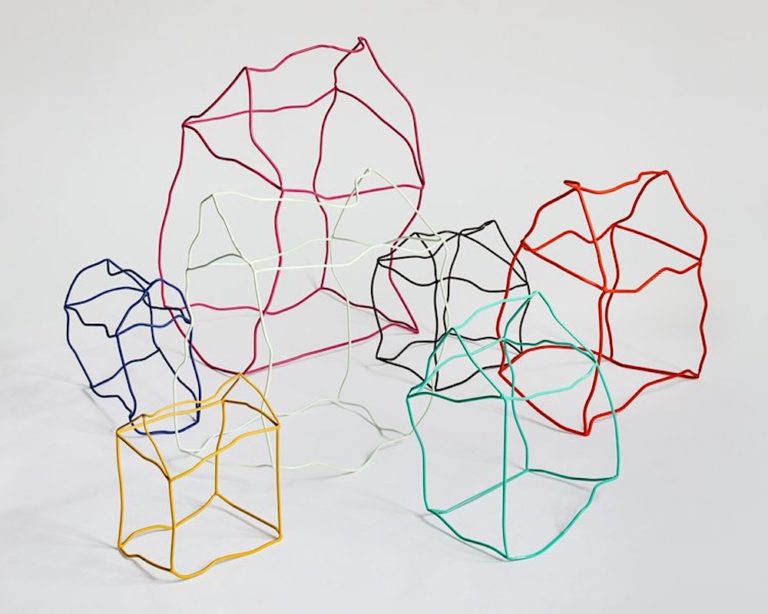 BUILT 2023. BUILT originally opened in The Lockwood Gallery in 2020. Conceived as a way to explore the relationship between Art and Architecture. Four years later, the BUILT concept is stronger than ever, as is the list of participating artists: Mike Cockrill, Painter; Jean Feinberg, Painter/Assemblage; Susan Spencer Crowe, Sculptor/Painter; Nic Goldsmith, Architect; David Kucera, PaInter/Sculptor; Ryan Sarah Murphy, Assemblage/Video; Margaret Saliske, Sculptor/Photographer; Kurt Steger, Sculptor; Rebecca Welz, Sculptor/Painter; Harry Wilkes, Photographer; Frank Lloyd Wright, Architect.
INNESS x Olaf Breuning |  | 10 Banks Street Accord NY |

@olafbreuning
|
@inness_ny

Olaf Breuning will present his latest Smoke Bomb art installation at INNESS on Saturday, July 22. Attendees will get an up close and personal look at the artist's process as he orchestrates the smoke performance with his assistants. In the case of inclement weather, the event will be held Sunday, July 23. The event is free but registration is required. The exact location on property is to be determined. Everyone will meet at the hilltop at 3:30 PM, then make their way down to the installation. Olaf's photographic Smoke Bomb prints will be available as a limited edition in the INNESS Farm Shop during and after the Upstate Art Weekend.
Hessel Museum of Art, Bard College | 33 Garden Road, Annandale-On-Hudson | @ccsbard


Indian Theater: The first major exhibition to center performance as an origin point for the development of contemporary art by Native American, First Nations, Inuit, and Alaska Native artists. The exhibition brings together over 100 works by over 40 artists and collectives as well as performances by Rebecca Belmore (Anishinaabe), Nicholas Galanin (Tlingit/Unangax̂), Jeffrey Gibson (The Mississippi Band of Choctaw Indians/Cherokee), Kite (Oglala Lakota), Maria Hupfield (Anishnaabek, Wasauksing First Nation / Canada), and Eric-Paul Riege (Diné).
Throughout the weekend, PS21's trails & art installations are open for public access from dawn to dusk. Showcased in the fields will be Silda Wall Spitzer & Tim Jones' "Dandelions," a sculptural piece taking inspiration from nature in both its exaggerated scale & durable materials, & James Casebere's "Solo Pavilion for Two or Three," an imposing architectural work by the photographer & installation artist. All are welcome to come share in the excitement as our campus is buzzing with creative energy!


Come one, come all! A weekend photo festival consisting of an outdoor film screening, photobook fair, 'zine-making station, cyanotype-making station, tintype-making station, kids portrait studio, dog portraitist, photo booth, and an exhibition in a shipping container of Brenda Kenneally's epic, multi-generational photo project, Upstate Girls, produced in partnership with Collarworks of Troy, NY.
In the Room, a group exhibition featuring three contemporary photographers: Kelly Kristin Jones, Jonathan Mark Jackson (2021 CPW artist-in-residence), and Ashley M. Freeby will be on view at CPW's exhibition space at 474 Broadway in Kingston. Through their work in still photography, archival research, and family histories, these three artists explore the relationships between personal and collective memories, and in particular how public histories are made, challenged, and remade.
A day spent at Storm King is like no other. During Upstate Art Weekend, their extensive collection of large-scale sculptures and site-specific earthworks situated throughout the landscape, will be on view. As will new works fromUgo Rondinone "The sun and the moon," Beatriz Cortez "The Volcano That Left" and RA Walden "Outlooks: RA Walden."
The Woodstock Byrdcliffe Guild show, Self: Portraits + Places, is a three-woman exhibition of paintings, curated by Melinda Stickney-Gibson. The artists are Brenda Goodman, Julie Heffernan and Elisa Jensen. For Brenda Goodman, the notion of Self is mirrored by the unflinching gaze of the canvas while Julie Heffernan weaves Selfhood from the skeins of dreams and visions. Elisa Jensen turns away from both figure and fantasy to instead place the Self squarely in the geography of light and object. Like the Three Fates, these artists present separate visions of Selfhood as a physical entity, a mystic mythology, or the actual spaces we inhabit. These various concepts, brought back together, encompass the layered experience of being human.
Counting the Seconds Between Lightning and Thunder group exhibition, curated by Eve Biddle, Bowie Zunino, Jeff Barnett-Winsby and Will Hutnick, featuring 40 artists throughout all 7 floors of Maxon Mills.
Studio Tashtego | 158 Main Street, Cold Spring | @studio_tashtego


Hudson-based ceramic artist R.A. Pesce's solo exhibition entitled Brutalism vs. Nature. This show will debut over forty works in a number of colorful new glazes alongside Pesce's characteristic monochromatic palette. Two distinct wheel thrown and altered styles by the artist will be on display, what Pesce has aptly named his "Brutalist" and "Elemental" forms. Pesce's brutalist vessels are angular and geometric, seeming to fuse the abstraction of sculptors such as Henri Laurens or Constantin Brancusi with a deep architectural sensibility. Each piece is, at its starting point, a vessel, and by applying brutalism-inspired motifs Pesce creates nuance and structural interest.
Navigating UPSTATE ART WEEKEND
The 2023 Upstate Art Weekend Program
See all of the participating art partners with this easy-to-use Program and get a glimpse of how fabulous 2023 promises to be! There are Indoor and outdoor exhibits and performances happening throughout the valley including Columbia, Delaware, Dutchess, Greene, Orange, Putnam, Rockland, Sullivan, Ulster and Westchester counties.
2003 MAP for Upstate Art Weekend 
Navigation made easy with the easy-to-use digital map of all exhibitions to start planning your weekend itinerary in advance.
Enjoy!