Back to Blog List
Meet The Chef: GioBatta Alimentari's Chef Francesco Buitoni
Inside+Out is pleased to present our next MEET THE CHEF exclusive interview with Chef Francesco Buitoni of Tivoli's GioBatta Alimentari, one of the finest Italian dining experiences and specialty stores in the Hudson Valley. Born in NYC and raised in Italy, Francesco is the great, great, great, great-grandson of Guilia Buitoni who, together with her husband Giovanni Battista (nee GioBatta), revolutionized the art of pasta with the creation of one of its greatest global brands–Buitoni Pasta.
Prior to launching GioBatta Alimentari, this twice-nominated James Beard Chef founded and operated the much-loved Mercato Osteria Enoteca in Red Hook for twelve years. Read on to find out more about Francesco's unique background, his artistic approach to the reinvention of Italian culinary classics, and the pleasures (and challenges) of operating a restaurant through the Covid-19 pandemic
INSIDE+OUT: Ciao! Tell us about yourself and how you wound up in the Hudson Valley.
Chef Francesco Buitoni: I was born in New York City – my parents lived there while my father was studying at NYU and being groomed to take over the family business, Buitoni Pasta. I ended up in the Hudson Valley after visiting my friend Jaime, who lived in Pleasant Valley. We had met at Lincoln Center, where as a young adult, I was promoting Mionetto Prosecco, a little-known brand at the time. My friend was also an avid polo player and he invited me to pour Prosecco for the after-party at a polo event he was hosting at Mashomack Polo Club. Not a bad way to spend a Saturday and start a lifelong friendship. 
I fell in love with the natural beauty of the area and its proximity to farmland. It reminded me of my childhood time spent on my maternal grandmother's working farm in a town called Civita Castellana. I was hooked and started to come up every weekend. 
In April 2001, while looking through the help wanted ads, a small farm-to-table restaurant in Tivoli, NY, called Stoney Creek, caught my eye. They were looking for a sous chef. This was when farm-to-table wasn't a trend; it was a way of life. I applied and was invited to meet with the owner, Peter Seidman. I got the job, moved to the Rokeby estate, and for years had the best commute on River Road through Bard College to Tivoli. I had to pinch myself every day to ensure I was not dreaming.
You're a seventh-generation pasta maker and two-time James Beard nominee – congratulations! What inspired you to become a chef and what was your journey?
I think what inspired me to become a chef was, and still is, the love of nurturing people with food and seeing how they feel after a good meal. It started with my maternal grandmother Sandra, and my paternal grandfather Francesco. They both loved to cook for family and friends. As long as I can remember, I always had my hands in the pot, whether at home, camp, or boarding school. I was always cooking for everyone and just naturally found my way behind the fire. After college, I began working for Tony May at his restaurant Gemelli in the Twin Towers before moving on to San Domenico at Columbus Circle. After two years there, I wanted to expand my knowledge so I became Mionetto Prosecco's first salesman. After about a year, I moved to Panebianco Wines, where I found a great mentor in Livio Panebianco, who loved small producers and their more obscure and indigenous grape varieties.



However, when out selling wine I would surely end up in the kitchen of the restaurants I visited and longed to be cooking again. It was during a visit with my friend Jaime in the Hudson Valley, that I answered that ad and followed my calling.
After a year at Stoney Creek in Tivoli, I went to work for a new Italian restaurant Gigi's in Rhinebeck. From the kitchen, I moved to management. When my old boss Livio Panebianco called me and asked me if I wanted to be an assistant sommelier for a new restaurant opening in Manhattan called Otto Enoteca Pizzeria (which was owned by Joe Bastianich and Mario Batali), I took the job with the stipulation that I would not work weekends because I wanted to be in the Hudson Valley. I also told them it would only be for 6 months because my ultimate intentions were to move back north full-time.
The all-Italian wine list had 650 bottles and lots of Amaros, and Grappa, a great casual vibe and a fun place to be. Meeting lots of people in the Industry was great and had many job offers, but my heart was in the valley. Especially, after friends in Tivoli introduced me to my future wife and business partner Michele. She was a successful movie producer and was working as a producer on the original show called Queer Eye for the Straight Guy. We had a blind date at the then Black Swan Pub; now Traghaven Whiskey Bar, in Tivoli, meeting for breakfast at Mike's bakery the next morning. We quickly moved in together; baby in the oven, on the then Coach Farm property in Gallatin, NY. With a loan from Terry; Michele's mom and Miles Cahn; Coach Farm, we opened a little sandwich shop behind the Red Hook Inn, in Red Hook, NY. Before we opened our own place I was working part-time at a new restaurant in Hudson; Ca'Mea, as a line cook. Since Mercato Tivoli opened Michele and I have been nurturing our patrons with authentic healthy foods in beautiful tasteful and comfortable settings in all our businesses.


Tell us about your family history in food & hospitality.
The Paternal side of the family was at the forefront of the food industrial revolution, having gone from a small pasta shop started by Giovanni Battista Buitoni (GioBatta to his friends and family)  and his with Guilia in the small Tuscan Town of San Sepolcro. From there, the business blossomed into a global multinational with factories in Italy, France and Brazil. They also purchased a small confectionery factory; Perugina Chocolates and turned it into another multinational business. However, after poor family management and Union labor battles, the business was sold in the '80s to an Italian industrialist, Carlo De Benedetti. He sold it to Nestle after a 3-year restructuring plan for 10 times more than what he paid for it. Yet another blow to the Buitoni Family.
Most family members retired or opened their own businesses, as did my Aunt Mietta Buitoni who opened a restaurant in Manhattan called Al Bacio. She had run the Perugina store on Lexington Avenue for many years and wanted to stay in New York. My Junior year in high school was very hard for me, I wanted to quit and go to cooking school, so I packed my bags and moved to New York to work with Zia. Her cousin–Gianluigi Longinotti Buitoni, had three restaurants called PASTA and Dreams. A sort of Italian fast-casual ahead of its time. I work for him making bread and pasta while covering as Pizzaiolo when the other pizzaiolos had a day off. It was intense but I loved it. Nevertheless, after 4 months, I returned to Rome to finish my high school degree.
My maternal grandmother was a Marchese from the City of Ferrara with extensive agricultural land holdings. Once married, she and my grandfather Claudio moved to Rome. He was a savvy businessman and made several land investments, one being a large farm northwest of Rome in Civita Castellana, where they grew tobacco for many years. However, once tobacco became a state monopoly, they diversified to other crops. The farm had a vineyard and an olive grove with a large labor force living and working on the estate. It was like a small village. My grandmother had an extensive vegetable garden, chickens, rabbits–and the annual pig and gifted lambs from the shepherd that rented grazing land. It was pretty self-sufficient from a food source point of view. I grew up eating fresh farm, seasonal food as a natural way of life, which Inspires me to this day.


GioBatta Alimentari recently launched in Tivoli NY. How did you come up with the name?
The name is the nickname for Giovanni Battista (GioBatta) Buitoni who is my great great, great, great grandfather. He and his wife started Buitoni pasta in 1827. GioBatta is an homage to them and our inspiration to create a place to come and enjoy a great plate of pasta.
You enjoyed a 12-year run with Mercato Osteria Enoteca in Red Hook. What prompted the move to Tivoli and what changes does the new restaurant represent for you?
Mercato had a great run and we love Red Hook and our dedicated patrons, but we outgrew the space. Once I learned the space in Tivoli was avaialble, I decided to move and start anew. I have always had a soft spot for Tivoli and its community. I met the love of my life there. I started my cooking career in the valley as well. I just always thought I would one day return to where it all started.


Who or what inspires your menu and how often do you change it?
I'm inspired by those who sit at my tables and hope they leave satiated and feel love in the food prepared for them. I love the proximity to all the farms and the amazing ingredients we have at our disposal. Our menu changes all the time, depending on what's in season, what inspires me or if we run out of an item. Cooking is an active act that needs to change in order not to become stagnate and to keep the chefs inspired. I keep everyone guessing right before service, probably a little maddening to my staff but, I like it a little crazy!
What's one question you're constantly asked or what's the biggest misconception about your business/restaurant?
I think people see a full restaurant and they assume we are making money hand over fist. Unfortunately, that's not the case, I love what I do and it's more a lifestyle that has provided me with a good living, but not the riches people assume restaurants make. It's a labor of love, in an intense environment many times, not all patrons get it, but those that do are awesome, it's fast-paced, stressful, and you need a thick skin. However, at the end of the day, it's great to work with a like-minded team who can laugh and remembers it's never personal in the heat of service. And, it's amazing to see your patrons leave happy.
How do you inspire your staff? What is your company's "culture?"
I hope to inspire my staff by working alongside them as hard, if not harder than they do. I'm passionate about what I do, I don't take shortcuts, and I expect my staff not to either, which can be challenging at times. I'm Italian and I talk with gusto (some may say I'm yelling, but that is not the case.) I try to teach them to nurture others with food and good service, and to treat the patrons as if they are coming to your house for a meal. Our team's goal is to make sure their experience is amazingly better than what they expected. I believe our patrons' gratuity is their way to say thank you.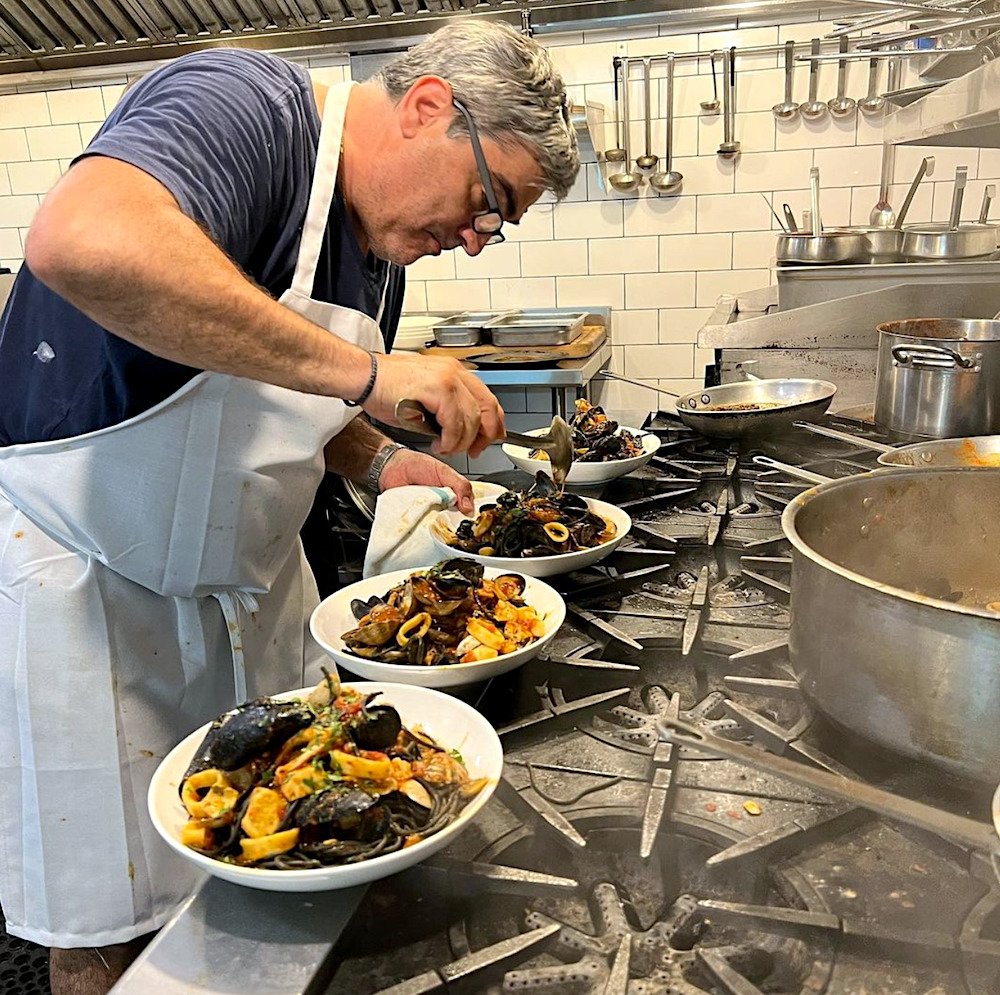 What do you love most about living + working in the Hudson Valley?
I love that I get to raise a family and have a business in a community I love, with like-minded people, in a beautiful environment, which is rural enough but still embedded with history, culture and the arts maintaining a balance of work and life.
What impact does your business strive to have on your community?
I want to serve my patrons a healthy plate of food and a glass of vino to nurture their souls and bring a little joy to their daily life. If you're sad, we want to turn your day around. If you're happy we want you to leave happier. I also enjoy being a safe place of employment where people are respected, make a living wage and their diversities are celebrated and welcome.

What local businesses do you rely on to be successful?
All the farmers and food producers in the Valley that provide amazing ingredients for us chefs to use – grown and produced with love, because that will come through in the dishes we prepare.

What's missing in the area that you wish we had?
I love this area just the way it is. It is why I made the Hudson Valley my home and established our business here.
What is your favorite thing to eat/cook when you're home alone or with your family?
I love to make risotto at home which is time-consuming but so good when made properly from start to finish. However, my home cooking at home is an extension of my cooking at GioBatta. It's really the same. I cook for my family the same way I cook for my patrons.
Tell us something about yourself people might be surprised to learn.
I like all food and will try anything, but I don not enjoy kimchi.
Name three things you always have in your fridge/pantry.
Mom's Extra Virgin Olive Oil, Good farm eggs, Parmigiano Reggiano


What was the best dish or meal you've ever had and who made it?
Food is an experience and like our emotions there can't be one that is the best. Every amazing meal is perfect in its own moment of time, and the place you experienced it. And there's still many more to be had.
What's your current state of mind?
I just hope people will return to the hospitality industry. We are in need of good people to fill many job openings. More and more people want to be served but at the moment, there are not enough who want to be of service. Hard nut to crack and frustrating as a hospitality business owner.
+ + +
GioBatta Alimentari
69 Broadway, Tivoli, NY
Thursday + Friday + Saturday
11:30 am – 5:00 pm lunch
5:00 pm – 8:00 pm dinner
Sunday
11:30 am – 5:00 pm lunch
5:00 pm – 7:00 pm dinner
Closed Monday + Tuesday
Dinner reservations by phone: 845-757-2567
Bar and porch available for walk-ins
+ + +
Read all of Inside+Out's MEET THE CHEF SERIES
Chef Jesse Frederick | Butterfield Restaurant at Hasbrouck House| Stone Ridge NY
Chef Corwin Kave | Deer Mountain Inn | Tannerville NY
Chef Kevin Katz | Red Onion Bar & Restaurant | Saugerties NY
Chef Alex Napolitano | Prospect at Scribners | Hunter NY
Chef Clare Hussain| Runa | New Paltz NY
Chef Jamie Parry | Swoon | Hudson NY
Chef Christoper Weathered | Mill & Main | Kerhonkson NY
Chef Elizabeth Steckel and Dirk Schalle | The Gunk Haus | Highland NY
Chef Wyatt Jaster | The Pines | Mount Tremper NY
Chef Richard Erickson | Blue Mountain Bistro & Bistro To Go | Kingston NY
Chef Tony Moustakes | City Winery Hudson Valley | Montgomery NY
Chef Doris Choi | Silvia | Woodstock NY
Chef Cheryl Paff and Chef Juan Tzitzimititila | Black-Eyed Suzie's | Kingston NY
Chef Francesco Buitoni | GioBatta Alimentari | Tivoli NY
+ + +
Search the Inside+Out Directory for Restaurants, Cafes, Coffee Shops, Bars + More!