Back to Blog List
Glamping in The Hudson Valley
By
inside + out
| August 21, 2023
Love the idea of the great outdoors and camping, but need more luxe? Glamping may be your jam. With a little digging, we've found the top glamping locations in the Hudson Valley that offer amenities like luxury tents, air-streams, tiny cabins, geodomes, concierge services, and yes, real beds.
Gatherwild Ranch | Germantown, NY | 518-303-2864 | Facebook | @gatherwildranch
Gatherwild Ranch is a place to experience the beauty of the natural world. It is constantly evolving and invites each visitor to participate in the artful array of nature complemented with the comforts of home. Spread out amongst the rolling hills of the Hudson Valley, Gatherwild is home to eight curated spaces which share a spacious and newly renovated bathhouse with Moroccan artisan tiled showers. Choose to cook dinner in the shared outdoor kitchen with a rooftop deck, or grill at your private site
+ + +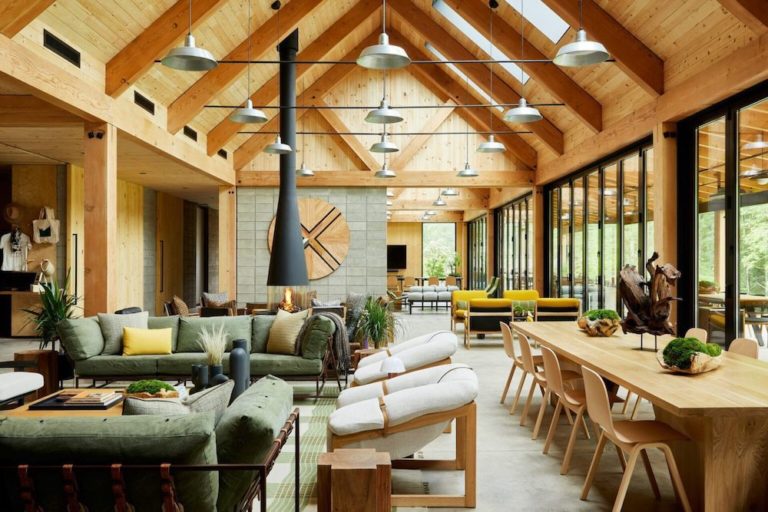 AutoCamp Catskills| Saugerties, NY | 845-434-1075 | Facebook | @autocamp 
AutoCamp Catskills brings their signature AutoCamp experience to the forests of Upstate New York. Explore the neighboring historic towns of Woodstock or Saugerties, hike on the dozens of trails throughout the Catskill Mountains, ski or snowshoe on Hunter Mountain in the winter, or spend time on property in their classic Hudson Valley-style Clubhouse. Autocamp offers many options for accommodations from modern Airstream Suites, spacious canvas tents, and roomy accessible suites, relying on ingenious, compact but generous designs to provide every amenity you need, without sacrificing a sense of space and comfort.
+ + +
Bellfire in the Catskills | Roxbury, NY | Facebook | @bellfirefarm
Bellfire in the Catskills is an artist family owned outdoor inn that offers a unique and intimate back-to-nature experience surrounded by outstanding natural beauty. Comprised of 4 unique sites: two canvas camps and two tiny cabins, Bellfire is located off-grid in the Catskills Mountains (Roxbury, NY), 3 hours from New York City on a bucolic 10-acre property; part maple forest, part wildflowers field, and miles to roam.
+ + +
Wildflower Farms Auberge Resorts | Gardiner, NY | 855-472-3188 | Facebook | @wildflowerauberge
The ultimate in luxury, Wildflower farms has 65 freestanding cabins and cottages that merge outdoors with in, designed to blend seamlessly with nature, Expansive floor-to-ceiling windows allow bedside views of the wildflower meadows and open to private patios with lounge areas. The interiors are cozy and outfitted with natural materials welcoming guests to unwind after the outdoor adventures of the day. Accessible rooms available.
+ + +
Gateway | Catskill, NY | Facebook | @getawayhouse
Stop by for a night or stay for a week—your tiny cabin awaits. Set in Catskill, NY, just 2.5 hours from NYC, Gateway is nestled along rolling hills and serene forests with a mix of towering oak, spruce, and pine trees. Nearby, you'll find plenty of natural wonders including hiking trails, spectacular overlooks, and historic sights; and the 260-foot Kaaterskill Falls, the highest cascading waterfall in the state.
+ + +


GlampStar | Woodstock, NY | 845-532-6939 | Facebook | @glampstars
GlampStar brings a luxury camping experience to you, offering concierge luxury camping service at your location. Owner, Nicole Friedman, has taken her background in hospitality and applied it to a camping experience like no other, with the belief that the great outdoors can be both fun and glamorous. Each all-weather canvas luxury pop-up tent (except "the Naked" tent) has a real mattress, super soft bedding, a small entrance rug, solar twinkle lights, a small trash can, a solar flashlight, and a first aid kit. Guests can dial up the luxury with decadent add-ons, including picnic baskets, mirrors, chandeliers, and more!
+ + +
Treetopia Campground | Catskill, NY | 518-943-4513 | Facebook | @treetopia_campground
Treetopia Campground offers Airstream Experience, luxury family cottages, RV camping, glamping canvas tents, and traditional pitch-your-own tenting. There is a suitable camping solution for every experience level. We firmly believe in ecologically sensible camping, and practice "Leave No Trace" where possible.
+ + +
Awosting Club | Wallkill, NY | 845-648-3323 | Facebook | @awostingclub
Geodomes and rustic luxury cabins on 200+ acres with private hiking and waterfalls. Join us in continuing our commitment to conservation and community, now a half-century in the making.
+ + +


Tim and Beth's Country and Farm | Accord, NY | 845-626-4596 | Facebook
Country and Farm is one of the oldest Farm-stays in the Hudson Valley. Yurt on a Horse Farm is solar-powered, well insulated, fireplace and self-sufficient amenities. Located in the middle of a horse field, behind a hill facing the stream, the Yurt is the perfect luxury camping experience.
+ + +
Malouf's Mountain Sunset Campground | Beacon, NY | Facebook | @maloufsmountaincampground
Malouf's Mountain Sunset Campground is a hike-in, hike-out, unique camping resort. We can supply you with almost everything needed to have a relaxing stay in the woods. This truly is carefree camping – a place our guests have said is like getting away, to come home!
+ + +


The STAY at Liberty Farms | Ghent, NY | 518-712-7010 | Facebook | @stayatlibertyfarms
The STAY at Liberty Farms is a boutique glamping site with 10 luxury canvas cabins, surrounding a central lodge with lounge areas, dining spots, communal cooking facilities, and a camp store.
+ + +


The Outlier Inn | Woodridge, NY | 845-434-1075 | Facebook | @theoutlierinn
The Outlier Inn is a bucolic 12-acre property in New York state's southern Catskill Mountains, 90 miles from NYC. The Inn offers a peaceful and inspiring respite from life in the Big City. It is a retreat center, an event/workshop/location space, a fiber and vegetable farm, and a world-class recording studio.
+ + +


Glamping at Woodstock Meadows | Woodstock, NY | 845-594-5522 | Facebook | @glampingatwoodstockmeadows
The campsite at Woodstock Meadows offers two spacious safari tents furnished as comfortable bedrooms. The 24-acre property includes a giant fire pit, fields, streams, ponds & hiking trails, where groups can immerse themselves in the sights and sounds of nature. All amenities are provided, including a fully equipped BBQ kitchen, a screened-in dining gazebo with a solar charging station, and toiletries, towels, and robes.
+ + +
Search our Directory for anything you're looking for whether you're living, visiting or working in the Hudson Valley!