Back to Blog List
Falling in Love With the Art of Fine Chocolate
By
inside + out
| February 8, 2022
Valentine's Day is just around the corner and you must be thinking about what to gift your loved one? What if you could give someone the gift of happiness? Chocolate comes pretty close. Due to its unique chemical composition, chocolate can actually make people feel just a little happier. Cocoa contains mood-boosting dopamine, the stimulants phenylethylamine and caffeine, plus anandamide, a neurotransmitter that triggers feelings of joy and bliss.  And let's face it, artisanal chocolate is luxuriously delicious!. The best of these creamy treats deliver a satisfying "mouth feel," which intensifies as it slowly melts. There's an art to creating fine chocolate and the Hudson Valley has quite a few gifted artisans. There's no shortage of delicious chocolate gift options. #willyoubemine
And what pairs perfectly with chocolate for Valentine's Day – Flowers! Check out our list of fabulous florists in the Hudson Valley HERE

Lagusta's Luscious | 11 Church Street, New Paltz | WEBSITE
Lagusta's Luscious artisanal chocolates are painstakingly made by hand with fresh and often local produce and fruit, organic toasted nuts, fresh-ground spices and homegrown herbs. Some of their distinctive creations include Croissant Chocolate Caramels, Red Wine Ganache Bonbons, Saffron and Wild Lime Bonbons, Orange Bunnies, Pistachio Bunnies, Candied Lilac Caramels, S'mores Bars, Carrot and Acorn Bonbons, Pistachio Beet Bars, Sweet and Savory Truffles
Lucky's Chocolates | 113A Partition Street, Saugerties | WEBSITE
This small-town chocolate shop celebrates the wonders of chocolate with an extensive selection of handmade treats, including dessert-worthy truffles in some surprising but satisfying flavors. There's Banana Cream, Black Cherry, Honey Butter, Key Lime Pie, Early Gray and Mango Lassi, just to name a few. Lucky Chocolates also offers a selection of vegan chocolate treats from Vegan Passion Fruit to Vegan Ginger and Vegan Pomegranate.
Fruition Chocolate Works | 3091 State Route 28, Shokan | WEBSITE
Fruition Chocolate Works selects flavorful and ethically sourced cocoa beans and then uses both traditional and modern techniques to handcraft an award-winning line of confections. As well as Ginger Lemon Ganache Chocolates and Malted Milk Balls in Brown Butter Milk Chocolate, there are chocolate coated nuts, such as Pecans with Maple Cinnamon Milk Chocolate, and Almonds with Dark Chocolate, Olive Oil, Rosemary and Honey. Fruition offers a host of small-batch chocolate bars plus sipping cocoa and gift sets.
EJ Bonbons and Confections | 2 Old Forge Road, Woodstock | WEBSITE
EJ Bonbons & Confections are handmade by Emily Kellogg and Pierre Pouplard, two Michelin-star trained chefs who enjoy sharing their passion for high-end culinary experiences. Each batch of artisanal chocolates is made in small qualities so they can focus on the delicious and visually appealing details, The result is glossy hand-painted bonbons that feature glorious designs and vivid color. They dazzle the eyes as well as the taste buds.
Krause's Chocolate | WEBSITE
41 South Partition Street, Saugerties | 2 Church Street, New Paltz | 6423 Montgomery Street, Rhinebeck
Voted the Hudson Valley's best Chocolate/Candy Store for over 13 years, Krause's Chocolate owes its success to time-tested family recipes and traditional hand-dipping techniques. They offer over 50 varieties of hand-dipped chocolate and an assortment of flavors of creamy homemade fudge. Made from the finest chocolate, freshly roasted nuts and dried fruits, their confections include decadent truffles, chocolate creams, chocolate-dipped fruit, chocolate peanut butter cups and chocolate nut clusters.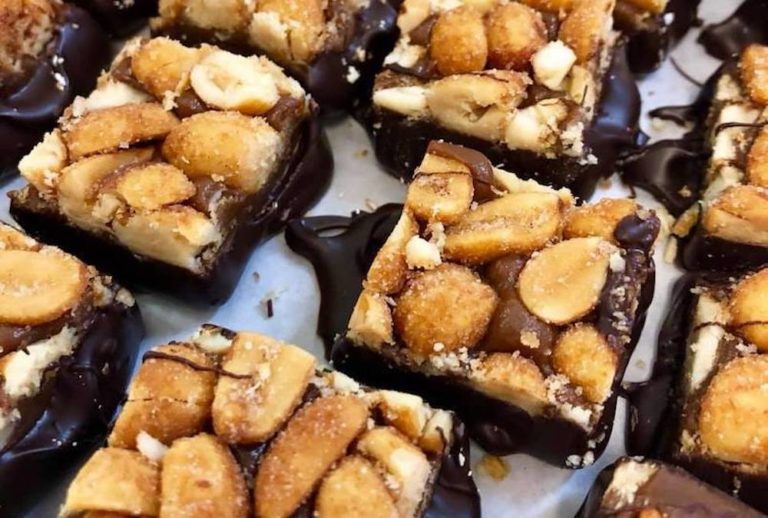 Oliver Kita Chocolate Studio | 608 NY-28, Kingston | WEBSITE
After studying and training with master chocolatiers in two continents, Chef Oliver Kita created his own fine line of artisan chocolates. Using traditional French methods and ingredients such as heavy cream, award-winning sweet butter, chocolate, flowers, herbs, citrus, exotic fruits, berries, nuts and spices, he creates distinctive confections that delectably express his culinary passion. And those shoes! #purejoy
Samuel's Sweet Shop42 | 42 East Market Street, Rhinebeck | WEBSITE
If you can't decide which chocolates to splurge on, consider a sampler. Samuel's Sweet Shop offers a Chocolate Lover's Sampler, which contains their signature Dark Chocolate Bark with Cherries, Almonds and Sea Salt; decadent truffles, and Chocolate Enrobed Caramels in a beautiful gift box. Or there's a Sundae Fun Day sampler with Sundae Bark which has white and dark chocolate, caramel, walnuts and cherries, as well as Mega S'mores, mini peanut butter cups and juicy gummy peaches. Or sign a loved one up for a candy of the month subscription. Definitely worth a visit to this shop –  you might even be lucky to catch a glimpse of the owner, Paul Rudd. #sweettreat

Hudson Valley Chocolates | 34 Wallkill Avenue, Wallkill | WEBSITE
Hudson Valley Chocolates sells an indulgent selection of dark, milk and white chocolate bars with almonds, hazelnuts, walnuts, peanuts, raisins and peanuts, toasted coconut, dried cranberries, orange and almonds. Or gift givers can dabble in Chocolate-dipped Apricots, Chocolate-dipped Oreos, Chocolate-covered Strawberries and Chocolate-covered Cornflake Clusters. You can also splurge on Caramel-Chocolate Pretzels and Caramel-Chocolate covered apples. There are also dark truffles for those on a dairy-free, gluten-free diet. Hudson Valley Chocolates distributes to many local stores and you can purchase online

Looking for more local sweet treats or florists for Valentine's Day –  just search our directory!