Back to Blog List
We Are Upstate With Lockwood Gallery Curator Alan Goolman
By
inside + out
| July 20, 2023
Lockwood Gallery was founded by architect, Michael Lockwood and curator Alan Goolman. Both share a passion for art that matches that of the artists whose work they show. Alan has built a reputation as a meticulous exhibition designer, curating intriguing concept-driven group shows with themes like: "Putting It Together," "Wallflowers," "In Pursuit of Color," "Driven by Abstraction," "Dreams within a Dream," "Smokeshow," and the current compelling show: "BUILT."
In the midst of preparing tor this weekend's big event, UPSTATE ART WEEKEND, a multi-county, multi-venue art event, we caught up with Alan to learn more about his creative background, the artists he works, and what inspires his themes.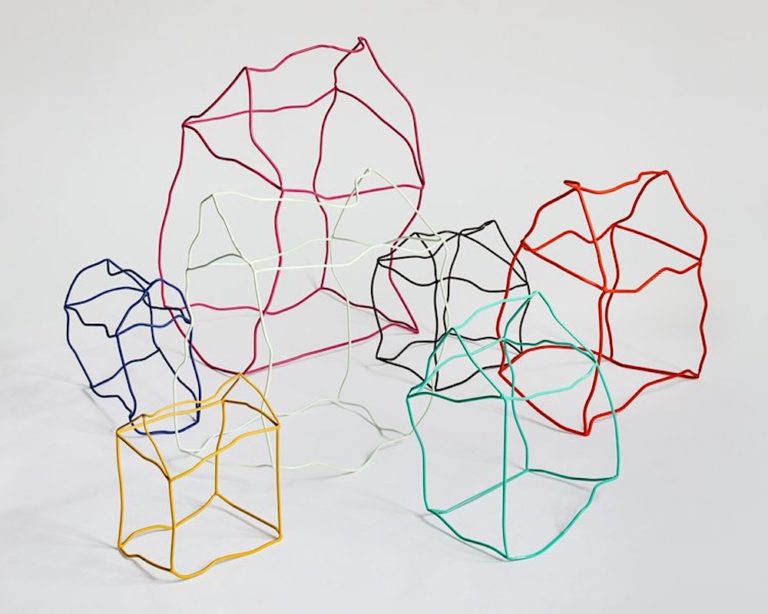 INSIDE+OUT: Where are you originally from and how did you wind up in the Hudson Valley?
Alan Goolman: I was born in Manhattan and raised in Brooklyn and Staten Island. I went to Wagner College, majored in Musical Theater and Fine Arts, which I fled prematurely on a national tour of Cabaret. It was a lot like taking a job in a traveling circus choreographed by Fosse. I mostly lived in "The City," fell in love and landed on the Upper West Side. Ultimately, it was a trip to the Williamstown Theater Festival that lit the fire to have a weekend house. Thirty-plus years later, we now live full time in the Hudson Valley, what we refer to as "The Country."
How did you decide to launch an art gallery and select the current location in Kingston?
Architect Michael Lockwood had the vision to turn his architectural offices into a gallery. It was the perfect space. Great walls. Great lighting. A spectacular center room that we dubbed, The Conference Room, because that's what it actually used to be. The location was somewhat challenging, but somehow we were able to overcome our "Destination Gallery" positioning.

You had a completely different career before this. Tell us about this.
Working in the theater, plus – exceptional timing, led me to sixteen amazing years as a makeup artist with two of the world's most prestigious fashion and beauty houses. Christian Dior, as National Makeup Artist for nine years, and Chanel as Premiere Makeup Artist for the United States for six years. It was during this time and 30K (give or take) of the most extraordinary women that taught me everything I know about color. From makeup application, I went on to work in color, product and brand development on a global level. Without these life experiences, it wouldn't be possible for me to work as a Curator.
We're very excited about your current exhibition! Tell us about "BUILT: ARCHITECTURE IN ART & DESIGN."
I conceived and developed the "BUILT" narrative in 2019 as an introduction to Architect Michael Lockwood, Lockwood Architecture, and his new venture, The Lockwood Gallery. With no need for introductions now, and an expanded gallery space to work with, "BUILT" in 2023 brings together a sensational list of artists and art curated to explore and elevate the original "BUILT" narrative.

Let's talk about the artists you feature.
We feature Architecture, Painting, Sculpture, Collage, Mixed Media and Photography. Each discipline is represented by well-established, as well as exceptional emerging artists, that introduce their diverse, unique talents and perspectives, like this month's show, BUILT, with participating Artists + Architects: Mike Cockrill, Painter; Jean Feinberg, Painter/Assemblage; Susan Spencer Crowe, Sculptor/Painter; Nic Goldsmith, Architect; David Kucera, PaInter/Sculptor; Ryan Sarah Murphy, Assemblage/Video; Margaret Saliske, Sculptor/Photographer; Kurt Steger, Sculptor; Rebecca Welz, Sculptor/Painter; Harry Wilkes, Photographer; Frank Lloyd Wright, Architect
What inspires your various themes?
Inspiration for a theme can come from just about anything, anywhere and at any time. Unfortunately, inspiration doesn't necessarily present itself as fully formed and ready to hang. Sometimes, inspiration presents itself like a whisper you can barely hear or a secret that you tell yourself you are going to want to remember. Sometimes, I do.
Favorite and most challenging part of running a gallery?
We try to allow two weeks between shows. In that time we have to deinstall the past show, patch, sand and paint the walls, create a plan for the new show and hang it. Truthfully, it's all pretty challenging. But laying out a show, getting it on the walls, setting the lights, and walking through it for a final check before opening. . . feels amazing!


Who or what inspires you personally?
I'm always inspired by the extraordinary talent and tenacity of the artists I come in contact with. This isn't an easy business and it takes a special kind of person and personality to be successful at it.
Tell us something about you personally that people might be surprised to know.
I'm pretty sure I've already spilled the beans about that upfront. Here's something surprising, I have two grandchildren and a dog named Archie.
What are you working on now that you are excited about?
I'm currently working on a show that is scheduled to open in October that will, if everything goes as imagined, include a spectacular multi-sensory experience. I've been thinking about and working this concept out for a fairly long time and I can't wait!
What is your current state of mind?
Optimistic!


+ + +
THE LOCKWOOD GALLERY
747 Route 28, Kingston NY | 845-663-2138
THELOCKWOODGALLERY.COM
Stop by the Lockwood Gallery to see their current exhibition, "BUILT"
Featuring Richard Botwin, Mike Cockrill, Susan Spencer Crowe, David Kucera, Jean Feinberg, Jeanette Fintz, Tom Fruin, Nicholas Goldsmith, Ryan Sarah Murphy, Margaret Saliske, Jeffrey Schiller, Kurt Steger, Rebecca Welz, Harry Wilks, and Frank Lloyd Wright
Gallery Days & Hours:
SATURDAYS & SUNDAYS 11 AM – 6 PM
THURSDAYS & FRIDAYS By Appointment